Skip to Content
Top 10 Health Benefits of Hot Tubs
Here is a brief overview of the top ten health benefits of soaking in a Sundance hot tub. Please come in and see us at any of our 6 locations  for more detailed information on how owning a hot tub from Sundance Spas can have a positive impact on your physical and mental well being.
De-Stress
We live in a fast paced, busy, hectic, stressful world, and the stress we live with is eating away at our well being and having a negative impact on our health and life.
"Stress doesn't only make us feel awful emotionally," says Jay Winner, MD, author of Take the Stress Out of Your Life and director of the Stress Management Program for SanSum Clinic in Santa Barbara, California. " It can also exacerbate just about any health condition you can think of."
There's no better way to stimulate endorphins, which are the body's natural pain killers, than soaking in the warm waters of a Sundance hot tub. The heat of the water increases blood flow and the therapeutic Hydrotherapy massage works out muscle soreness, which relaxes body and mind to reduce stress and promote relaxation and mental and emotional calm.
Relief From Back Pain
Back pain is one of the biggest causes for Doctor visits in North America today, and is something that millions have to deal with everyday.
The British Journal of Rheumatology published a study which demonstrated that hot tub therapy has both short and long-term benefits for people with back pain.
Sundance Spas patented Fluidix Jets provide a wide variety of massage styles that cover both lower and upper back muscles that relieve pain caused by various back issues.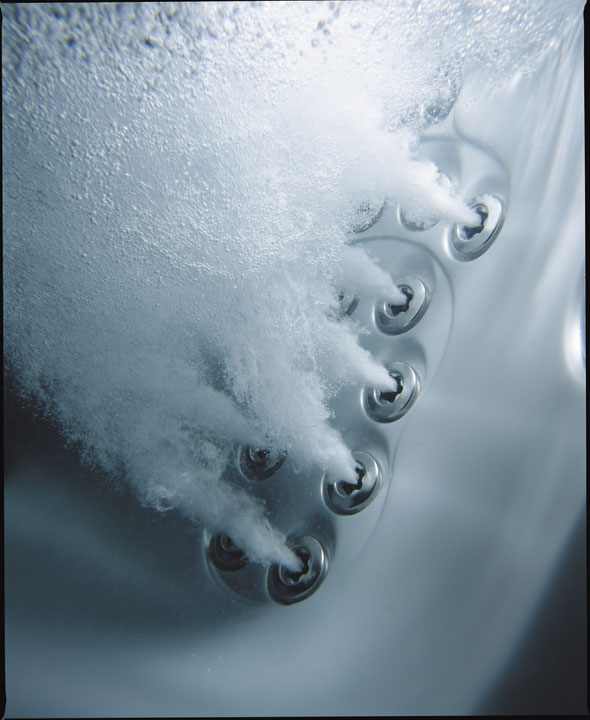 Immune System Boost
Being in an environment where the temperature is raised (like a Finnleo Sauna or a Sundance hot tub) helps to stimulate your body's natural production of white blood cells. An abundance of these cells aids in your body's natural ability to fight off infections, viruses, etc. There is a very good chance that you will get sick less often if you're soaking in your Sundance hot tub on a regular basis.
Breathe Better
If you have a cold or any other respiratory tract condition, regular use of your Sundance hot tub can help immensely. Soaking in Hot water will help break up anything that may be inhibiting your breathing in your lungs and soothe any pain that goes along with any difficulty you may have breathing. It also opens your airways so that you can get deeper, fuller breaths.
Adding Eucalyptus SunScents aromatherapy to your 880 or 980 Series model can also help ease any respiratory issues. Check out the SunScents aromatherapy system here.
Sleep Better
If you are one of the many people across Canada who experiences problems with sleeping, your Sundance hot tub can help. Sitting in your Sundance Spa before bed raises your internal body temperature, then when you get out and head back in to the house, the cooling effect works to relax you.
Alleviate Pain Caused by Arthritis
The pain associated with Osteoarthritis, Rheumatoid Arthritis, Fibromyalgia, Gout and other ailments that tend to involve pain, aching, stiffness, and swelling in and around one or more joints can be lessened by the heat, buoyancy, and massage offered in a hot tub from Sundance Spas.
According to a publication from The Arthritis Foundation entitled Spas, Pools, and Arthritis, "Regular sessions in your hot tub help keep joints moving. It restores and preserves strength and flexibility, and also protects your joints from further damage. Exercise can also improve a person's coordination, endurance, and the ability to perform daily tasks, and can lead to an enhanced sense of self-esteem and accomplishment." "A hot tub fulfills the need perfectly . . . providing the warmth, massage, and buoyancy that is so necessary to the well-being of arthritis sufferers. The buoyancy of the water supports and lessens stress on the joints and encourages freer movement. Water exercises may even act as a resistance to help build muscle strength."
Low-profile hot tub models such as the Prado, Dover, Montclair, Capri, Marin, Kingston & Claremont make getting in and out of your hot tub safe and easy. 
Ease Sore Foot Pain
Sore, tired, achy feet are a common problem for many people, especially those of us who have to stand for long periods of time and those who do a lot of walking or running. Did you know that all Sundance Spas Hot Tubs are equipped with jets specifically to provide a relaxing, pain-relieving foot massage?
Foot Therapy is an essential part of the Sundance experience. From the tip of your toes, through the arches and to the bottom of your heels, the pulsing, swirling streams of warm water from Sundance Spas foot jets/floor domes can refresh tired feet and bring you the pain relief and comfort you deserve.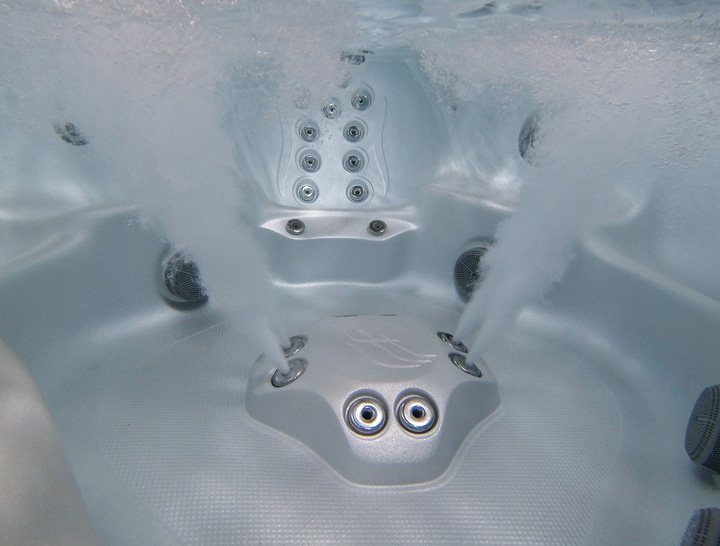 Improved Circulation
If your blood circulation isn't as good as it could be, you may experience symptoms such as fatigue, pain, numbness, and shortness of breath.
Temporary improvement to your circulation can occur as you soak in the clean, clear hot water of your Sundance Spa.
The warmth of the water causes your blood vessels to open, which in turn lowers your blood pressure. As you sit and relax in the hot tub's hot water, your blood will flow more easily, promoting better circulation throughout your whole body.
Reduce Lactic Acid
If you're an athlete then you'll be familiar with how the build-up of lactic acid during intense workouts can create a burning sensation in your muscles. It can really put a damper on your athletic ability by slowing you down. You can reduce lactic acid build up by taking a nice soothing soak in your Sundance hot tub.
The increased blood circulation that you experience from the heat counters the build-up of the lactic acid in your muscles, and aids and speeds up the recovery process from your workout so you are ready to go again!
Migraine Relief
Anyone who has ever suffered from a migraine knows that they are far more than "just a headache". Symptoms such as feeling dizzy or faint, Increased sensitivity to light & sound, nausea, pain on one side of your head, pulsing and/or throbbing pain, and vomiting mean that Migraines can have a considerable impact on the quality of life of sufferers and their loved ones.
Stress, sleep deprivation, tension headaches, neck pain & sinus issues are just some of the triggers for a Migraine, and all of these can be aided by soaking in a Sundance Spas Hot Tub.
The next time a migraine strikes, you can find quick, long-lasting relief the natural way, in the warm, soothing waters of your Sundance Hot Tub. For more details on how a Sundance Hot Tub can help with Migraines, read.
Bonus Benefits!
A Top Ten list doesn't give us enough space to cover all of the many health benefits of a Sundance Hot Tub.
In addition to the benefits mentioned above, you can also add Cardiovascular health, lowering blood pressure, digestion & weight loss aid, reduced blood sugar levels, detoxification, improved range of motion, relief from the symptoms of Fibromyalgia, reduced anxiety and increased confidence and self-esteem to the list of potential health and wellness benefits to adding a soak in a Sundance Spas Hot Tub to your daily routine.
Visit any of our stores (Burlington, Hamilton, Mississauga, Oakville, St. Catharines & Vaughan) for more details on the health benefits of owning a Sundance Spa and to find out about our current sale, with great savings on all in-stock and floor models hot tubs!