Skip to Content
ClearRay® Water Purification System
Sundance® Spas exclusive CLEARRAY® Water Purification System alongside the exclusive MicroClean® filtration system featured on 980™, 880™, 780™ & 680™ Series Sundance® hot tubs towers above all other hot tub water treatment systems for ensuring pure, clean, clear water with low maintenance and decreased chemical usage. Sundance Spas CLEARRAY® UV-C Technology ensures no damaging off gas or by-product is produced or created, no constant chemical creation and/or injection, no smells or odors, and no damaging effects to the vital hot tub equipment. CLEARRAY® UV-C Technology treats water with the power of nature-inspired UV-C technology to neutralize waterborne pathogens, resulting in clean, fresh water. Treats 99.9% of waterborne pathogens, factory-installed exclusive UV-C Technology, and easy care and maintenance with annual bulb replacement.
What Is UV-C Light?
A natural part of the spectrum of electromagnetic energy generated by the sun
Effectively interacts with the DNA of bacteria and viruses, destroying their ability to reproduce
Is a natural process that adds no by-product to your water
The MicroClean® & MicroClean® Ultra hot tub filters utilize technology similar to that used in home drinking water filters.
Sundance® Spas use FDA-Compliant and NSF Approved Filters
The MicroClean® hot tub filter cartridge is the first FDA-compliant and NSF-certified filter within the hot tub industry.
Sundance Spas was the first and only spa/hot tub manufacturer to receive an award from the Water Quality Association for spa/hot tub water filtration.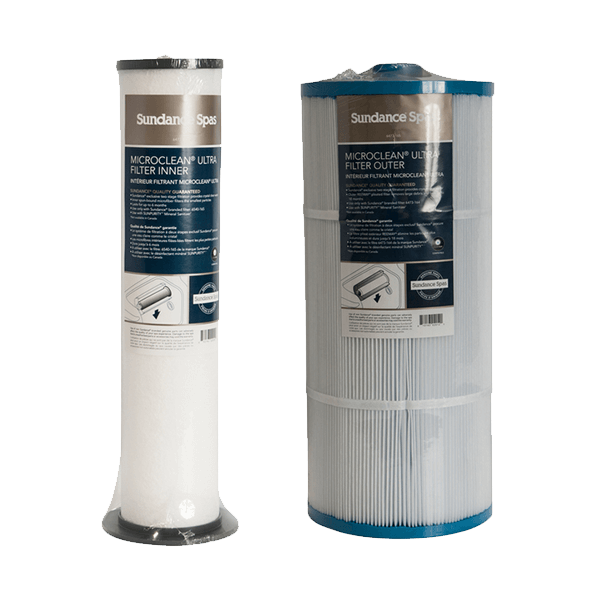 Microclean® Ultra Filtration (880™ & 980™ Series)
The 2 pieces interlocking system has an advanced dual-stage filtration that is the ultimate in hot tub water treatment.
The pleated outer filter is washable and provides preliminary filtration that captures larger particles
Disposable Inner Core is made from 100% high-spun polypropylene fiber to trap small particles
Designed to remove oils and lotions from spa water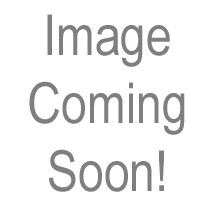 Dynamic Flow™ Circulation Pump
The Dynamic Flow™ Circulation Pump enables the filtering of seven times more water per minute than a typical circulation pump found in ordinary hot tubs – Processing up to 96,000 gallons of water per day but still maintaining excellent energy efficiency.
Works with the MicroClean® and CLEARRAY™ Water Purification System to optimize filtration
Water is drawn over the 20″ wide Slipstream™ skimmer to eliminate impurities and debris from the water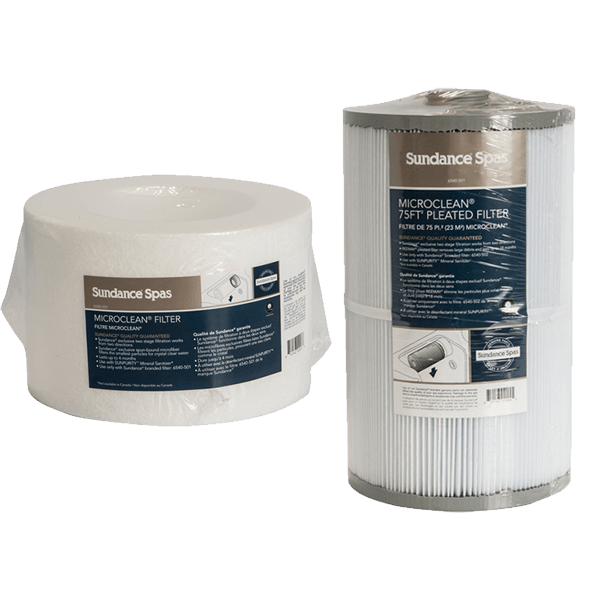 Microclean® Filtration (780 Series)
Filters thoroughly from two directions through pleated and microfiber materials
Disposable Microfiber cartridge captures ultra-fine particles and reduces maintenance
Washable Pleated cartridge captures larger particles and is designed to last longer
Contact the Sundance Spa Store