Skip to Content
Sink Into the Soothing Waters of a Sundance Spa
You will soon experience for yourself the perfect blend of heat, buoyancy, and massage that will change the way you feel. Your relaxation truly begins when you turn on out Fluidix Jets and let the superior, personalized hydrotherapy work its magic!
With exclusive jets positioned throughout the spa, you will experience a full body massage in a variety of styles. Deep Tissue, which feels like strong hands deeply kneading large muscles. Muscle Release, which offers the circular, kneading, and rhythmic movements of a Swedish Style Massage. Pressure Point Jets provide a Shiatsu-style fine finger pressure point massage to release strain and discomfort.
All Sundance Spas come equipped with a form of Reflexology Jets for foot therapy. Some models have a Reflexology Foot Massage Dome in the footwell, while others have built-in high-powered foot jets – so whatever model you choose there will be a soothing foot massage available to you 24-7!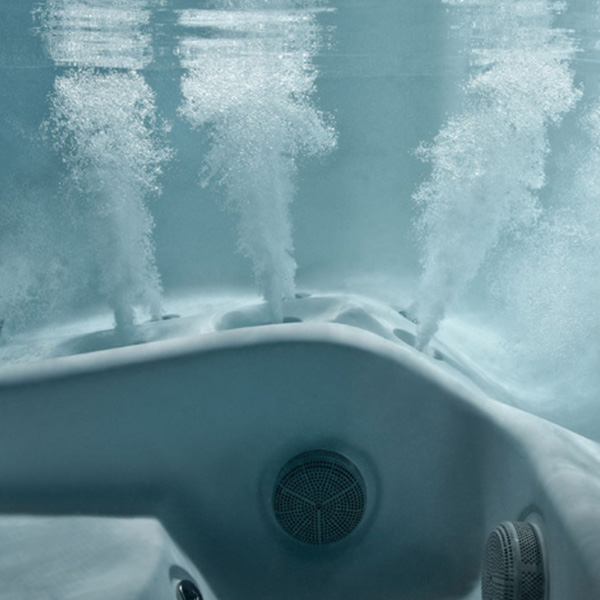 Fluidix™ Jet Technology
Fluidix™ jet technology, exclusive to Sundance® Spas, is a patented jet design that allows you to adjust for a steady flow or a pulsing massage. The difference with Fluidix™ jets is that they do all this without bearings that can clog up or moving parts that can wear out over time; Fludix jets are a true breakthrough in hot tub jet technology.
From deeply relaxing to powerfully invigorating, the Sundance® Spas hot tub jets offer a full range of massage options. Swirling, pulsing, streaming, or penetrating, Sundance® spa jets work efficiently for practically every therapeutic technique.
Contact the Sundance Spa Store