Skip to Content
Sundance Spa Hot Tub Warranties
As you are shopping for a hot tub, have you considered the hot tub warranty?
Though a hot tub warranty is a vitally important part of any hot tub purchase, they are often overlooked in the purchasing decision-making process. A hot tub is a major investment so you should make certain that it is well protected, and that the company you have purchased from will provide the best possible customer service.
Most hot tub warranties will cover the shell, cabinetry, plumbing, equipment, and controls. It is a good idea to read the fine print. Inspect the hot tub warranty carefully.
Finally, remember that a hot tub warranty is only as good as the manufacturer's ability to stand behind it and the selling dealer's ability to carry out the work.
Sundance Spas 980 Series Warranty, 880 Series Warranty, 780 Series Warranty, 680 Series Warranty.& Splash Series Warranty.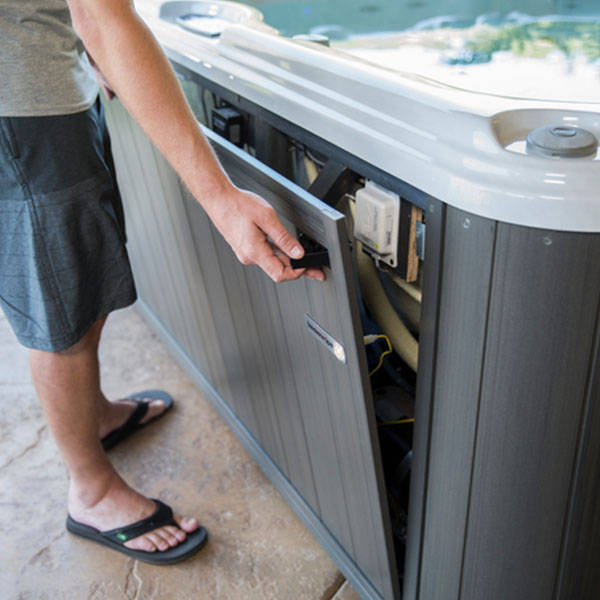 More Than 40 Years in Business
Sundance® Spas has been setting the industry standard in hot tub design and engineering for more than 40 years and has achieved unsurpassed international recognition.
At the Sundance® Spa Store we want you to be happy with your hot tub years after your purchase, not just when leaving the showroom, that's why we take pride in offering our customers the most straightforward, comprehensive warranty available.
All Warranty work is carried out by our in-store, factory-trained service technicians. We do not service any other hot tub brands, meaning our Sundance customers are our number one priority. Simply place a call to our service department and we will quickly and efficiently deal with any technical issue that occurs.
We at The Sundance Spa Store are proud of the fact that every year since we opened our first store in 2003, we have been awarded Sundance Spas' "Exceptional Customer Service" Award. We stand fully behind our product, which is backed by an unmatched warranty to provide the peace of mind you deserve.
Contact the Sundance Spa Store