Skip to Content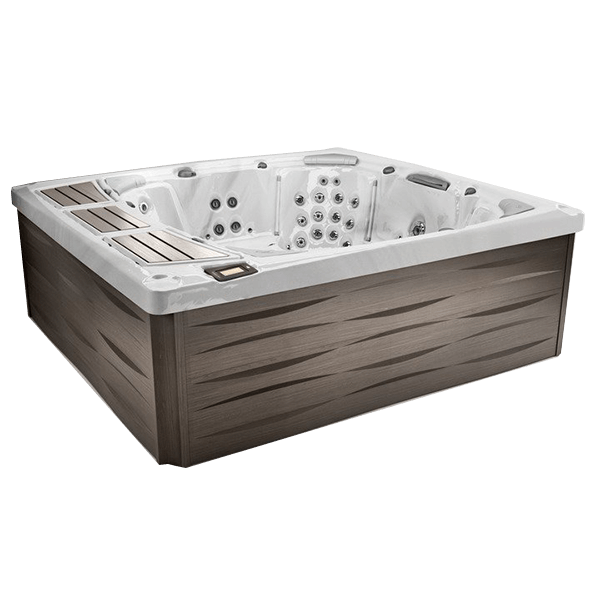 Featured Hot Tub Special
Sundance Spas 980 Series Kingston
Regular Price: $33,600 + HST
Sale Price: $27,999 + HST
About the Sundance Spa Store Vaughan
The Sundance Spa Store in Vaughan opened in 2017 and is our 5th location. We are very excited to represent the legendary high-quality products of Sundance hot tubs and Finnleo Saunas right in the heart of Vaughan Mills. Located just off hwy 400, close to the entrance to Canada's Wonderland in the Coppa's Grocery Store Plaza we are excited to be entering our 2nd year in the amazing city of Vaughan.
At The Sundance Spa Store in Vaughan, you will find an extensive selection of Sundance Hot Tubs and Finnleo Saunas, both traditional and InfraRed. Finnleo Saunas have been an industry leader for over 100 years and we are proud to provide such an excellent product.
At our Vaughan location, you will find a wide variety of saunas on display, including traditional sauna rooms and Infrared Sauna rooms in various sizes, from single-person to large family units.
As our largest store yet, The Sundance Spa Store Vaughan has a large number of hot tubs on display including a number of spas that are filled and running so you can see them in action and experience the patented Fluidix Hydrotherapy Jets first hand. We also recommend that you sit in a dry model, so you feel just how comfortable and relaxing they are.
See What Our Customers Are Saying
When we were looking for a hot tub, we had a great experience with this store. They were very helpful in helping us decide which spa would be best for our needs and had a lot of options to choose from. Overall Sundance makes a quality product and there after sales service and support has been exceptional.
We got our hot tub in 2020 and we are often buying chemicals in the store , the staff always provide god customer service. In the past 2 years we called to service our hot tub twice and their communication with us was outstanding and got back to us within couple hours during working hours. Service guy was very professional and friendly, cleaned all the mess behind as well. Very pleased. Would recommend this store and their service to anyone that is looking for a hot tub. Thank You. Igor & Lily.
We had a great experience purchasing our hot tub from Cassandra at Sundance. She was extremely helpful and kept us up to date on delivery. After we received the hot tub, she was available to answer questions as we needed. We're very happy with our Sundance spa and would highly recommend the Vaughan location!
Sales rep was very knowledgeable and quickly provided answers to all questions. Helpful in arranging shipment and removal of old hot tub. Store had several models on display to help visualize the various differences. Very pleased with service.
I bought a peyton spa back in September. They are amazing to deal with. One of the little light covers broke off on my spa and they sent a technician up within a couple days of being notified! I am beyond happy with the service and the quality tub. I highly recommend checking this place out!
The staff are knowledgeable, friendly and always helpful. I have a Sundance spa that has worked flawlessly for 10 years and counting. The great advice and service has helped make that happen!
Sue and Mike are great. So helpful. Our Sundance spa was hit by tree from Tornado back in May and the Sundance spa didn't even crack. Only some scratches. Love this.
We love Sundance Vaughan! Cassandra is excellent and helped us every step of the way in getting our first spa. Our Denali is amazing!
Love our swim spa! Cassandra and the Sundance spa team are amazing to work with. So grateful for Cassandra's help with delivery and maintenance questions! Highly recommended.
Cassandra in the store was very friendly, offered great advice and was helpful in advising me how to best set up my hot tub. Thank you very much.
Talk to a Sundance Spa Expert
Let us know how we can help you, fill out the form below and one of our experts will be in touch within 24 hours.
Contact the Sundance Spa Store