Skip to Content
Over 43 Years of Experience
Since opening its first manufacturing facility in 1979 Sundance® Spas has grown to become the largest hot tub manufacturer in the world. Over 43 years of experience has led to numerous industry standard-setting innovations and industry firsts which means Sundance® Spas are technologically advanced, energy-efficient, elegantly designed, and extremely durable. Sundance® Spas is responsible for many industry firsts which define the modern hot tub, spa, jacuzzi, and whirlpool.
Some examples of this would be the first to incorporate recessed jets, the first to incorporate recessed molded pillows, Rigid Bond shell construction, the application of electronic technology to spa control systems, the first hot tub manufacturer to receive ISO 9001 certification, the first to incorporate Built-in SunScents aromatherapy dispensing system and a sentry smart heater with titanium coil just to name a few. In the very early 2000s, Sundance Spas introduced our exclusive patented Fluidix jet technology and patented MicroClean water filtration system which can be found on all 680, 780, 880 & 980 models.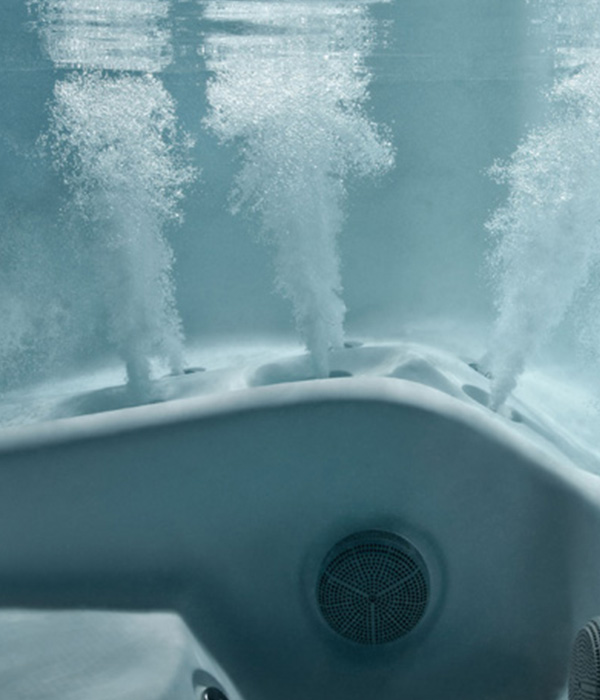 Fluidix Jet Technology
Our exclusive & patented Fluidix jet technology uses no moving parts to create a hydrotherapy experience unlike any other! and because our exclusive & patented jet technology uses no moving parts, you will save money not having to replace your hot tub jets because there are no moving parts to break down and/or wear out. Sundance® Spas MicroClean filtration systems not only help to ensure clean, sparkling water, but they also equal less maintenance. Through the efficient combination of highly effective filtering, water circulation, and water skimming processes, a unique horizontal filter orientation, and a circulation pump that filters seven times more water per minute than typical hot tubs, you can spend less time on maintenance and more time enjoying your Sundance® Spa.
In 2018 Sundance Spas introduced the new exclusive SmartTub system, engineered to maximize your relaxation, recovery, and performance potential. From an app on your smartphone, you can enjoy the next generation of hot tub ownership, making it easier than ever to use and maintain your Sundance Spa through breakthrough cellular technology. No more WiFi connection issues or problems, enjoy easy setup and just pair your app. Sundance® Spas can be found in more than 750 retail locations in more than 75 countries worldwide.
As the largest manufacturer of portable hot tubs in the world, Sundance® Spas is committed to building superior quality hot tubs, utilizing the latest technology in our state-of –the-art facility. Responsibly manufactured using environmentally conscious practices, Your Sundance® Spa can be expected to perform efficiently for years to come.
Streamlined Production Process
Dedicated and experienced design and manufacturing staff
Sundance® Spas State-of-the-art facility is one of the most environmentally responsible in the industry
Two, quarter-mile-long assembly lines with computer-controlled equipment
Every hot tub is required to pass over 200 quality-assurance checkpoints
Every hot tub is filled for a thorough test of all systems twice
Contact the Sundance Spa Store