Skip to Content
Relax, Refresh, and Unwind With Luxury Spas and Saunas
Award Winning Industry Leading Hot Tubs
The Sundance Spa Store provides quality hot tubs, spas, and saunas in the Greater Toronto, Hamilton and Niagara regions. Sundance Spas is an award winning brand of hot tubs with over 40 years of experience. Our hot tubs are designed to be durable, energy efficient, therapeutic, and use less chemicals. We have industry leading technology in jet design, filtration, sanitation and connectivity. Come and learn more why the Sundance Spas life is right for you.
See Our Best Selling Spas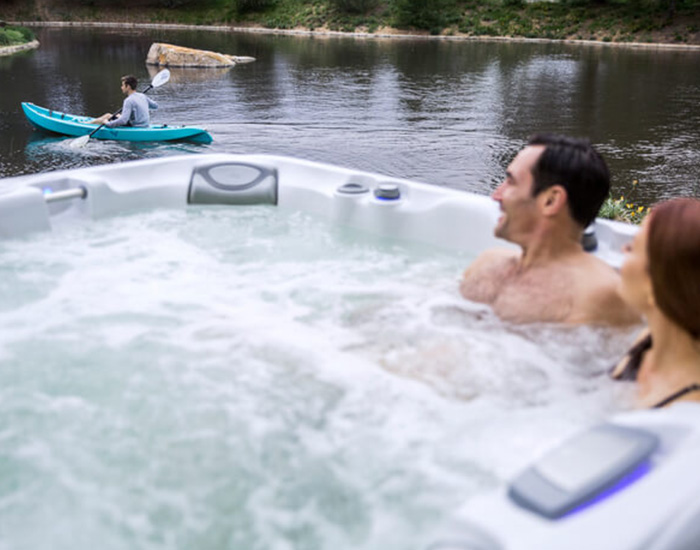 Innovative Performance and Technology
Enhance your hot tub experience with functionality and elegance. We offer superior performance with innovative and accessible seating and state-of-the-art technology. In today's disposable society, Sundance Spas take the opposite approach and builds long-lasting hot tubs. Manage your heating cycles and reduce your energy bill with SmartTub. We have a variety of models, shapes, and sizes to match your style. Our massaging seats use clog-free stainless steel jets and industry-leading water purification.
Reviews
We've been customers of Sundance for years, enjoying our second spa! We are located in a Northern cottage country area and are most impressed with the timely service we know we can count on from Sundance! An amazing company that is all about customer care.
Walter and Chris came out here in a snow storm and quickly resolved the issue. They took the time to explain what they did to fix the tub and went the extra mile to change out some of the stripped screw on the hot tub. Thanks guys!
This is the second hot tub we have purchased from this store. The prices were better than the competitors. The delivery and installation were professionally done. Anytime we have had an issue, always resolved quickly. Definitely like our Sundance hot tub.
The staff are knowledgeable, friendly and always helpful. I have a Sundance spa that has worked flawlessly for 10 years and counting. The great advice and service has helped make that happen!
We have owned a Sundance Spa for many years without any issues. Great spa, great service and great quality. Exceptional support. Staff are always extremely helpful and knowledgeable.
Burlington, Ontario
Mississauga, Ontario
Oakville, Ontario
St. Catharines, Ontario
Vaughan, Ontario
Hamilton, Ontario