Skip to Content
SmartTub™ Management System
The Sundance® Spa Store presents the SmartTub™ Exclusive Cellular Technology

Introducing the new exclusive Sundance SmartTub System, engineered to maximize your relaxation, recovery, and performance potential. From an app on your smartphone, you can enjoy the next generation of hot tub ownership, making it easier than ever to use and maintain your hot tub. And, with a tap of your screen, your SmartTub System will be connected in seconds.
The Sundance® SmartTub™ Control includes an app for your smartphone that provides access to your hot tub via a cellular connection from anywhere. This new exclusive technology operates through cell towers, eliminating connection issues experienced with WiFi. You can be inside your house, at work, or even on vacation and still have complete access to your Sundance® Spa. Machine-to-Machine (M2M) communication uses low bandwidth 4G technology a connection affordable and wide-ranging. We use data packets smaller than text messages to remotely control and monitor your hot tub. Even when you don't have sufficient cell service to stream video or have voice communication, your coverage will still support your SmartTub System.
With your SmartTub™ App, you can be sure that your hot tub will always be operating properly. Having the SmartTub™ App on your smartphone or tablet eliminates the need to be at your hot tub to adjust the settings.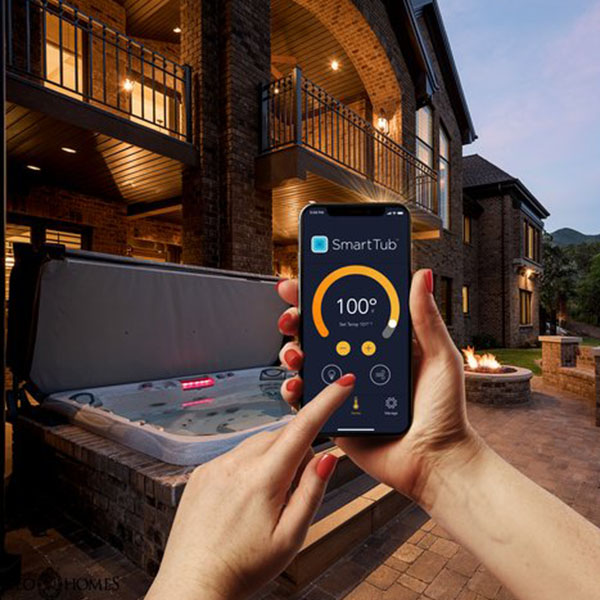 Features/Benefits Include
Monitor & Control your 980™, 880™, 780™ & 680™ Series Sundance hot tub remotely with your smartphone through Exclusive Cellular Technology
Simple operation with easy-to-use menus and advanced functionality for energy savings and convenience
Instant access to your hot tubs' temperature, pumps, lights, filter cycles, settings, and much more
Out-of-town mode to reduce power consumption when you are away for prolonged periods or customize your hot tub operation based on your schedule of use
Optimize energy savings with industry-first Smart Heat Mode, which learns your usage and lets you control how much energy you use
Receive notifications directly to your smartphone or tablet for service issues or required maintenance
Ability to manage all of your hot tubs from a central control point 24/7 from anywhere
Ideal for people who have multiple hot tubs, perhaps one at your home and one at your vacation property
Enjoy easy setup — just pair your app
Discover enhanced product knowledge and support
Receive power outage notifications to reduce complications
Adjust key settings, such as energy efficiency and temperature while away
The SmartTub™ Cellular Control will also alert you when an error occurs with your hot tub so that preventative service can happen quickly. The app will alert The Sundance® Spa Store via email so that no time is wasted.
In addition to these new features, you can still operate the basics such as turning on the jets and lights. Lastly, your app will remind you when it is time for key maintenance such as changing filters, CLEARRAY bulb replacement, and even water replacement. No more relying on your memory or notes on a calendar to keep your Sundance hot tub operating at its peak performance.
Contact the Sundance Spa Store