Skip to Content
ClearRay™ UV-C Water Purification System
ClearRay™ Active Oxygen Water Purification System
ClearRay™ treats water with the power of nature-inspired UV-C technology to neutralize waterborne pathogens, resulting in clean, fresh water. The ClearRay™ Water Purification System uses UV-C technology to neutralize 99.9% of waterborne pathogens and does not introduce any chemicals, into the hot tub water. ClearRay™ will help ensure no skin and eye irritation for those using the hot tub – No more dry skin and red eyes when you leave the hot tub.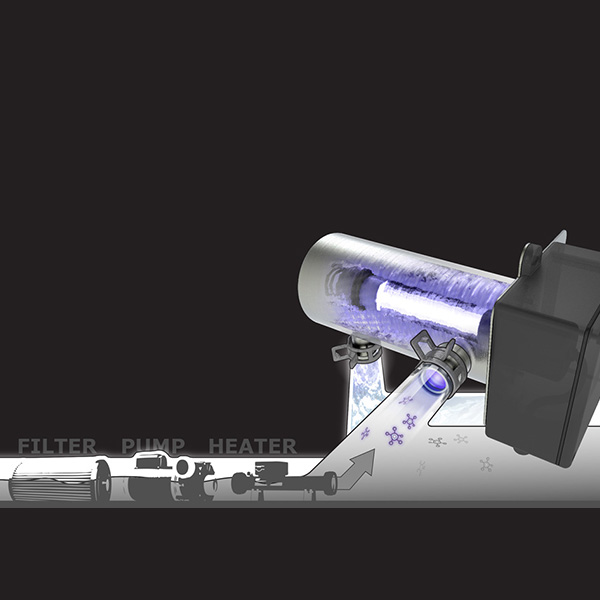 Benefits
Rather than being an expensive after-market add-on, The ClearRay™ Water Purification System is factory installed as standard on all Sundance® Spas.
Treats 99.9% of waterborne pathogens
Factory-installed exclusive UV-C Technology
Ease care and maintenance with annual bulb replacement
Durable stainless steel and quartz components
No programming needed or difficult setup is required
Produces no by-product, chemical, or off-the-gas
Produces no chemical odors or smells
No chemical creation or injection
Does not damage equipment, pillows, covers, caps, and knobs
What Is UV-C Light?
A natural part of the spectrum of electromagnetic energy generated by the sun
Effectively interacts with the DNA of bacteria and viruses, destroying their ability to reproduce
Is a natural process that adds no by-product to your water
What is Active Oxygen?
Water is injected with low-dose ozone and mixed thoroughly
Ozonated water then passes through a UV-C chamber where ozone is energized or 'activated'
Activated oxygen cleans the water
Using UV-C plus active oxygen maximizes their effectiveness giving you more cleaning power
ClearRay™ Replacement Bulb
To maintain optimum performance levels, an annual bulb replacement is required with the ClearRay™ Water Purification System. The digital control panel on your hot tub will give you a yearly reminder of when a bulb change is required. The ClearRay™ water purification system allows you to keep your sanitizer level at 1.0 PPM. UV-C light has been used for years as a reliable water disinfectant. It is used in the bottling & beverage industry, the food industry, industrial & municipal water plants, medical hospitals & pharmaceuticals, HVAC systems & cottages, aquariums, aquaculture, fish farms, and many more industries around the world.
Contact the Sundance Spa Store