Skip to Content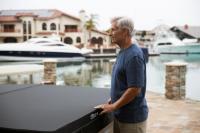 Your Sundance Hot Tub Cover is exposed to the elements all year round. UV rays from the sun, rain, snow and ice build up can all have a negative impact on your hot tub Cover over the years.
With that in mind, it is good to know that a little bit of maintenance can keep your hot tub Cover looking good and help it to last longer. Here are some helpful ways to get the best life possible from your Hot Tub Cover.
Clean & Condition Your Hot Tub Cover
Over time, Hot Tub Covers that are not cleaned and protected correctly can become dry and brittle. This may eventually result in them cracking, splitting, absorbing water, fading and generally deteriorating.
One of the most common causes of this happening is the use of harsh cleaning products. A vinyl hot tub cover requires a gentle cleaner just like leather. It is wise to avoid the use of any detergent based soaps, alcohol based cleaning products (such as Armor All or Windex etc.), dishwashing soaps, or any cleaning products that contain bleach. Such abrasive cleaners will strip the clear top coating of the vinyl, causing it to deteriorate faster.
A good way to help prolong the life of your Hot Tub Cover is to maintain it with a product such as Spa Boss Restore. This product helps not only keep your cover clean, but also conditions the vinyl and adds UV protection. Applying a UV protectant to your Hot Tub Cover three or four times a year will reduce the likelihood of the cover drying out and cracking as a result of the harmful effects of prolonged exposure to the sun.
Remove Snow From Your Cover
Remember to regularly clear the snow from the top of your Hot Tub Cover. Sundance Hot Tub Covers are designed to handle a heavy snow load, however clearing the snow from your Hot Tub Cover can help prevent any snow and ice related damage.
The best way to clear the snow from your Hot Tub Cover is with a broom or brush, rather than a shovel which could potentially cause rips or tears. The best time to clear the snow away is right after a snowfall, so finish shovelling your drive way then go and clear off your cover with a soft brush or broom.
Consider Adding a Cover Cap
The use of a hot tub Cover Cap can add extra protection from the elements. Made from tough, durable woven polyethylene, Cover Caps are designed to limit the wear and tear on your Hot Tub Cover throughout the year and particularly during the harsh winter months. The Sundance Spa Store keeps a variety of sizes of Hot Tub Cover Caps in stock at all five of our locations.
Balance Your Water
Imbalanced water chemistry can contribute to Hot Tub Cover damage. Excessive levels of sanitizer, high or low pH & Alkalinity levels and exposure to ozone gas or Salt Systems can shorten the life span of your cover.
When adding chemicals to your Hot Tub, jacuzzi, whirlpool or spa tub you should always run the jets and leave the cover open for at least 20 Minutes to allow the chemicals to oxidize and circulate. This will also help prevent odor build up on the underside of the cover.
Closing the cover straight after adding chemicals to the water, or failing to balance the water can cause vinyl puffiness, sagging, and bleaching on the cover's underside. It can also cause the Hot Tub Covers interior vapor barrier to break down, which will lead to the foam insert absorbing water at a much faster rate. Read this blog for more information on balancing your water.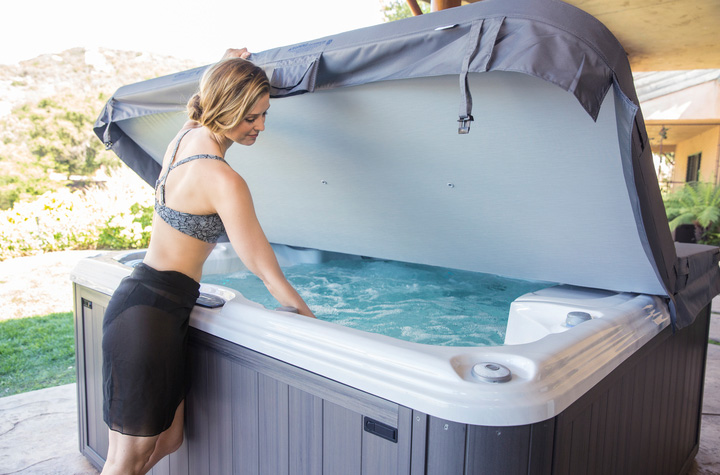 Inspect Your Cover Regularly
Frequently inspect your Hot Tub Cover for any wear and tear that might require some attention.
When inspecting your Hot Tub Cover, check the covers clips & locks are in good working order. Clipping down your Hot Tub Cover after each use will prevent the cover from being lifted off during any harsh weather events we encounter.
Come in and see us for replacement cover clips if needed – We even have a handy trick for replacing them without having to do any restitching on your Hot Tub Cover!
Keep an Eye Out for Mold & Mildew
Hot Tub Covers can be susceptible to mold growth if they are not well maintained. Sundance Spas Hot Tub Covers are treated with an anti-mold agent, but over time mold growth can occur.
During the winter months, you may notice mold & mildew starting to form on the underside of your Hot Tub Cover. This is easy to remove using some Natural Chemistry "Clean & Perfect" all-purpose cleaner and the rough side of a sponge. If the mold is really bad, use watered down bleach to clean it off, and rinse your cover well before putting it back on the hot tub.
You can help prevent any mold or mildew build up by opening up the Hot Tub Cover regularly to let your Hot Tubs water breathe. Getting some fresh air to the Hot Tub also provides an escape for any chemical smells that have built up under the cover since the Hot Tub was last used.
Is It Time for a New Hot Tub Cover?
If your cover is at the stage where it is getting almost too heavy to lift without getting all your neighbours over to help, and looks like it has seen better days, Replacement Hot Tub Covers are available for all Sundance Hot Tub Models. A brand new cover is going to take years off the appearance of your Hot Tub and really enhance the look of your backyard.
In addition the standard vinyl covers, SunStrong fabric covers are now available for all models of Sundance Spas.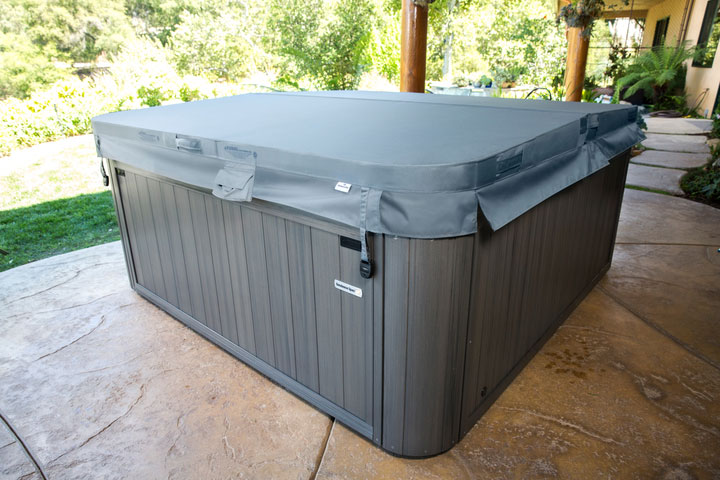 This durable Marine Grade Material has excellent resistance to water, mold, mildew and UV, so it stays looking new for a lot longer.
Stain resistant and easy to clean, The SunStrong Fabric is stronger than regular Vinyl and more resistant to tearing, cracking or fading.
The Sundance SunStrong Covers weigh 25% less than regular vinyl covers of the same size, which makes them easier to use without losing energy efficency, durabilty or safety. SunStrong Covers are available in Grey, Sienna (Mahogany) and Black.
Come in to see us at any one of our five locations (Burlington, Mississauga, Oakville, St. Catharines & Vaughan). for free water testing, advice on how to keep your Hot Tub and Cover looking great & more details on the new SunStrong Covers that are now in stock!