Skip to Content
Spazazz Spa Fragrance Crystals
The effects of aromatherapy are experienced through the sense of smell which is linked to the deepest parts of the brain governed by your basic instincts, thoughts and emotions.
On a physical level, aromatherapy can help to ease muscular aches and pains, improve circulation, ease sinus congestion and act as a strong antioxidant.
You can receive the benefits of aromatherapy while you enjoy a soak in your Sundance hot tub.
All 980 & 880 Series Sundance hot tubs are equipped with SilentAir Injector jets, which produce fragrance releasing bubbles through the SunScents Fragrance dispenser. For more information on SunScents, please read this blog.
In addition to SunScents, The Sundance Spa Store is also a provider of Spazazz Aromatherapy products.
Spazazz Aromatherapy Crystals
Spazazz aromatherapy crystals are an affordable indulgence that will enhance your Sundance hot tub experience every time you get in. The crystals moisturizing botanicals increase skin hydration and the long lasting aroma's soothe your senses.
All of our Spazazz products are designed to de-stress and have anti-inflammatory properties.
These aromatic crystals can be added to any Sundance Hot Tub, jetted bathtub, whirlpool, jacuzzi, swim spa or portable hot tub.
As they are specifically designed for this use, they will not have any adverse effect on your hot tubs water and will not cause foam or leave any oily residue.
No matter what your primary use for your Sundance hot tub is – relaxation, rehabbing an injury, or revitalizing personal relationships, Spazazz Aromatherapy Crystals have a scent that will enhance each experience in its own way.
Here is a breakdown of the various fragrances we have in store!
Rx Therapy Crystals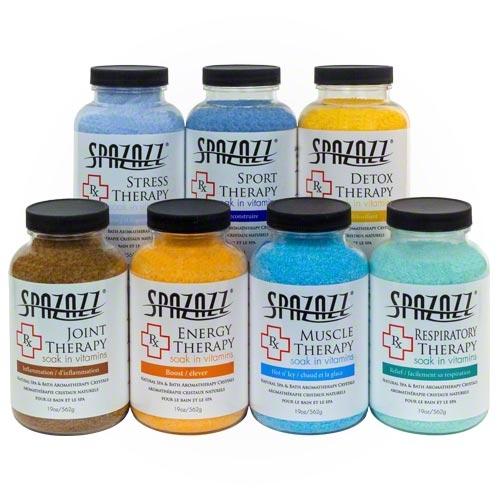 The most popular range of fragrances that we keep in stock is the Spazazz Rx Therapy Crystals.
Rx Therapy is a line of products designed entirely around soaking away aches and pains, while relaxing and soaking in vitamins.
Treat yourself to this all natural blend of herbs, minerals, vitamins C,A,K,E, Arnica, Calendula and botanicals that will help alleviate stress and tension while leaving your skin feeling soft and shine with a healthy glow.
Stress Therapy – Feeling stressed? Relax and clear your mind and body as you soak in this stress relieving blend of all natural aromatherapy.
Sport Therapy – Intense sports workout? Tired and sore after your physical training exercise? Our rebuilding therapy blend will help you relax and rejuvenate as you soak.
Detox Therapy – Detoxify your body and eliminate built-up toxins with this special blend of aromatherapy. Detox therapy is specifically designed to purify your system from the outside in.
Joint Therapy – Pain or stiffness in your joints? Feel sore? This therapeutic blend of all natural botanicals will help to reduce inflammation and sooth painful joints, while improving your circulation.
Energy Therapy – Need a pick up or boost? Rejuvenate by soaking away those aches and pains by using our Energy Therapy blend of therapy crystals. Perfect for reinvigorating after a long day or even for getting the day started.
Muscle Therapy – A customer favourite! Muscle Therapy alleviates sore muscles with a natural blend of Hot N' Icy goodness!
Respiratory Therapy – Feeling congested? Having breathing problems? Submerge yourself and relax in a soothing blend of aromatherapy… breath deeply and clear your body with this purifying upper respiratory blend.
Happy Therapy – Feeling blue? Relax your body and soak away your worries with this fresh therapeutic blend of pure bliss!
Sleep Therapy – Feeling tired? Relax and clear your mind and body as you soak in our sleep & relax inducing blend of all natural aromatherapy. Nothing clears the mind and body better than a nice relaxing soak before bedtime!
Destinations Crystals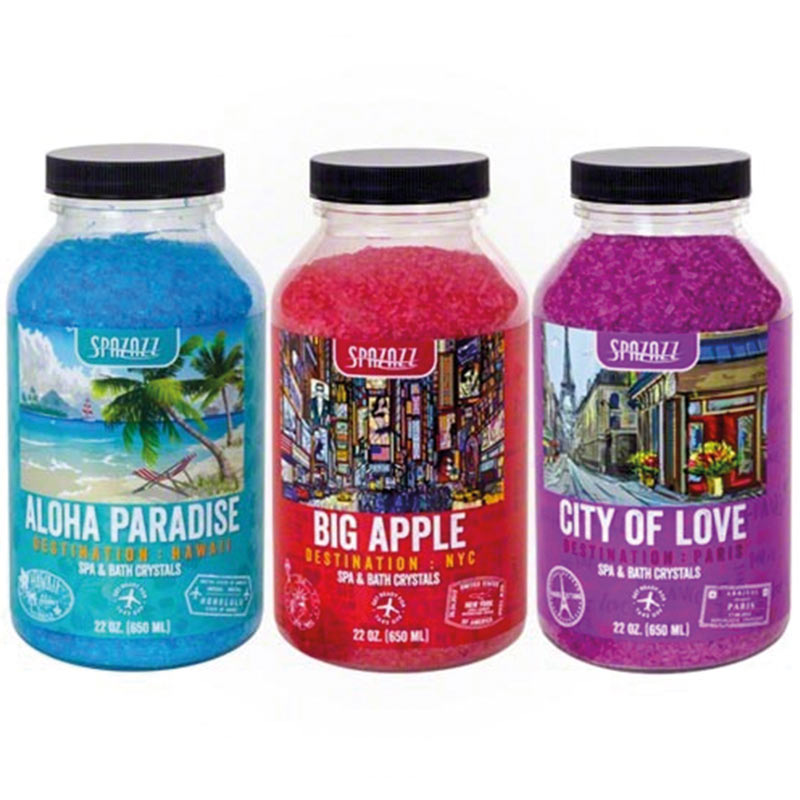 With the new Destinations Spa Crystals, you are transported to remote destinations, across different lands, sharing in everything that make these exotic locations wonderful.
Hawaii: Aloha Paradise – Greet paradise with a memorable lai, relax in a beach chair with your toes in the sand, and a tropical concoction in your hand. Let the warm citrus bouquets, infused with amber hues linger.
Paris: City Of Love – Fall in love with the abundant fragrance of the beautiful flower carts and fresh fruit stands, the enticing aromas of the near by Patisserie, and the intoxicating perfumes from passers by on the Champs-Elyseés as night falls on the city of lights.
NYC: Big Apple – Your adventure begins with a sunny morning stroll on the winding paths of Central Park, lined with wildflowers and fresh-cut-grass. As day turns into late night, the razzle dazzle of Broadway brings out the crisp scent of sparkling apples, the neon lights of Time Square, and the light breeze of the Harbor.
Escape Crystals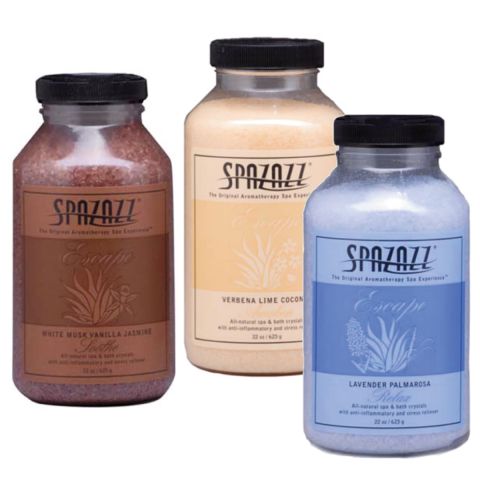 Relax your state of mind with the naturally colorful and fragrant Escape aromatherapy crystals. The Escape Crystals have been a customer favourite for many years!
White Musk Vanilla Jasmine – Soothe your skin with the sensual and warm white musk blended with the aphrodisiac Jasmine, and the calming properties of vanilla. It will make for the perfect evening in the hot tub or bath. Jasmine has a sensually sweet exotic scent that will create a long lasting and soothing evening you will not soon forget!
Pomegranate – Pomegranate is well known for its amazing medicinal powers. This classic fragrance blends pomegranate with all natural minerals and vitamins to come up with an energetic blend that will not only soothe your tired body, but will arouse your emotions and moisturize your skin naturally.
Verbena Lime Coconut – Awaken your spirit with the fused blends of verbena, lime, and coconut, and you get a fragrant blend of coconut with a potent aroma of lemon and lime. Verbena (vervain) is known for its versatile uses for healing and it's wonderful benefits to your skin. Nothing mixes better with the wonderful aroma of coconut, with its well known skin moisturizing properties.
Lavender Palmarosa – The all natural rich fragrant aroma of lavender will sooth your senses immediately as you open the bottle. Mixed with a blend of palmarosa and all natural vitamins and minerals, it is formulated to provide long-lasting moisturization and to nourish your skin.
Botanical Crystals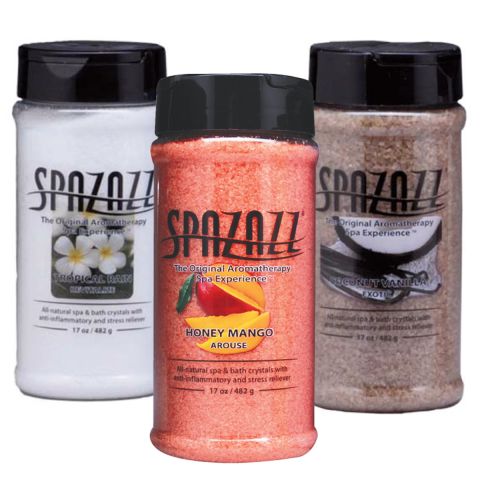 Treat yourself to this all natural blend of botanicals, Aloe Vera and enhanced fragrance longevity that will help alleviate stress and tension while leaving your skin feeling soft and shine with a healthy glow.
Coconut Vanilla – The rich scent of coconut combined with the relaxing scent of vanilla.
Eucalyptus Mint – Relax and unwind with this invigorating and moisturizing blend of eucalyptus and mint.
Fresh Cut Flowers – Bathe in the sensual and romantic aroma of Florawood fresh cut flowers.
Honey Mango – Stimulate and arouse that desire deep within you with this rich honey mango blend of aromatherapy crystals.
Ocean Mist – Let the waves of tranquility and the aroma of the ocean breeze come over you as you lay back and relax in your Sundance hot tub or bath.
Pina Colada – Relax and indulge in the effervescent fragrance of the juicy pineapple mixed with coconut.
Tropical Rain – Revitalize your senses with the effervescent aroma of Plumerias and a light touch of tropical rain.
Warm French Vanilla – The calming properties of Warm French Vanilla are known by everyone. For some it brings back the days as a child, baking with your mom. For others, it is the smell of a candle or the taste of ice cream.
Come in to any of our six locations (Burlington, Hamilton, Mississauga, Oakville, St. Catharines & Vaughan) and check out all the great hot tub fragrances that we have available!