Skip to Content
Give Yourself a Boost Every Morning!
Author and Workplace Performance Expert Lynn Taylor says "How you begin your morning often sets the tone and your attitude for the rest of the day. It can also either derail or direct your focus. Having a good start to the day is critical in achieving better results"
Some people wake up every morning bright eyed and bushy tailed, saying "Ok World, Let's Roll!", and then there are those of us who stagger out of bed foggy headed wondering what day it is and where the coffee is.
Whether you are naturally a morning person or not, a refreshing soak in a hot tub first thing in the morning can make every morning feel great. It will help you adjust your attitude, loosen your muscles, focus your thoughts and set you up for a productive day. Here are some ways soaking in your Sundance Spa can help kick start your day!
Enjoy the Silence
Ease your way into the day by taking a few minutes to enjoy the tranquility your Sundance Spa provides. Often times we are bombarded by noise – TV, Radio, Traffic & loud music surrounds us during the day. As you slip in to your spas warm water, you can enjoy relaxing in peace and quiet.
Sundance Spas energy efficient jet pumps are designed and installed to run very quietly, ensuring a wonderful therapeutic massage without the overbearing noise that a lesser hot tub's jet pumps make.
Add the beautiful, calming sound of running water to your morning routine with the waterfall (featured on all 780, 880 & 980 series spas) creating a soothing, serene sound. Let the multicoloured LED lighting visually stir your senses as you start a new day.
One great advantage of starting your day in your spa is that you can enjoy the wonders of nature around you. watch the seasons change. Enjoy the glistening snowfall of Winter, listen to the birds sing in Spring, Take in a beautiful Summer sunrise & marvel at the transformation of the trees during the Fall.
Taking in the sights and sounds of nature from your Sundance Spa will sharpen your focus, clear your mind and give you a positive outlook ahead of the day.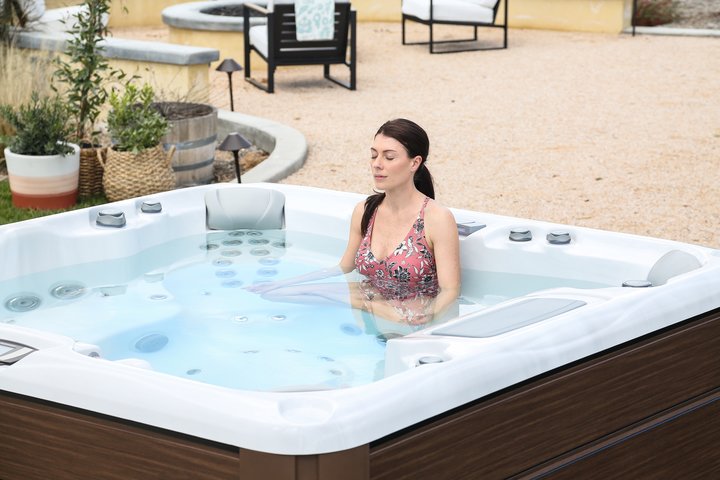 Get Motivated
After you have chilled out in the peace and quiet for a while and are in a great mental place, why not synch your smartphone or tablet to the BlueWave Spa Stereo System or your outdoor speaker system and listen to some of your favourite tunes or a motivational podcast? It's a great way to get yourself pumped for the day ahead!
Leadership expert John C. Maxwell says "You don't overcome challenges by making them smaller but by making yourself bigger", and one great way to make yourself bigger is by listening to podcasts by those who inspire us to become better.
Listening to a motivational podcast as you relax in your spa will help you:
Sharpen Your Skillset
Learn New Things
Become More Imaginative
Develop your Multi-Tasking Skills
Become a Better Listener
Get motivated for the day while you relax and enjoy soaking in your Sundance Spa!
Stretch Out and Relax
Stretching out in your spacious Sundance Hot Tub for a few minutes after a night's sleep will, according to the Mayo Clinic, "Help improve flexibility, and, consequently, range of motion in your joints".
Better flexibility may improve your performance in physical activities or decrease your risk of injuries by helping your joints move through their full range of motion and enabling your muscles to work most effectively.
Having a good stretch in your hot tub will increase the effectiveness of the patented Hydrotherapy jets. Sundance Spas jets are designed to target particular muscle groups and pressure points and, like a trained masseuse, they soothe sore muscles so that you start your day stress-free and pain-free.
Starting your day by soaking in your spa will leave your body feeling great, ensuring you are ready for anything that the day throws at you!
A New Way to Break the Fast
It is very likely that at some point you have had someone remind you that breakfast is the most important meal of the day, and that someone is right!
Breakfast (breaking the fast) is certainly a vital part of your morning routine so why not take it outside and incorporate it in to your Sundance hot tub session?
Bring out some fresh fruit, mix a delicious smoothie or enjoy a lightly toasted bagel – enjoying your breakfast outdoors is a wonderful feeling.
No breakfast is complete without a refreshing beverage. For some of us, the new day isn't real until we have had a delicious cup of Coffee! And where better to enjoy that first, glorious cup than in your hot tub? The increased blood flow you experience while soaking in your spa will deliver the energy faster for an eye-opening wake up.
Your Sundance hot tub is equipped with a variety of drink holders and all 880 & 980 models have built-in coolers to keep your drinks ice cold, so you can enjoy your first water or juice of the day in the comfort of your Sundance Spa!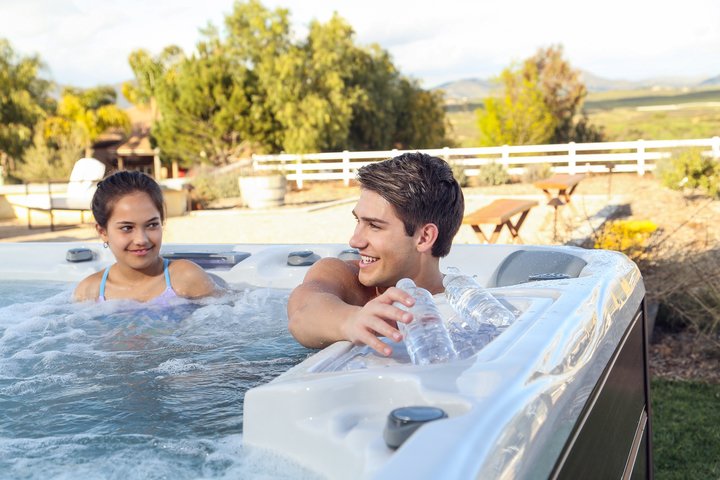 It Gives You Something to Look Forward To
One side effect of a Morning hot tub session is that you might find yourself day dreaming about getting back into your Sundance Spa at night after the day's challenges have been met.
Just as starting your day with a soak can set you up for a great day, ending your day in your spa will set you up for a fantastic night's sleep.
Start and end the day right with a hot tub from Sundance Spas!
To find out more about the many health and wellness benefits of a Sundance hot tub, come in and see us at any of our 6 locations (Burlington, Hamilton, Mississauga, Oakville, St. Catharines, Vaughan).
We have some excellent promotions on right now, with big discounts on Sundance Spas, and our Soak 'N Sweat Package deals on a spa & sauna. Come in and see us for more information!