Skip to Content
Sauna of the Month: HM44 Traditional Finnish Sauna
This 2 person plug in indoor sauna can be installed in most any location: apartment, home, insulated garage, basement and even at the office.
For thousands of years people have enjoyed the many benefits of heat therapy, including detoxification, increased metabolism, weight loss, improved blood circulation, pain relief and much more (read here for more on the health benefits of sauna use).
Owning your own Finnleo Sauna gives you the opportunity to enjoy the invigorating sauna experience anytime you want – no more having to share with strangers at the gym!
Here is a look at some of the features on one of our most popular traditional saunas, the Hallmark Series HM44.
Easy Installation
With no finishing work, no plumbing and no electrician required, the HM44 is super easy to install and set up!
The 6 panel HM44 uses a "Pin & Hook" wall attachment system for quick and easy assembly. Once the sauna is in place and assembled, simply plug in to the closest outlet and you are good to go.
Rather have a pro assemble the sauna for you? no problem! We can arrange for our in-house team to take care of delivery and set up for you. Please visit your nearest store for more information on delivery & installation.
Quality Construction
Finnleo have been building saunas for over 100 years. They are the largest sauna manufacturer in the world, and are renowned for quality design, innovative technology and quality construction.
The HM44 is built with clear Canadian Hemlock which is a responsibly harvested sauna wood which is sealed with a bio-friendly furniture grade finish.
A Canadian Hemlock interior is augmented with a two-tone backrest to provide a beautiful light & dark contrast inside the sauna. The backrest also features integrated Multi-Colour LED lighting for reading and mood enhancement.
An all glass door ensures a non-claustrophobic feel as well as providing a clean, contemporary look that will enhance any living space.
Powering the HM44 is a Finnish-made industry leading stainless steel heater, engineered and patented by Finnish designers. The 1.7kw Junior heater holds up to 25lbs of vulcanite rocks, so you can add water to receive an exhilarating blast of steam adding humidity to the heat to amp up your experience to another level.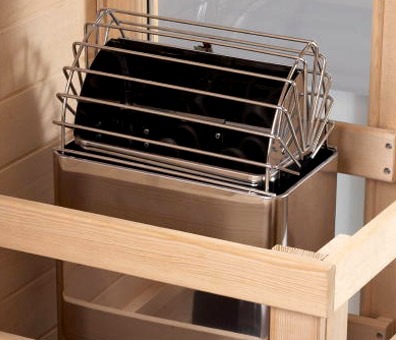 Digital Controls With WiFi App
The HM44 is operated via a proprietary state-of-the-art control system that features a mobile app to control the sauna from your mobile phone or tablet from anywhere you have cell service
SaunaLogic 2 is North America's first sauna control with true worldwide mobile functionality.
The SL2 control is feature-rich, giving you the flexibility to control your sauna easily, from anywhere. Its glass touch screen provides a modern and extremely flexible option for the modern sauna owner. This control operates time, temperature and lighting The pre-set timer option means you can program your sauna to be hot and ready for use at anytime, day or night.
Bluetooth Sound System
Create the perfect mood for your wellness session by adding music to your sauna experience. The HM44 has a built-in stereo system, just simply pair your BT ready device with your sauna and you can enjoy your favourite songs through the integral heat-resistant speakers!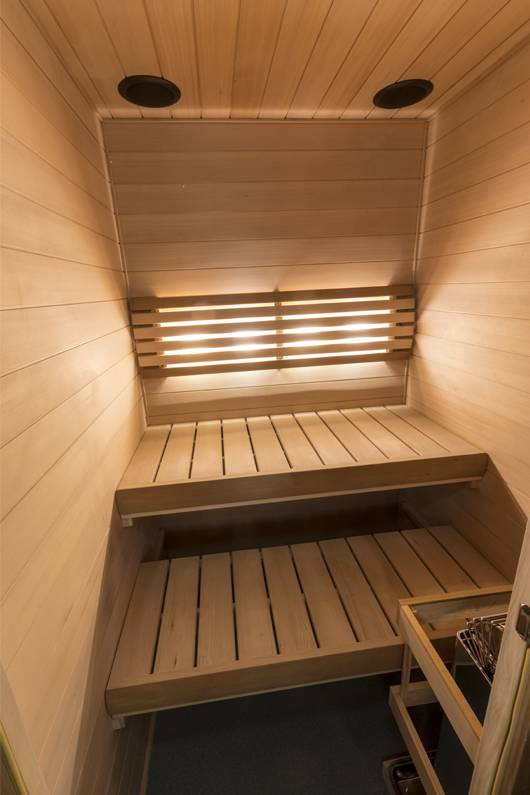 Dimensions:
Electrical Requirements:
120v / 15 Amp – Simply plug in to a regular outlet.
Standard Features Include:
Clear Canadian Hemlock inside & out
Two-Toned Wood Accents
All Glass Door
Combination Door Handle (Handle & Towel Bar)
Integral Flooring (Water resistant & easy to clean)
In-Backrest LED Lighting – Great for reading and mood creation
Warranty
Electric Heater – 5 Years
Wood Cabinet – 5 Years
Controls – 5 Years
Other Sizes Available in the Hallmark Series:
HM46: 48″ x 72″ x 80″h. 
HM57: 60″ x 84″ x 80″h. 
​For more information on the Hallmark series, as well as our other sauna options (Far Infrared Saunas, InfraSaunas, Outdoor Saunas), please visit your nearest store (Burlington, Hamilton, Mississauga, Oakville, St. Catharines & Vaughan) and our team will be happy to help you find the Finnleo Sauna that is the perfect fit for your needs.