Skip to Content
Pool Marvel Natural Water Treatment & Conditioner
Carefully formulated to work with ALL pool and swim spa care systems including salt water chlorine generators, the naturally derived enzymes of Pool Marvel free up chlorine by targeting organics that cause algae and biofilm, which simply means that you will use a lot less chlorine to maintain desired sanitizer levels when using Pool Marvel.
What Are the Benefits of Pool Marvel?
Pool Marvel's super concentrated formula:
Dramatically reduces pool maintenance.
Improves water clarity and quality.
Enhances chemical treatment.
Helps maintain pH and alkalinity.
Reduces scum lines, chemical odours and irritated eyes.
Improves filtration.
Leaves skin feeling soft and silky.
Contributes to the longevity of your pool and equipment.
Comes with an unconditional guarantee.
Is a product SO SAFE that it doesn't require a warning label.
How Do You Use Pool Marvel?
One capful (100ml or 3.3oz) treats up to 75,000 liters (20,000 US gallons) of pool / swim spa water per week
Mix the required amount in a bucket of pool water and disperse the mixture evenly around the perimeter of the pool.
Monitor filter pressure 2 hours after the application of Pool Marvel.
Repeat the application once per week during pool season.
Double the dosage when closing and opening a pool for the season.
Do not mix directly with other water-treatment products.
Apply when water is between 12° – 30° C (54° – 86° F).
Use sanitizer as required.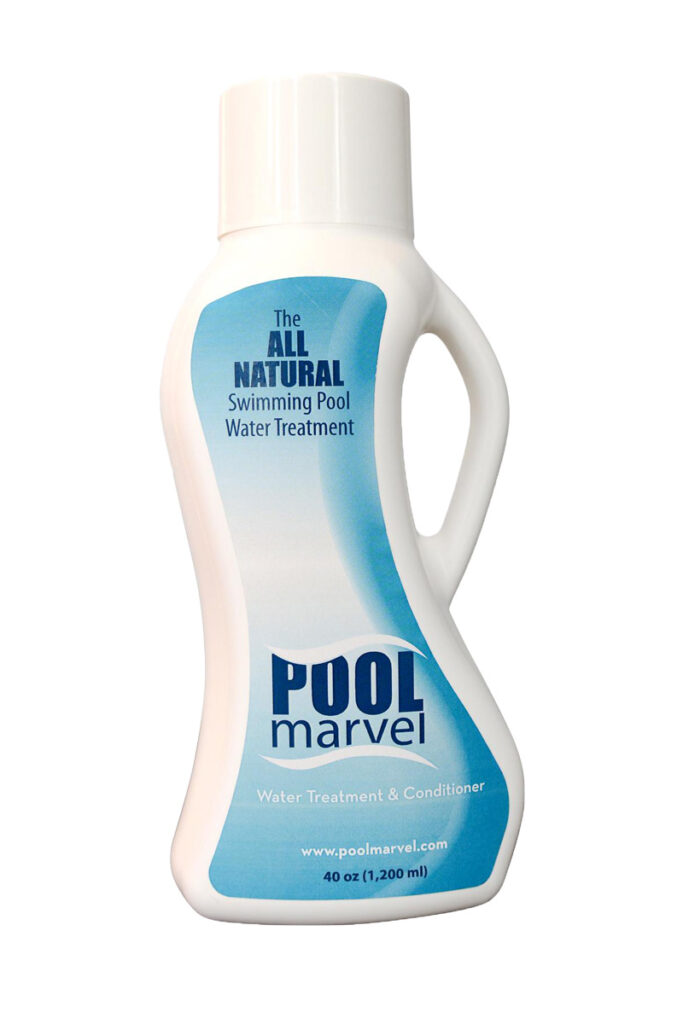 Where Can I Purchase Pool Marvel?
Pool Marvel is now in stock at our Burlington and St. Catharines locations.
Can I Use This Product in My Hot Tub or Spa?
Pool Marvel is too highly concentrated for use in your hot tub or spa, but fear not, there is a product designed specifically for spas!
Spa Marvel is an all natural spa water treatment that conditions your hot tub water for 3 months. Read more about it here.
Spa Marvel is available at all 6 of our locations (Burlington, Hamilton, Mississauga, Oakville, St. Catharines & Vaughan). Or you can purchase it through our new online store here.