Skip to Content
Sauna of the Month – The S-820
Made with clear Canadian hemlock, known for its sturdy quality and beauty, the S-820 is our best selling infrared sauna room.
All Finnleo Pure Infra Saunas are built with prefabricated panels for fast assembly with no tools – you can enjoy the full detox, relaxation and health benefits of your sauna within an hour of delivery.
The S-820 is a plug and play unit that plugs into a standard 15 amp outlet – no electrician required!
Here is a look at a few of the reasons the S-820 is such a popular sauna.
Stylish & Space Saving Design
Measuring 48″w x 40″d x 77″h,the S-820 is ideal for small spaces such as apartments, condos, basements, bedrooms and offices.
Although the S-820 is a relatively small unit, its clever use of space means you can still comfortably fit two people sitting side by side or you can stretch out and enjoy your sauna while laying down without feeling cramped.
This Finely crafted premium infrared sauna has full glass fronts and tempered, top quality floor to ceiling glass doors that look amazing and keep the sauna user from feeling claustrophobic.
Lighting is an important factor in any room, and the S-820 is equipped with mood enhancing 6-colour chromotherapy lighting. 
A wooden door handle/tablet holder/towel bar is a stylish new addition to the S-820 to improve comfort and functionality.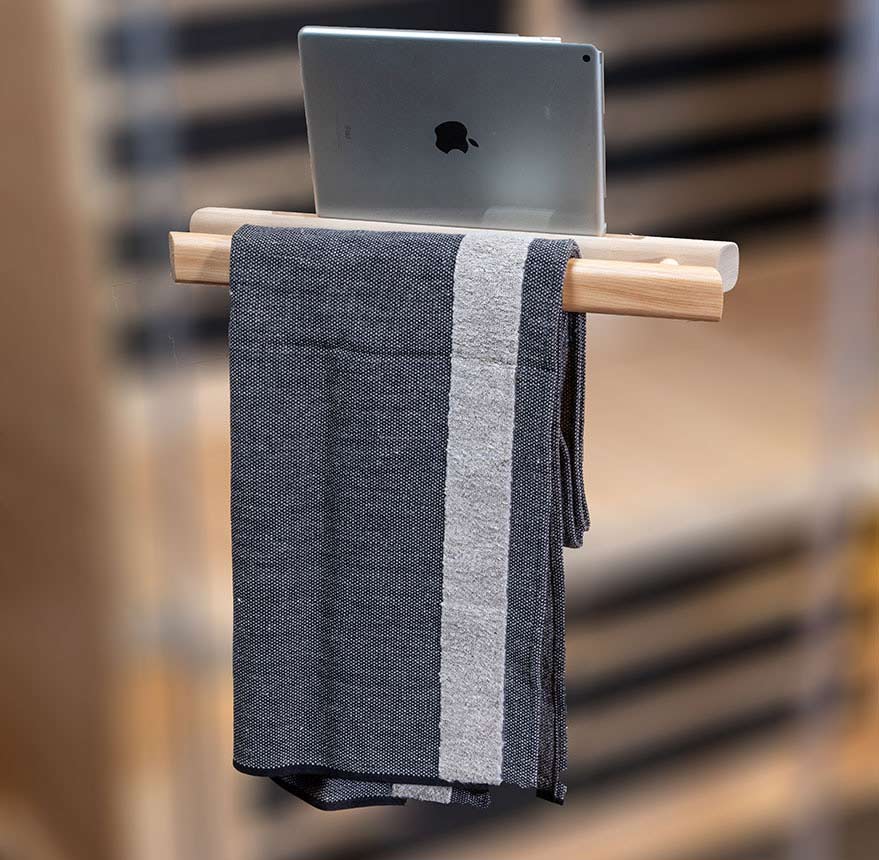 Carbonflex Evenheat Technology
The S-820 uses patented Carbonflex Even Heat Technology that warms quickly and evenly with no "cold" spots.
EvenHeat Technology features oversized far-infrared heating panels that ensure infrared light waves warm every part of your body evenly.
There is also a gentle heat-redistribution system that spreads heat more evenly throughout the sauna, to ensure you are bathing in glorious heat from every angle, floor to ceiling.
Finnleo Saunas patented Carbonflex emitters include an exclusive non-linear heating system as well as a built-in cooler system that maintains the production of infrared light waves even at maximum temperature.
Many lesser quality saunas, particularly those found online, are built in such a way that the infrared panels reach a certain temperature and then shut down so that they can cool down. When this occurs, infrared light waves, which are the primary provider of health benefits in an infrared sauna, are no longer being produced.
Sitting in a warm infrared sauna when infrared light is not being emitted offers little to no health benefits which is why Finnleo's patented interior panel cooling system is so advantageous as it allows infrared light to continuously be emitted without the need for a cooling break for the heat panels.
Lowest EMR/EF
Finnleo's S Series Saunas have by far the lowest EMR/EF of any infrared bathing system —beating even Sweden's tough standards. Simply put, no other infrared sauna system minimizes your exposure to EMR and EF better than Finnleo Pure Infra.
Our saunas are tested by an independent 3rd party company to ensure they produce low levels of EMR and EF, and we at The Sundance Spa Store have TriField EMF Meters in-store so we can show you exactly how low the levels are so you can rest assured that your Finnleo Sauna is the safest in the world!
Standard Features Include:
Bluetooth Stereo System
Hemlock Interior / Exterior
5 Year Control & Heater Warranty
In-bench & Floor IR emitter panels
Interior SaunaLogic Touchpad Control