Skip to Content
From Sweat Lodges to Home Saunas: Heat Therapy Around the World
Taking your first step into a heat-filled room instantly starts working its magic. Your mind starts to wander and your muscles relax.
Heat therapy has been around for centuries in various forms across cultures. Consider the birthplace of a true sauna along with cultures halfway across the globe that also have used the concept of heat therapy as a key component of their culture.
A Brief History of the Finnish Home Sauna
The sauna dates back farther than you can imagine. Although the exact origins of the sauna are unclear (some evidence shows saunas going back 2,000 years), the Finnish Sauna Society declares the Finnish people have been following the tradition of the sauna ritual since the 12th century, when it probably wasn't much more than a pit dug into a slope heated by stones warmed over a fire.
From there, the Finnish sauna went through a series of advancements, from a pit to a four-cornered log hut (which also served as a home) heated by a wood-fired stove without a chimney, and finally the wooden rooms that we are familiar with today.
Traditionally, saunas weren't only used for relaxation. In Finland, the sauna's primary purpose was a place to bathe.
For many homesteads, the sauna was the first building constructed because of the many uses it served. According to the Finnish Sauna Society, they were also essential for completing chores like curing meats or more ceremonial events like childbirth and preparing bodies before burial.
When you are planning, or dreaming, of that wonderful Scandinavian vacation, one experience is sure to come to mind. Saunas are quintessential Scandi. More specifically, we can thank the Finnish for making modern saunas popular for home use. The Finnish Sauna Society share a quote by Finnish writer Maila Talvio:
"There is nothing that Finns have been so unanimous about as their sauna. This unanimity has remained unbroken for centuries and is sure to continue as long as there are children born in their native land, as long as the invitation still comes from the porch threshold in the evening twilight: 'The sauna is ready.'"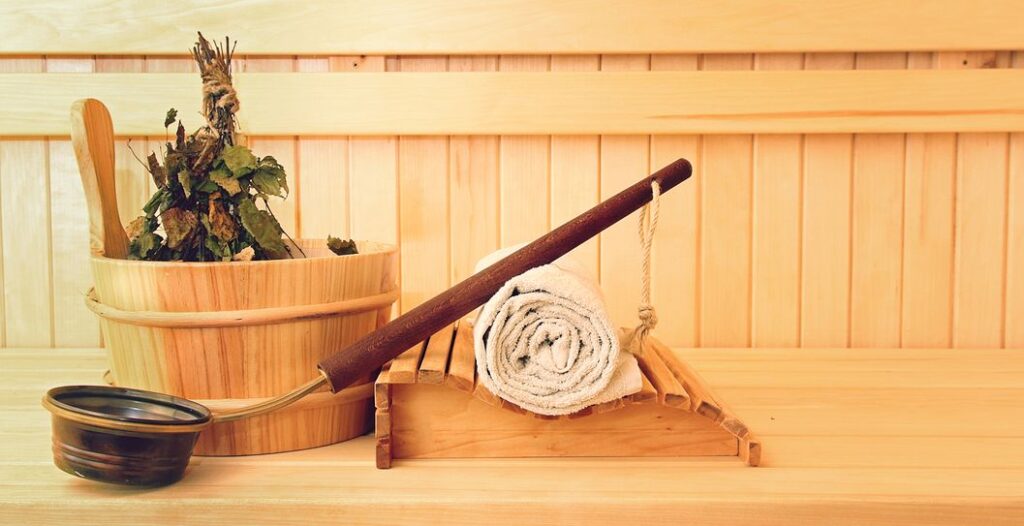 Other Heat Therapy Cultures
First Nation & Native American sweat lodges are probably the closest heat therapy in relation to Finnish saunas. Only in this instance, the ritual takes on a much more spiritual context. According to the Encyclopedia of the Great Plains,
"A sweat lodge is contemporary religious ritual of ancient origin used by Native Americans throughout the Great Plains…Eastern Indian groups removed to the Plains by the US government also engage in ceremonial sweating."
As a center point in the culture, a sweat lodge experience is used for vision quests and sacred bundle quests. The sweat lodge is also the place where the group sweats together to consult, encourage, and protect themselves from disease, disaster, poor crops, etc.
While Finnish saunas and Native American sweat lodges usually rely on a more dry heat, other cultures have their own history of using heat therapy. According to the BBC, the first public bath use probably came from the nomadic tribes of the Neolithic Age, in the lost city of Mohenjo-daro.
It's situated in present-day Pakistan and was of the Indus Valley region, dating back to 2500 BC. Fast-forward to the Romans in 300 BC who used public bath houses for manual workers to stay clean and allowed people to socialize.
Throughout history, saunas and steam baths have served as the great spiritual and social hub for cultures around the globe.
Their own versions include the Turkish baths or hammans, as well as Russian banyas, Japanese onsens, and Korean jimjilbangs.
Modern Sauna Use
Today, we see sauna use as an instrumental part of social interaction in many communities. Technology has advanced, including the introduction of infrared saunas, allowing homeowners to customize their sauna experience. Plus, there are extensive health benefits to heat therapy ranging from reduced stress to improved immunity.
By having your very own home sauna, you can capture the quintessential essence of a Finnish sauna—all without the high-priced airplane ticket and hotel bill.
Visit any of The Sundance Spa Store's six locations (Burlington, Hamilton, Mississauga, Oakville, St. Catharines, Vaughan) for assistance choosing the best sauna for your lifestyle. We carry a full range of saunas, including traditional, infrared, combo saunas and outdoor units.
We have some exciting promotions on right now, with big discounts on In-Stock, Floor Models & Demos for both Finnleo Saunas & Sundance Spas. Interested in a hot tub and a sauna? ask us about our Soak 'N Sweat Package deals!