Skip to Content
Hot Tub of the Month – The 880 Series Aspen
Measuring 7'6″ x 9'2″ x 41.5″, there is room for up to eight people to sit in extreme comfort. Offering the perfect blend of sore muscle relief and plenty of space to socialize, this opulent hydrotherapy spa has the best of everything.
The Aspen gives you the very best of everything so that you can enjoy the ultimate in backyard entertainment and personal hydrotherapy. Here is a look at just a few of the features that stand out on this immense hot tub!
Lighting & Waterfalls
Multi-Colour SunGlow LED lighting, featured on all Sundance Spas, lets you set your own mood with a variety of colour schemes to create the perfect relaxing environment. Fixed or changing colours, Slow or fast colour wash, Multiple brightness levels – You can personalize your lighting to adjust the atmosphere as you soak away the stress.
The stunning style of SunSide™ cabinetry also includes integrated exterior corner accent lighting which will leave a lasting impression.
A unique feature on the 880 Series Aspen is the Dual AquaTerrace Water Feature. These variable flow waterfalls provide the sight and sound of running water and are back-lit with Multi-Coloured LED Lights to add elegance and romance to your Sundance hot tub experience.
Full Body Intelli-Jet Seat
Only found in select models, this full-body seat focuses on your neck, back, hips, knees, calves and feet to give you precisely what you need to improve the way you feel.
This seat includes a combination of the patented Vortex rifle action jets and the exclusive Fluidix Intelli-Jet. Intelli-Jets can be set to provide either a straight stream or a pulsing, wave-like stream for a fully customizable hydromassage experience.
Also featured in this chair are 2 pulsing neck jets and a whirlpool jet that brings water around to the front of your body for an all over massage.
i-Touch Control Panel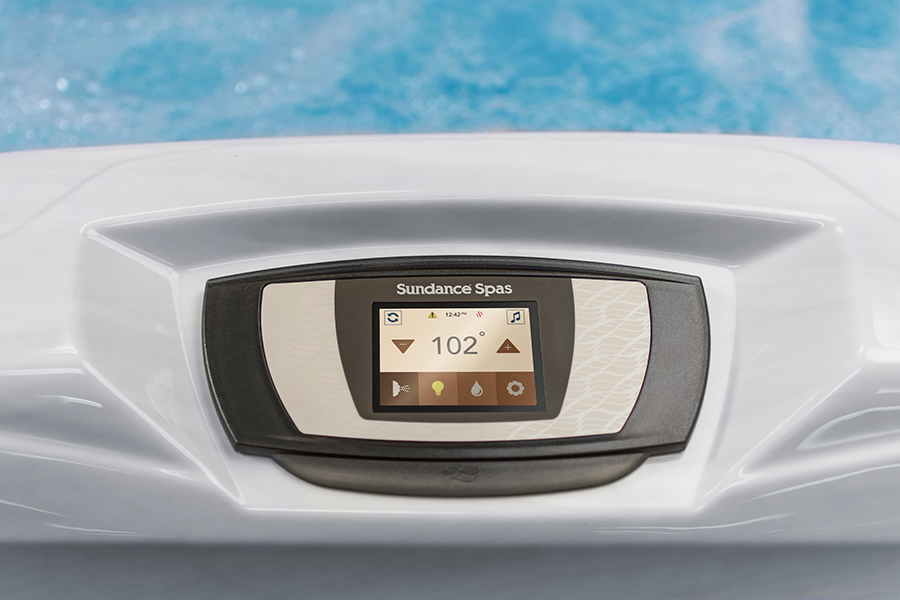 The advanced i-Touch Control Panel amplifies ease of use with a glowing, colour touchscreen control and icon-driven menus, so programming your Sundance Spa is easy day or night.
You can pre-program settings to conserve water and energy, so your comfort isn't negatively affected by high utility bills. Advanced microprocessors check all functions 60 times per second. The backlit LCD touchscreen display inverts to read from inside or outside your Sundance hot tub.
From the i-Touch control panel, you can adjust your Sundance hot tubs temperature, change filtration cycles, operate your hot tubs Jets and SilentAir Injectors. You can also set your ClearRay timer, filter timer and turn the SunGlow LED lights on and off as well as adjust the brightness level and select a preferred colour.
i-Touch is compatible with the optional SmartTub™ System, which gives you the ability to monitor and control your Sundance hot tub from your smartphone or tablet. 
Standard Features Include:
ClearRay® Active Oxygen Water Purification System
MicroClean® Ultra Filtration System
Dynamic Flow™ Silent Circulation Pump
3 x High Flow Theramax Jet Pumps
Patented RigidBond Shell Construction – 5 Colours
SunSide Synthetic Cabinet w/ Exterior Lighting – 3 Colours
Jet Quantity: 66 in 8 varieties
SunScents™ Aromatherapy with 14 SilentAir® Injector Jets
Titanium Coil Heater To Increase Efficiency
SunTouch™ Fully Programmable Control Panel
Fluidix™ Jets – No Moving Parts – 5 Year Warranty
Status Indicator Light
Accu-Ssage™ Therapy Seat
Built- In Moulded Hand Grip For Easy Access
Multicolor SunGlow™ LED Lighting
Dual Backlit AquaTerrace™ Waterfall
4 Comfortable Headrests
​Optional Features Include:
SmartTub Cellular Control System
Bluewave® Spa Stereo System
​Come in and see us at any of our 6 locations (Burlington, Hamilton, Mississauga, Oakville, St. Catharines & Vaughan) for more information on the Aspen (open seats) or Maxxus (Lounger model). We have some great promos on right now!