Skip to Content
Hot Tub of the Month: 780 Series Hamilton
The Hamilton's signature sleek lines give an elegant look to this contemporary hot tub which is designed to keep maintenance levels low and is equipped with state of the art technology and patented hydrotherapy jets to enhance your backyard hot tub experience.
Here are just a few of the features that make the Hamilton stand out from the crowd.
Full Body Lounge Seat
The larger dimensions of this model make the full body lounge seat perfect for stretching out long legs!
This series exclusive spiral action lounge seat is designed to cradle your body comfortably, so you can enjoy a full body massage without the worry of floating away.
Your neck, back, calves and feet are all given a relaxing hydromassage which is fully adjustable to suite your own therapy needs and body shape.
There are 2 Mini-Vortex Jets for your feet, so you get the foot therapy you deserve, and the patented SMT Fluidix Jets offer a spiral action massage to ease tension prone areas in small muscle groups.
Also featured in the lounge chair are 2 SMT Micro Jets to ease neck tension and 6 Adjustable Accu-Pressure jets, which are a deep tissue jet for the backs of your legs/calves.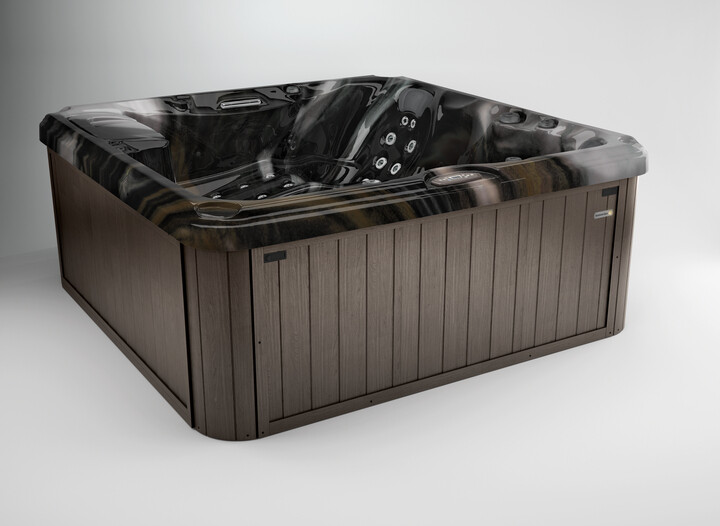 Micro Clean Filtration
The 780 Series Hamilton is equipped with the MicroClean1 Filtration System as standard.
This 2 Part System includes a Disposable high-spun polypropylene Microfiber filter that removes the smallest debris for greater water clarity.
The MicroClean Filter captures tiny particles, measuring as small as only one thousandth of a millimeter, which is 30 times smaller than a standard pleated Hot Tub Filter can handle.
The large, 75 Sq. Ft Pleated Cartridge Filter is washable for a long life and provides extra filtration when you need it most, when people are using the hot tub!
MicroClean Filtration, along with the ClearRay Active Oxygen UV-C + Ozone Water Purification System, SlipStream Skimmer and Dynamic Flow Circulation Pump all combine to give you outstanding water quality with a minimum amount of chemicals and the least amount of effort.
Vortex Therapy Seat
Escape discomfort and strain through the ideal combination of deep tissue, pressure point swirling, and a unique rifling action massage to shoulders and backs in this specialty seat.
The Vortex therapy seat contains 2 large Vortex jets for your lower and mid back and 4 of 780 series exclusive Mini Vortex jets to massage all across your upper back and shoulders.
The Vortex therapy seat is fully adjustable and will ease tension, relieve pain and increase range of motion with a combination of both high and low impact massage styles.
Vortex jets provide a swirling sensation that gives a form of Swedish massage, which is beneficial for increasing the level of oxygen in the blood, which helps decrease muscle toxins and improves circulation and flexibility as well as easing soreness and tension.
All 41 Jets featured in the Hamilton are constructed without bearings or any other moving parts, so there is nothing in them that can wear out over time this adds years to their life expectancy and ensures performance levels never drop, so you get the same great massage in 10 years as you will get today!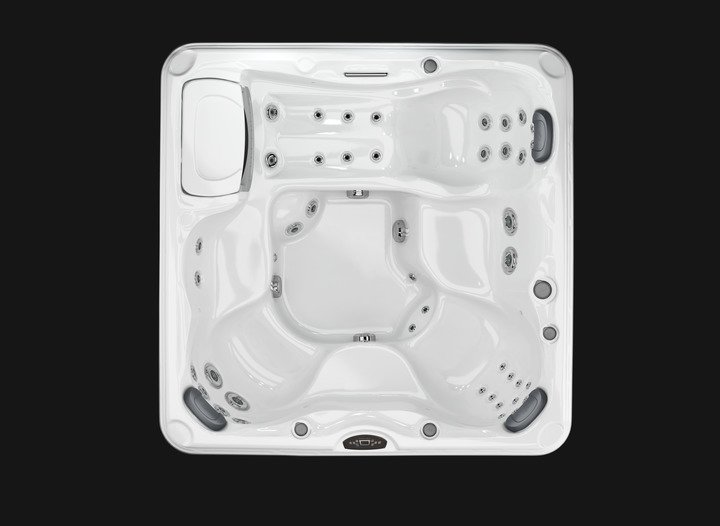 Standard Features Include:
20″ SlipStream™ Floating Skimmer
Multicolor  LED Lighting
Variable Flow Waterfall
4 Comfortable Headrests
41 Jets with Stainless Steel Trim
5.5kW Stainless Steel Heater
Fully Sealed & Insulated Synthetic Base & Moisture Barrier
System Indicator Light
Back-Lit Menu Driven Digital Control Panel
5 Year Equipment Warranty
5 Year Exterior Cabinet Warranty
10 Year Spa Shell Structure Warranty
5 Shell Colours, 3 Synthetic Cabinet Colours
Optional Features Include:
SmartTub Cellular Control System
BlueWave Spa Stereo System with Subwoofer
Come in to any of our 6 locations (Burlington, Hamilton, Mississauga, Oakville, St. Catharines, Vaughan) to see the 780 Series Hamilton in person.
If you are looking for an open seat hot tub, check out the 780 Series Chelsee, which is the same size as the Hamilton but without a lounger.
All of our stores have a 780 Series hot tub running, so you can see you can see the jets in action!