Skip to Content
Feature Focus: Fluidix Intelli-Jets
Thanks to our exclusive jet technology, you control the massage- so you can step into your backyard oasis and create your own personalized hydrotherapy experience.
Patented "Fluidix" jets are exclusive to Sundance Spas, and offer deep tissue, pressure point, muscle release and relaxation massage styles.
Our 780 series hot tubs feature up to 6 massage varieties for a comprehensive massage experience. With up to 10 different massage varieties, our 880 & 980 series offers the maximum massage coverage.
Fluidix Intelli-Jet
For many Sundance owners, one Fluidix Jet in particular stands out as their personal favourite.
A true game changer in the hot tub industry, the Fluidix "Intelli-Jet" redefines hot tub hydrotherapy and is without doubt the most versatile hot tub jet available.
With 3 different ways to adjust their power and two distinct massage styles available, the Intelli-Jet is the crown jewel of the Fluidix Jet family, and is featured on all 980 & 880 hot tubs.
Customize the Massage Style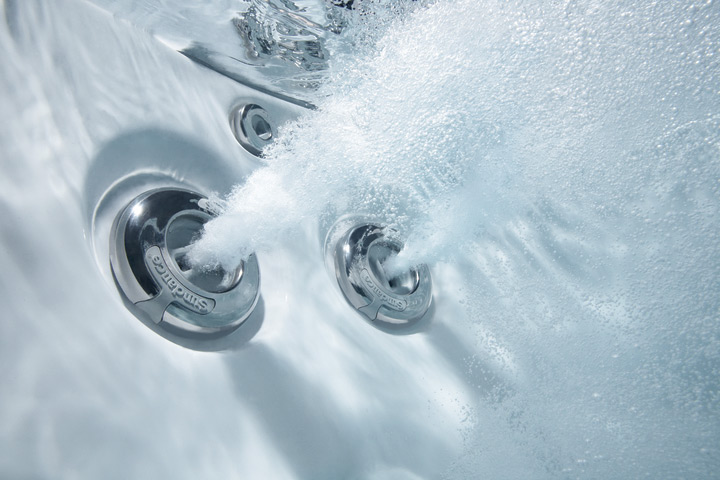 The Intelli-Jet features a unique design that includes a built-in "handle" to change the massage style.
Using the handle to set the interior of your Intelli-Jet vertically will provide a vigorous straight stream for a direct impact deep tissue massage.
Adjusting the Intelli-Jet from vertical to horizontal will result in a change from a straight stream to a pulsing, wave-like stream for a lighter massage.
Each Intelli-Jet is Individually adjustable, so you can sit in a therapy seat with a number of them and customize each jet to provide the perfect massage for your hydrotherapy needs.
All straight, all pulsing, a combination of both – the choice is yours!
Customize the Jet Power
Nobody wants to sit in a hot tub that gives a weak, powerless massage, or try to sit in front of a jet that is throwing out water with such force that it is impossible to sit in front of!
Sundance Spas exclusive jet technology makes certain that you can control the power of your hydrotherapy massage, and nowhere is that controllability more evident than with the Fluidix Intelli-Jet.
By turning the outer rim of the Intelli-jet you can adjust the water flow level to give you as much or as little power as you desire. Turn the jet face clockwise for increased flow, and counter clockwise to decrease or turn the jet off completely.
This feature is very popular with people who are really focused on a lower back massage, as they can reduce the power of the upper back jets so they can easily enjoy a rejuvenating lower back massage.
All 980, 880 & 780 Series hot tubs feature either one or two Massage Selectors, otherwise known as Diverter Valves.
Massage Selectors allow you to divert water from one seat to another to adjust jet power. Leave the selector in the middle position for both seats to be on, or turn it from side to side to add or subtract power from seat to seat.
A fun little hot tub game involves you trying to casually adjust the diverter without your fellow bather noticing, and see how long it takes for them to realize you are stealing their jet action!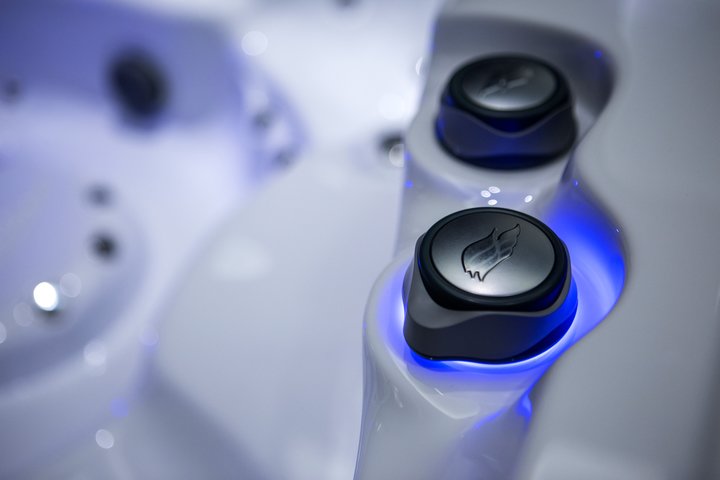 The third way of customizing your jet power is through the individual air controls.
You can add air to the water flow from individual air controls for a more intense massage. With the air control turned off, you will feel more "movement" of the water especially when the jet is horizontal for the pulsing massage style, then as air is added the massage will become more direct and intense
We would generally recommend you start your massage with the air controls off, and gradually add air as your muscles become more relaxed and can take a bit more intensity, but of course it is entirely up to you!
Adjustable Jet Faces, easy to use Massage Selectors & Individual Air Controls combine together to ensure the personalized hydrotherapy massage you want is right at your fingertips with the exclusive Fluidix Intelli-Jet.
Built to Last
Sundance Hot Tubs patented Fluidix jet technology employs natural principles of fluid dynamics, which cause the jet stream to oscillate without the use of bearings or internal moving parts that can wear out.
All Fluidix jets, including the Intelli-Jet, will continue to provide robust, customized massage action, even after years of use, because no moving parts equals less wear and tear.
Standard hot tub jets that use ball bearings or other moving parts such as flywheels or directional nozzles will slow down, wear out and eventually fail. For this reason, virtually all other hot tub manufacturers are only willing to provide a 1 or 2 year jet warranty.
Sundance Hot Tubs patented Fluidix & Vortex jets are designed to provide a lifetime of excellent performance and give you the ultimate in versatility and efficiency. They are backed on all  880 & 980 series models by a 5-year jet warranty, the best available in the hot tub industry.
Experience Them in Action!
Come in to any of our 6 locations (Burlington, Hamilton, Mississauga, Oakville, St. Catharines Vaughan) to experience the remarkable massage provided by the Sundance Fluidix Intelli-Jet.
Each store has at least one hot tub filled and running that features the Intelli-Jets, so feel free to come in and check out the Sundance difference.