Skip to Content
If you are thinking of purchasing an inflatable hot tub to see if you get good use out of it and find out whether you are hot tub people or not, be aware that the hot tub experience is vastly different in a Sundance Spa than it will be in an inflatable unit.
Before you purchase an inflatable hot tub, here are some things to consider:
Size & Comfort
Hot tub sizes are based on outside diameter of the tub. While a 6 person, 85" tub might sound deluxe, when you factor in a wall thickness of between 8″- 10", you're really looking at an inside diameter of around 65-67" which is nowhere near enough room for 6 people to sit comfortably.
The layout of most inflatable hot tubs means they are better designed just for the kids to use, there is little space available for stretching out tired legs so you can relax and enjoy a much needed hydrotherapy massage.
Jet Performance
Very often inflatable hot tubs are advertised as having up to 150 jets. That sounds amazing, until you realize that they are not the type of massaging hydrotherapy jets found on a Sundance Spa, but rather they are tiny pinpricks in the hot tub wall creating little bubbles through a blower. These tiny jets are not designed to give you a massage, they just add a bit of movement to the water and have very little therapeutic value.
Can It Be Used in Winter?
Most inflatable tub manufacturers recommend when the temperature drops below 7°, you should drain the tub and pack it away until the warmer weather returns. That means you miss out on some of the best times to be in a hot tub, when the cooler weather hits and the snow is falling down on you!
How Much Will It Cost to Run?
Don't buy an inflatable tub in the morning with the expectation of relaxing in warm water by the evening. In reality, you should expect a 1° rise in temperature per hour, which means if you fill the tub with 55° water, it's going to take more than 2 days (49 hours) to heat up to 104° degrees.
As you can imagine, a heater that has to run that long to do its job is going to be sending your hydro meter spinning, especially as there is no insulation in an inflatable hot tubs walls to help keep the water warm and prevent heat loss.
You should expect to budget around $750-$1000 per year in electricity to run an inflatable tub, which is double or maybe triple the cost of running an energy efficient Sundance hot tub.
The lower price paid up front for the tub is really a false saving, as you will be paying so much more to keep it running.
In addition to the higher hydro costs, you will also need to add way more chemicals to keep the water safe, as inflatable tubs are equipped with very small filters and do not have the ClearRay UV-C Water Purification System, which deals with 99.9% of the bacteria that goes in to your hot tub water.
Aftermarket Service
Buying a hot tub from a discount store or online merchant might seem like a good option, but what happens after the hot tub is in your backyard? Who will help you with questions about your hot tub water? Who will provide parts and service if and when something goes wrong?
Before making a buying decision, it is wise to consider where you are going to get on-going service, parts, supplies and advice. From – a 1-800 number to a manufacturer based miles away from where you live will be little help in the middle of winter if your hot tub runs in to an issue.
A Great Value Alternative to Inflatable
Sundance Spas Plug 'n Play models are a great value alternative to inflatable tubs that combine value and quality to provide a true hot tub experience and are designed to last for years to come. With no need for an electrician to hardwire the tub, installation is quick and easy, and you will be enjoying your new hot tub in no time!
Offered in a variety of shapes and sizes, Sundance plug 'n play hot tubs are comfortable, sturdy and built to the same high standard as all other Sundance Spas.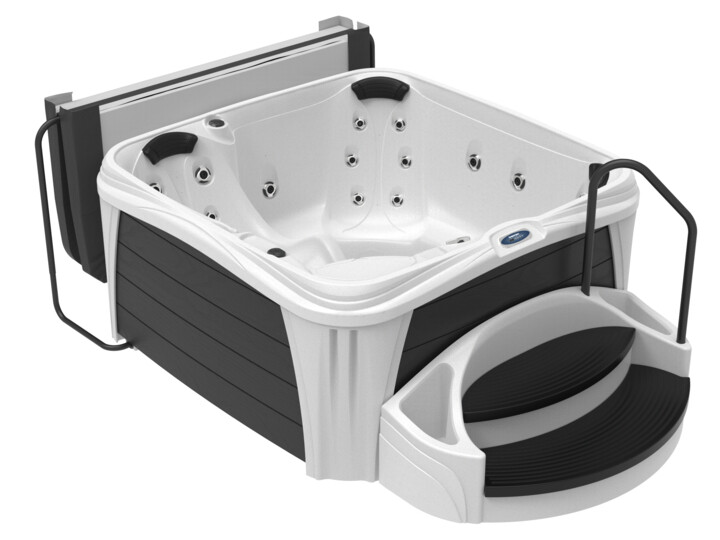 All Sundance hot tubs, including our plug 'n play models, feature a variety of high performance hydrotherapy jets that relieve aches and pains and work out kinks in sore muscles. After a long day at work or after an intense workout, you need a strong massage to get you back to 100%, and the tiny jets of an inflatable hot tub aren't going to cut it!
Sundance Spas plug 'n play hot tubs are all designed for use year 'round, even in the harsh winter months, so you can enjoy your spa 12 months a year with no fear of the cold weather causing any issues for your hot tub.
Energy Efficiency is of the utmost importance to Sundance Spas, and all of the hot tubs they build are designed to perform effectively in the harshest climates.
All Sundance hot tubs have to conform to the CEC (California Energy Commission) standards, which are the strictest in the world for hot tubs. Passing these high standards means you can relax and enjoy your portable hot tub without having to worry about running up a huge hydro bill!
Come in to any of our 6 locations (Burlington, Hamilton, Mississauga, Oakville, St. Catharines & Vaughan) for more information on Sundance Spas and our Plug "n Play ,odels – We would love to help turn your hot tub dream into a reality!