Skip to Content
Energy Efficient Hot Tubs
Sundance Spas is an environmentally conscious company whose spas are built in the most eco-friendly hot tub manufacturing plant in the world, with a commitment to sustainability and using recycled materials when at all possible.
Each of our energy efficient hot tubs are created with insightful ways to boost energy efficiency so that they can operate at a high perfomance level even in the harshest of climates, without sending your hydro bill soaring!
In this blog, we will highlight some of the reasons Sundance Spas are the most energy efficient hot tubs available.
Rigid Bond Shell Construction
All Sundance Hot Tubs are built with our 3-layer Rigid Bond™ Shell which provides durability, longevity, and superior heat retention.
A proprietary blend of polyester resins makes Sundance Spa Hot Tub shells 8 times stronger than ordinary fiber-glass-laminated shells.
The Rigid Bond shell design provides excellent insulation, which conserves energy and reduces running costs by helping to maintain water temperatures and preventing heat loss.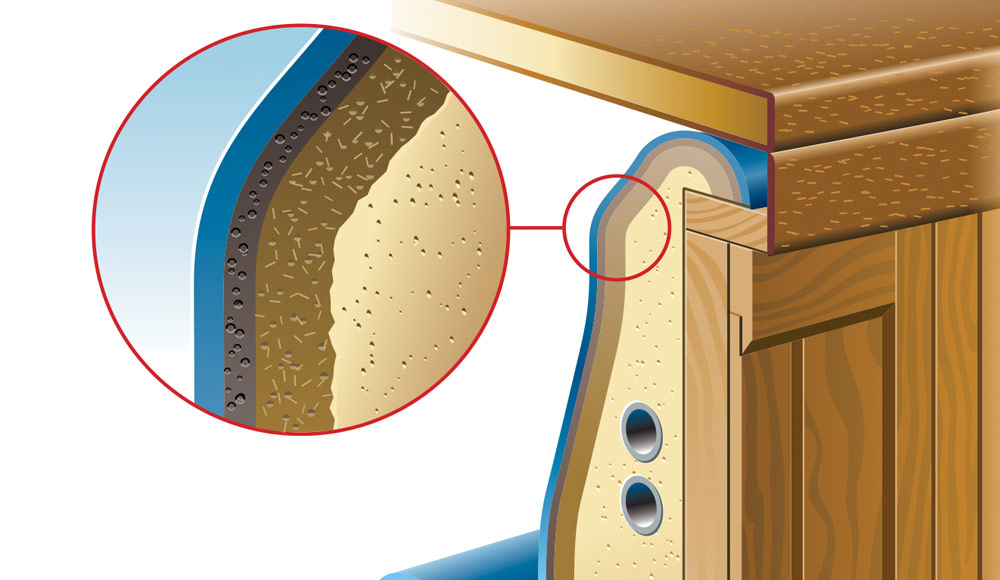 Full Insulation
Energy efficiency is a crucial consideration when it comes to hot tubs. Sundance Spas integrates a full insulation system into their hot tubs, which helps to retain heat and maintain water temperature efficiently. Full insulation minimizes heat loss, allowing you to enjoy your hot tub while reducing energy consumption. This insulation system also aids in noise reduction, ensuring a peaceful and relaxing environment.
Energy Smart Settings
All Sundance Spas  have fully adjustable heat and filter settings, so you can maximize efficiency based on your hot tub usage.
You can customize the heating schedule with "ECO", "DAY" or "AUTO" settings that determine how often the heater is engaged during the day.
Filtration settings allow you to determine how many hours of filtration occur during the day, and the time that they begin.
If you add the optional SmartTub Cellular Control System to your Sundance Spa, you can monitor your hot tub's power consumption and adjust your settings from either a smartphone or tablet.
SmartTub also provides an "Out Of Town" mode to reduce power consumption if you are away for a long period of time.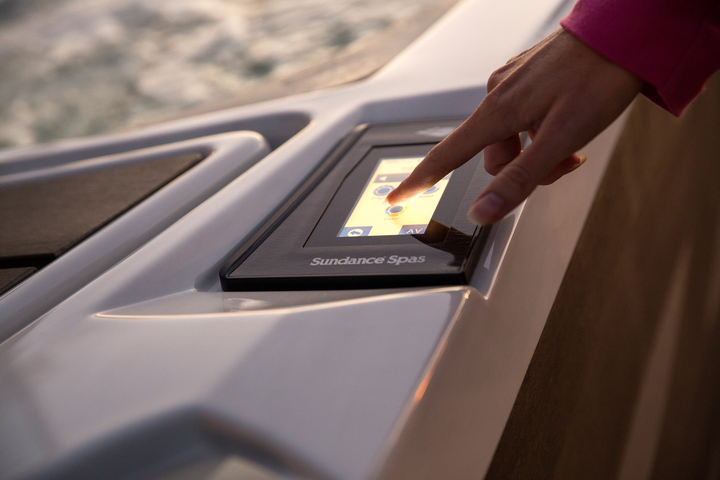 Energy Efficient Pumps
Secure Harness Plumbing, quality jets, and optimum flow control are more important than horsepower when it comes to both jet performance and energy efficiency.
A lower horsepower pump in an energy efficient hot tub will produce just as much or more jet power as a higher horsepower pump in an inefficient hot tub.
Many other manufacturers use oversized, high horsepower pumps, which only serve to increase your power usage and send your hydro bill sky rocketing!
Sundance Spas use a cost effective system, with efficient pumps that deliver the perfect hydro-massage experience for as little electrical cost as possible.
Dynamic Flow™ Circulation Pumps, standard equipment on all 780, 880 & 980 models, also add to Sundance's impressive range of energy efficient features.
Dynamic Flow Circulation Pumps move seven times more water per minute than typical circulation pumps, at virtually the same energy cost.
Titanium Coil Heater
SentrySmart heaters, with a titanium coil element are standard on all 880 & 980 Series hot tubs. This patented heater heats the water directly, significantly increasing thermal efficiency and energy savings.
100% of the heat produced by the SentrySmart heater is transferred immediately to the hot tubs water. The titanium coil protects the heater from corrosion or failure, and carries an unconditional 5-year warranty.
SunStrong Fabric Covers
SunStrong Fabric Covers also contribute to energy efficiency. SunStrong Covers use ultra high density foam to provide outstanding heat retention.
Made of a durable, marine-grade material, SunStrong Covers are 25% lighter than a standard vinyl cover without sacrificing quality or performance. SunStrong Covers are available for all Sundance models.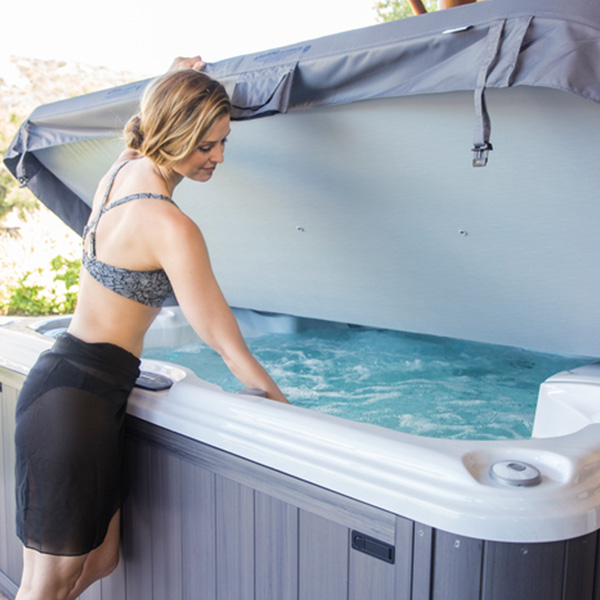 CEC Compliance
All Sundance Spas meet or exceed CEC (California Energy Commission) requirements, which are the gold standard for energy efficiency in hot tubs.
 Sundance is the only hot tub manufacturer that has their own CEC approved Energy Efficiency Chamber, which is CEC Certified and routinely calibrated and verified by an independent third party company.
This chamber gives Sundance Spas the ability to alter the ambient temperature to ensure that all Sundance Spas are energy efficient in many outdoor environments. This chamber can be refrigerated to run at -40 to ensure that the spa can handle anything a harsh Canadian winter can throw at it.
LED Lighting
The multi-colour LED lighting included as standard on all Sundance Spas consume only 7.5% of the energy used by an equivalent incandescent lighting system.
For more information on Energy Efficient Sundance Spas & our current promotions, feel free to visit any of our 6 locations (Burlington, Hamilton, Mississauga, Oakville, St. Catharines & Vaughan), We would love to help you find the hot tub that is just right for you!