Skip to Content
Smarttub Cellular Control System
Ready to take your Sundance hot tub experience to the next level? Say hello to the SmartTub Cellular Control System.
Innovative and user-friendly, this state of the art technology can change how you use and care for your Sundance hot tub by integrating it with other technology.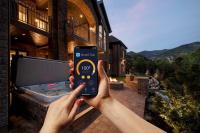 From smart homes to smartphones, we have everything you need to know about bringing the SmartTub System into your everyday life.
Take a closer look at the various features of the SmartTub™ System, and get ready to reap the benefits of high-tech hot tub ownership.
Easy Setup
You don't have to be a tech guru to take advantage of SmartTub technology— all you need is a smartphone or tablet. Just download the Sundance® SmartTub™ app from the iTunes App Store or Google Play, scan the QR code located next to the control panel on your Sundance hot tub, and voilà—you're connected.
Compatible With Major Operating Systems
Do you have a smart home system? Whether you have an iPhone or Android, Google Home or Amazon Alexa or an Apple Watch or iPad, there's a SmartTub System™ app for that!
Simply add your Sundance hot tub as a device within your smart home's operating system and enjoy easy control from where ever you are.
Tell Google to lower your hot tubs temperature from the comfort of your bedroom while packing for a trip or ask Siri or Alexa to turn on the jets before your feet even hit the water. With this fully-integrated technology, life can get just a little bit easier.
Remote Control & Adjustment
Whether you're in another room or you're miles from home, the SmartTub™ app enables you to manage your Sundance Spas hot tub remotely, adjusting settings such as energy efficiency, filter cycles and temperature.
Use the app to adjust your hot tub water temperature and turn on your jets so everything is just as you like it before you head out for a soak in your Sundance hot tub.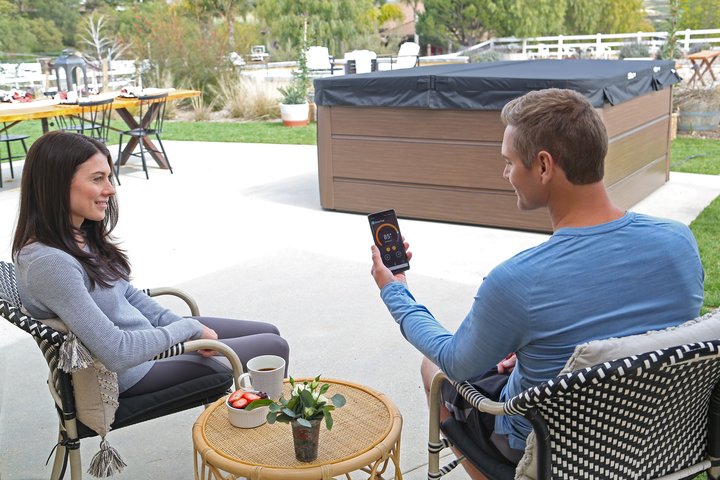 Maintenace & Service Alerts
Even the most conscientious hot tub owner needs maintenance reminders from time to time. The SmartTub™ app provides time-based notifications to clean and replace your filters, ClearRay UV-C bulb, and water. It will also alert you to any service needs, providing peace of mind about the status of your Sundance Spas hot tub.
SmartTub service notifications go to your personal device, and your local dealer is also notified, so that any maintenance work required can be carried out even if you are out of town!
The SmartTub™ app also provides power outage notifications as well as energy usage estimates based on sensor readings, so you can be sure there are no surprises on your next energy bill.
One-Click Dealer Connection
Should something go wrong with your hot tub, the SmartTub™ System will send you an alert and help you diagnose the problem. Not only that, but your dealer can review the error messages and other readings from your hot tub to assess the situation.
Just tap "Click for Service" to connect with your local Sundance Spas dealer, The Sundance Spa Store.
Personal Hot Tub Assistant
If you have questions, the SmartTub™ System has answers. The app tailors tips and how-to videos based on how you use your Sundance hot tub, so you can master spa care.
You can also explore the library of content in the app's spa care menu to discover enhanced product knowledge and support. Think of it as your very own hot tub assistant.
Cellular Technology
The SmartTub System incorporates the very latest technologies in connected products. The world of connected products is large and growing exponentially in many outdoor products that benefit from Machine-to-Machine (M2M) communication.
Our exclusive design leverages the fact that most Sundance hot tubs are located outdoors to directly connect to local cell towers instead of your homes WiFi network.
Sundance Spas partner with major wireless carriers around the world, including Rogers in Canada, to ensure stable networks with maximized performance.
The use of cellular technology instead of Wi-Fi means you will not run into connectivity issues, and you will be able to receive power outage notifications thanks to the SmartTub's battery back-up which Wi-Fi control is unable to provide
SmartTub coverage is not related to your personal cellular plan, it is managed for you and billed to you directly through the app on an annual basis starting in year two.
M2M communication uses low bandwidth 3G technology to make a connection affordable and wide ranging.
We use data packets smaller than a text message to remotely control and monitor your Sundance hot tub. Even when you don't have sufficient cell service to stream video or have voice communication, your coverage will still support your SmartTub System.
Simplified Hot Tub Ownership at Your Fingertips
SmartTub is a standard feature on the 980 Series and is available on all other Sundance Hot Tubs (880, 780, 680) as an option.
Come in and see us at any of our 6 locations (Burlington, Hamilton, Mississauga, Oakville, St. Catharines & Vaughan) for more information on the exclusive SmartTub Cellular Control System.