Skip to Content
5 Times When Soaking in Your Sundance Hot Tub Is Just the Best!
Whether you're looking at Sundance Spas because you want to create a attractive entertainment space for guests, or you need a quiet place to soak up some warmth while indulging in hydrotherapy and a good book, Sundance Spas has models perfect for both. We carry cozy home spas perfect for couples and spacious models with room enough for all your friends and family.
Soaking in a hot tub from Sundance Spas always feels amazing, but here are 5 specific times when it will really add to your life, proving that a Sundance Spa is one of the best investments you will ever make!
1. When You Are Feeling Stressed
If things are getting stressful, a nice long Hydrotherapy session in your Sundance Spa can help relax body, mind and soul. We all work hard and have busy schedules, so getting the rest and downtime you need is vital to ensuring you avoid becoming overworked, burnt out or stressed. The warm, swirling waters of a Sundance hot tub will help you unwind, recharge your batteries and get you ready to face whatever life throws at you.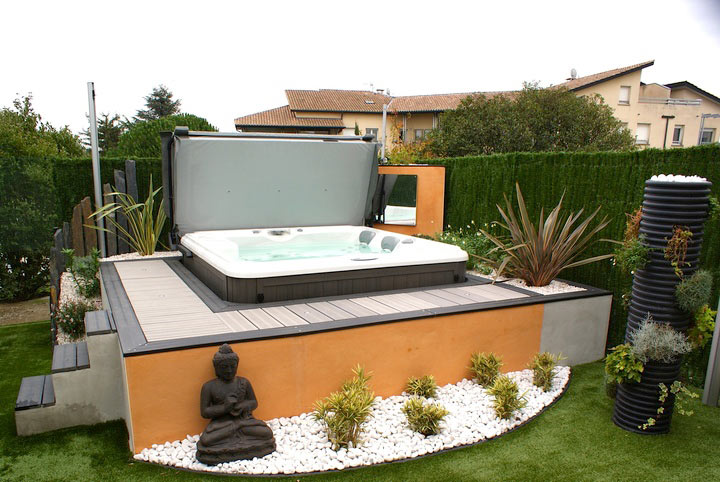 2. When Your Body Is in Pain.
Soaking in warm water is one of the oldest forms of alternative therapy, and there is a good reason why this ancient practice has stood the test of time – it works!
"The research shows our ancestors got it right. It makes you feel better. It makes the joints looser. It reduces pain and it seems to have a somewhat prolonged effect that goes beyond the period of immersion," says Bruce E. Becker, MD, director of the National Aquatics & Sports Medicine Institute at Washington State University in Spokane.
Sundance Spas help heal your body through Hydrotherapy, which is a combination of Heat, Massage & Buoyancy.
The warm waters of your Sundance hot tub raise your body temperature, causing your blood vessels to dilate, which improves your circulation. Heat also helps your body's cells detoxify more efficiently, reduces inflammation and will alleviate symptoms of sprains, strains and other soft-tissue injuries. The Clean, Clear, hot water of a Sundance Spa also stimulates the production of endorphins, which are the body's natural pain killer which also create an overall sense of well-being.
You can get a fully customized hydromassage from adjustable jets, such as Sundance's patented Fluidix Nex and Pulsator jets, which are particularly effective for troublesome areas such as the neck and wrists.
Fluidix Intelli-Jets and Vortex jets provide both low and high impact massages, delivering a straight stream, pulsing or rifle-action massage action which are fully adjustable to suit your exact needs. 
The natural buoyancy of hot tub water reduces your body weight by 90%, relieving pressure on your joints, ligaments, muscles and spine. This effect is particularly useful in treating arthritis. By reducing stress on the body, buoyancy reduces stiffness and promotes easier, pain-free movement and improved range of motion.
3. When You Really Want Some Quality Time Together.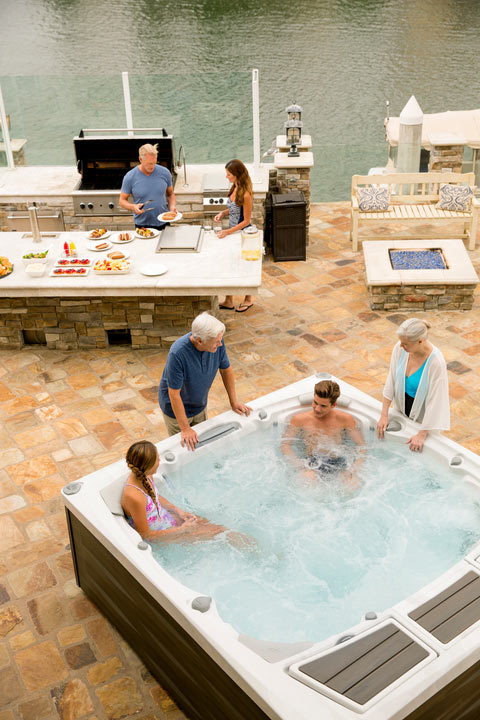 Change up your scenery and create an inviting, comfortable space for entertainment and interaction. A new hot tub can provide the lifestyle enhancement you need to make a luxury spa retreat at home. It can also turn up the dial on any party, giving guests a fun new spot for socializing.
As the Centre of your backyard oasis, your Sundance Spa is a great place to hang out and connect with friends and loved ones. The quiet pumps mean you can sit and relax in peace, sharing all that is new and exciting in your lives. The new 980 Series comes complete with a built in lounge deck with illuminated SunCooler cold beverage storage and flat top rail that provides a place to sit and socialize in comfort.
4. When You Have Had a Long Day on Your Feet.
What's better after a long day on your feet than a great foot massage? Sundance Spas have a variety of focused foot jets to relieve the pain and give your tired, achy feet an invigorating massage.
Reflexology is the application of appropriate pressure to specific points and areas on the feet, hands, or ears. Reflexologists believe that these reflex points correspond to different body organs and systems, and that pressing them has a beneficial effect on the person's health.
The foot jets in a Sundance Hot Tub are ideal for the massaging foot work involved in Reflexology. Our floor domes are designed to be safe, so that nobody trips over them, and provide a reflexology massage to everyone in the hot tub!

5. When It Is Snowing.
Sitting in your Sundance Spa in Winter is awesome! The contrast of the cold, crisp winter air and the hot, bubbling water of your hot tub is an amazing experience.
The snow melting on the water's surface is a beautiful sight, and a fantastic visual reminder of your cares melting away as you are surrounded by the clean, clear water of your Sundance Spa.
sit back, relax, and enjoy a warm beverage, then hop out of the hot tub and make some snow angels before jumping back in. You'll have such a great time and make so many memories, you may not want winter to end!
Come in to one of our six locations serving the GTA & Niagara regions for more information on hot tubs from Sundance Spas and the fantastic specials we have in-store right now.