Skip to Content
After enjoying a swim in Saltwater Pool, some people wonder if the same type of technology is available for hot tubs. Saltwater systems are indeed available for hot tubs, and have been for many, many years.
What you might be surprised to learn is that as far as water purification systems for hot tubs go, the use of salt is in fact quite old fashioned, out dated technology!
At Sundance Spas & The Sundance Spa Store we think you should do more of what matters to you. We want you to spend less time working on and maintaining your hot tub and more time enjoying it.
In this blog, we will show you 6 ways in which the ClearRay Active Oxygen System is more efficient and effective than Saltwater Generators, ozone and other such systems. Here are some of the ways ClearRay makes hot tub ownership way easier!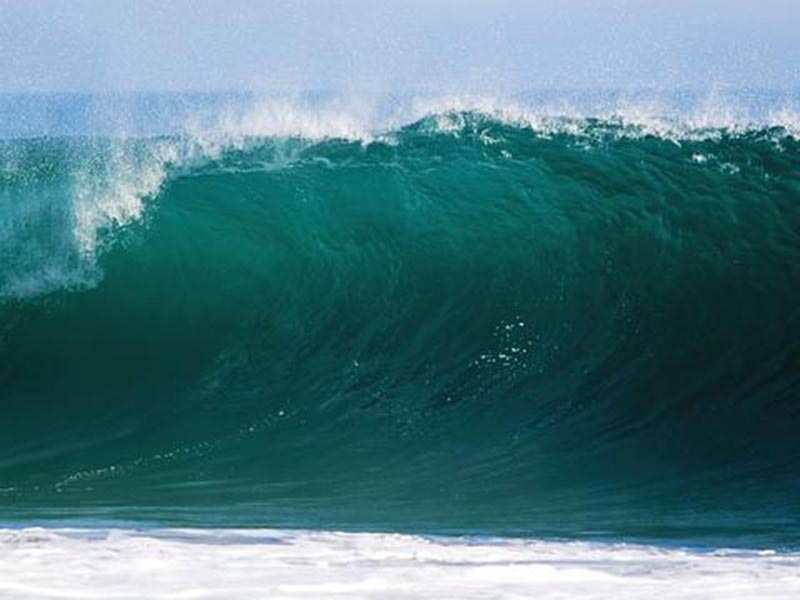 Easier Initial Set Up
After you have purchased a Saltwater System (generally a $15600-$2000 add-on depending on the manufacturer), there is a lot of work involved in preparing it for use once the hot tub is in your backyard.
Getting a Salt generator system going is a long, difficult process. There are numerous steps that have to be followed to the letter if the system is to work properly, and failure to follow the instructions to the letter can often void your warranty.
All Sundance hot Tubs are equipped with our patented ClearRay UV-C water purification system as standard feature, rather than being an expensive add-on. Our Water Purification requires no set up, it begins working as soon as you switch the power on.
Easier Everyday Use
Your ClearRay UV-C Water Purification System deals with whatever bacteria the water throws at it, there is no need to "Set" the system for the amount of bathers, amount of use and length of Hot Tub use as there is with a traditional Salt Generator. ClearRay is on, and working year 'round to keep your Hot Tubs water clean & safe, and with the new "ClearRay On-Demand" options on all 780, 880 & 980 Series Hot Tubs, you can give your hot tub water a sanitizing boost after heavy use with the touch of a button!
Easier Maintenance
If you can change a light bulb, you can maintain your  ClearRay System! Easy annual bulb replacement is far less expensive and time consuming than the upkeep of a Salt Generator.
The average life of the cell used to convert Salt into Bromine or Chlorine is about 1.5 Years, and the cost to replace them ranges from $700-$1000 depending on the brand you choose, that's a lot of money to shell out just to keep expensive equipment working as it should!
Easier to Keep Your Water Balanced
Low levels of stabilized granular sanitizer means the balance of the water is effected less often and quickly, you have to work on balancing the pH and alkalinity less, and your hot tub water will last longer than with a Salt System as the TDS (Total Dissolved Solids) levels will be way lower as you are not pouring in bags of salt all the time.
Easier on Your Skin, Hair & Eyes
ClearRay UV-C Produces silky smooth water, and ensures there is no red-eye or skin irritation, which is more common with hot tubs that require Salt to generate a lot of harsh chemicals. ClearRay produces no harmful by-products in the water you are soaking in, which helps keep your skin feeling great rather than drying out so that you feel the need to shower all the chemicals off once you leave the Hot Tub. (If you have ever used a public hot tub/pool or hot tub/pool at a resort you know how strong the chemical odors can be. This is not what you will experience in your own personal Sundance hot tub.)
As well as drying out your skin and irritating your eyes, prolonged exposure to salt can also dehydrate your hair.
Celebrity hairstylist Rene Fris of Salon SCK in New York City says that after being exposed to salt water, "The hair becomes dull, tangled, rough feeling and can be hard to comb or brush out. If you have color in your hair, salt water damage would give it a very hard texture."
No By-Products, gases or foul odor's means that our Patented ClearRay System is the best option for healthy skin, hair and eyes, especially when used in conjunction with our MicroClean Filtration Systems.
Easier on Your Hot Tub
Unlike Salt, UV-C is non-corrosive, so it doesn't dry out pump seals and damage other vital equipment on your hot tub. Salts systems take corrosive based salt sodium chloride or sodium bromide and makes chlorine or bromine. Chlorine or bromine made this way is un-stabilized, for far less money you could by stabilized better quality chlorine or bromine.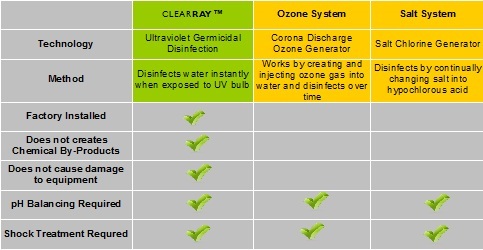 Salt Systems are expensive to purchase, complicated to operate, difficult and costly to maintain, void warranties and are way less effective than the newer more advanced technology of the Ultraviolet Germicidal Disinfection offered standard in all Sundance hot tubs with the ClearRay UV-C Water Purification System.
UV-C light is germicidal, it deactivates the DNA of bacteria, viruses and other pathogens and thus destroys their ability to multiply. Prevents replication, and the organism is unable to reproduce. In fact, when the organism tries to replicate, it dies.
UV-C light is proven technology, reliable and used in many different industries. Ultraviolet technology is a non-chemical approach to disinfection. With this method of disinfection, nothing is added which makes this process simple, inexpensive and requires very low maintenance.
UV-C light is used in swimming pools(often replacing old salt systems), hot tubs, aquariums, zoo's, aquaculture, water treatment plants (waste water, municipal and residential, drinking water and water reclamation), ballast water in ships, life sciences, hospitals, clinics, ice making, schools, hotels, bottling & beverage facilities, pharmaceuticals, ambulances, fish farms, agriculture, food processing (processing, warehousing, handling, produce department, salad bars, buffets, bakeries, restaurants, meat cases), printing, healthcare, HVAC systems, cottages, school labs, cosmetics, electronic production, pond and lake reclamation, etc.
The list goes on and on and on, we could keep going for days! The point is that it works, it's proven, its safe, it's easy, it's reliable, it's cost effective, it's simple, it's inexpensive, it's low maintenance, it's non-chemical, it's non corrosive and on every Sundance Spa it is factory installed during the manufacturing process.
Visit The Sundance Spa Store in Burlington, Hamilton, Oakville, Mississauga, St. Catharines & Vaughan where we can show you everything Sundance Spas have to offer!