Skip to Content
Our Patented Jets Melt Away Stress & Strain
Hot tub jets are the key component for delivering a soothing and therapeutic massage experience that hot tubs are so famous for. But not all hot tub jets are created equal or work the same.
In this blog, we will look at Sundance Spas patented Fluidix hydrotherapy jets, and how they deliver a hot tub experience like no other!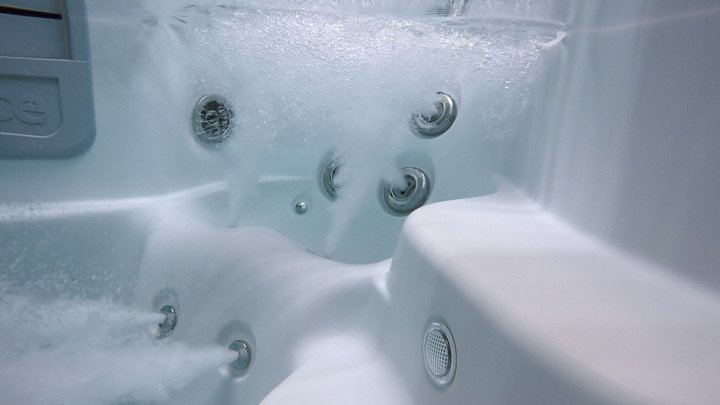 The Fluidix Difference
From subtly calming to intensely penetrating, every jet in a Sundance hot tub is uniquely designed to simulate a specific massage sensation using the ideal combination of air and water.
Thanks to our exclusive jet technology, you control the massage- so you can step into your backyard oasis and create your own personalized hydrotherapy session with your Sundance Hot Tub's Fluidix jets.
All Fluidix jets are built without the use of bearings, flywheels & directional nozzles, so there are no moving parts that can wear out over the course of time.
There are a total of 14 different Fluidix Jets that provide a wide variety of massage styles in 4 different categories. Here is a brief description of each jet style:
Deep Tissue
Whirlpool Jet: This adjustable, vigorous, deep muscle-penetrating jet is renowned for its bold massage style, and is a favorite of athletes who love its intense performance.
Fluidix Intelli-Jet: A true game changer in the hot tub industry, the Fluidix Intelli-Jet redefines hot tub hydrotherapy.
With 2 distinct massages styles and 4 different ways to make adjustments, the Fluidix Intelli-Jets are without doubt the most versatile Hot Tub Jet in the industry.
The unique handle in the face design of this large Fluidix jet allows for easy adjustment from a deep tissue massage to a wave-like oscillating stream for a lighter massage.
Turn the outer rim of the Intelli-jet to adjust the water flow level. Turn the inside of the jet to adjust the massage style.
Divert water from one seat to another to adjust jet power and add air to the water from individual air controls for a more intense massage – that's 4 different ways to adjust these remarkable, patented Sundance Hot Tub Jets. (880 & 980 Series).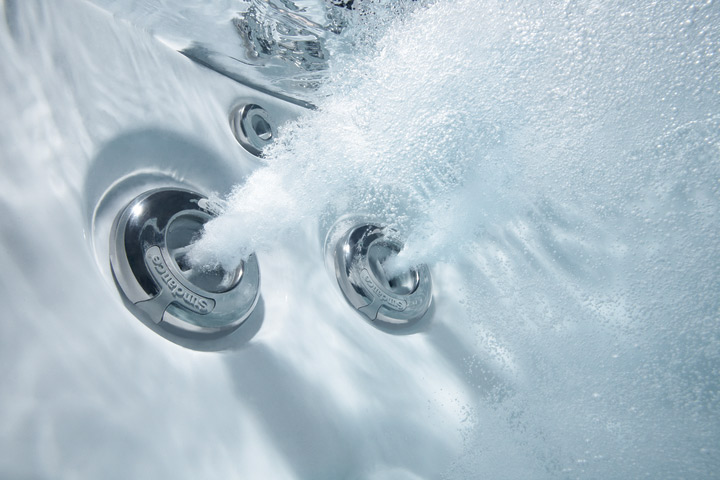 Vortex Jet: With it's unique rifling action,The Vortex jet provides a swirling, Swedish style massage that is beneficial for increasing the level of oxygen in the blood, decreasing muscle toxins, improving circulation and flexibility and easing tension.
It's rifling action is fully adjustable and delivers a swirling sensation for high and low impact therapeutic massage. Vortex jets have been a customer favourite for many years! 
Fluidix ST Jet: The highlight and center of the ergonomically designed Accu-Ssage therapy seat, The Fluidix ST adjusts from a soothing pulse to a straight stream. This focused, deep-tissue jet stream is also adjustable for intensity and pressure.
Utilizing the fine finger pressure massage technique founded by Eastern cultures, the Fluidix ST Jet produces a Shiatsu style massage that stimulates vital acupressure points to release strain and discomfort. 
Pressure Point
Accu-Pressure Jet: The Accu-Pressure jets provide an invigorating deep tissue massage to tired, aching feet- perfect after a long day on the go! They are also used to give a pressure point massage to your hips and calves in certain models. 
Pulsator Jet: The Pulsator Jet creates a pulsing massage action that provides relief in the hands and wrists, reducing discomfort caused by Carpal Tunnel Syndrome. 
Focus Relief Jet: Fluidix Focus Relief Jets featured on all 880 & 980 spas with Lounge Seats and are unique in the hot tub industry.
Controlled by both the Silent Air Blower and Theramax jet pump, these versatile jets can be used in a variety of ways.
Turn on the blower for the effervescent effect of gentle soothing bubbles.
Turn on the Jet Pump to create a concentrated calf massage. Combine both of these options for an intense hydro massage experience that will work out any kinks or knots in your calf muscles.
Focus Relief jets are great for decompressing after a workout.
Mini Vortex Jet: The Mini Vortex utilizes a unique rifling action to provide both high and low impact massage.
The Mini Vortex jets are strategically placed to massage across your shoulders and upper back, and feature as stress relieving foot jets in 780 Series lounger models including the 2-3 person Dover, 4-5 person Montclair & Bristol and 5-6 person Hamilton.
Adjustable Accu-Pressure Jet: Offering an adjustable Shiatsu-style massage with a soft, targeted stream of water that stimulates vital acupressure points to release strain and discomfort.
SMT Micro Jet: The SMT Micro Jet is a fully adjustable jet designed to relieve neck strain. These jets give a targeted, focused massage to your neck which will diminish neck pain and have a huge effect on your overall well-being. 
Muscle Release
Fluidix Reflex Jet: Adjustable, back and forth Swedish-Style massage motion which helps improve your circulation and relax your body. This distinct jet moves water in an exciting new way, dispensing either a mild or powerful massaging action without the use of bearings or other moving parts. 
Fluidix Nex Jet: This revolutionary, patented Neck Jet is designed to provide maximum comfort.
Built without bearings or any moving parts, the Fluidix Nex offers both high-and-low impact neck massage with a relaxing pulsation that is far more comfortable than just a straight jet stream.
Fully adjustable and with the option of adding air for more intensity, the Fluidix Nex jets are fantastic for relieving neck tension. 
SMT Fluidix Jet: Medium sized jets that provide a spiral-action massage to ease tension-prone areas in small muscle groups and joints.
Their pronounced back-and-forth massaging motion moves Sundance hot tub water in a whole new way and makes them a favourite for many.
These powerful, adjustable jets are great for massaging aches and pains away!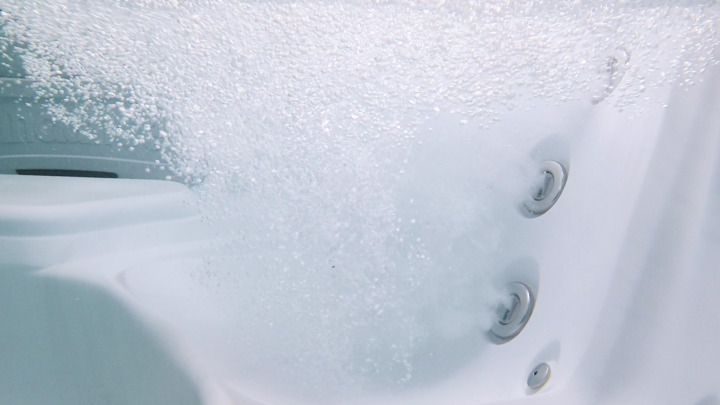 Relaxation
Silent Air Injector Jets:
Silent Air Injector jets inject a small, gentle stream of bubbles in to the water that also diffuse a fragrance through the SunScents Aromatherapy System.
Sundance Spas were the first hot tub manufacturer to combine aromatherapy with hydrotherapy through an automatic fragrance delivery system.
Designed to eliminate the negative effect on water clarity or harmful impact on your Hot Tubs equipment that you would experience by adding Epsom salts or bath fragrances, SunScents are injected into bubbles and then released when they come to the surface, leaving you feeling refreshed and renewed.
Featured as standard on all 880 & 980 Series spas, The SunScents fragrance is carried by air instead of being added directly to the water, ensuring there is no residual odor on your skin, swimwear or hair.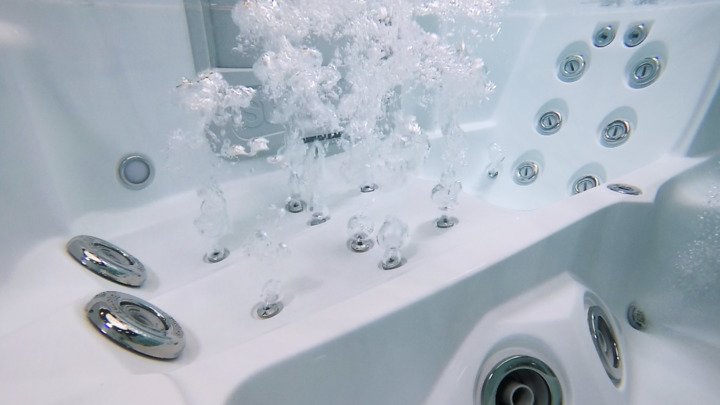 Come In and Try These Jets Out!
Come in to any of our 6 locations (Burlington, Hamilton, Mississauga, Oakville, St. Catharines & Vaughan) and you can feel the Fluidx Jets in action!. All of our stores have either a 780, 880 or 980 Series hot tub filled and running so you can put your hands in to feel the different jet styles, or schedule a wet test and immerse yourself in hot water for the full body massage experience!