Skip to Content
Hot Tub of the Month – The Montclair
Our hot tub Of The Month this month is the 4-5 person 780 Series Montclair, Sundance Spas best selling medium sized hot tub.
Brilliantly engineered for maximum performance and designed to look great in any location, the luxurious Montclair is ideal for relaxing, reconnecting, or recovering from stress and strain.
It's unique layout includes a love seat next to the full body lounge chair, so you can relax and enjoy each other's company in style!
Its long, narrow footprint (6′ 3″ x 7′ 7″ x 33″h) makes it an ideal fit for any backyard, patio or deck, especially where space is at a premium.
With a low profile which makes entering and exiting your hot tub safe and easy, the Montclair has seating for four adults, that includes the phenomenal Accu-Ssage™ therapy seat and a comfortable lounger featuring spiral-action jets that helps muscle and joint tension drift away as you enjoy a full-body massage.
Get all the benefits of a large hot tub (such as the 780 Series Chelsee or Hamilton) in a compact, space saving design with the Montclair! Here is a description of the three primary therapy seats in the Montclair:
SMT Lounge Seat
A comfortable, series exclusive spiral action lounge seat that provides an amazing massage from your shoulders to your feet. The SMT jets that run down the length of your back have a pronounced back-and-forth massaging motion that moves Hot Tub water in a whole new way and makes them a favourite for many.
Accu-Pressure Seat
The customer favourite Accu-Pressure Seat relieves stress and tired muscles in your neck, shoulders and back. Accu-Pressure jets provide a deep-tissue massage with a targeted stream of water that stimulates vital acupressure points to release strain and discomfort.
Back & Shoulder Seat
The combination of rifling action and pressure point swirling massages, each customizable for intensity, help your muscles escape discomfort and strain.
The Back & Shoulder Seat is filled with the Sundance exclusive Vortex & Mini Vortex jets that provide a swirling, Swedish style massage that is beneficial for increasing the level of oxygen in the blood, decreasing muscle toxins, improving circulation and flexibility and easing tension.
The swirling Mini Vortex Jet also provide relaxing foot therapy in the Montclair both in the footwell and the lounge seat.
None of the jets in the 4-5 person Montclair feature any bearings or other moving parts that can slow down and wear out over the course of time.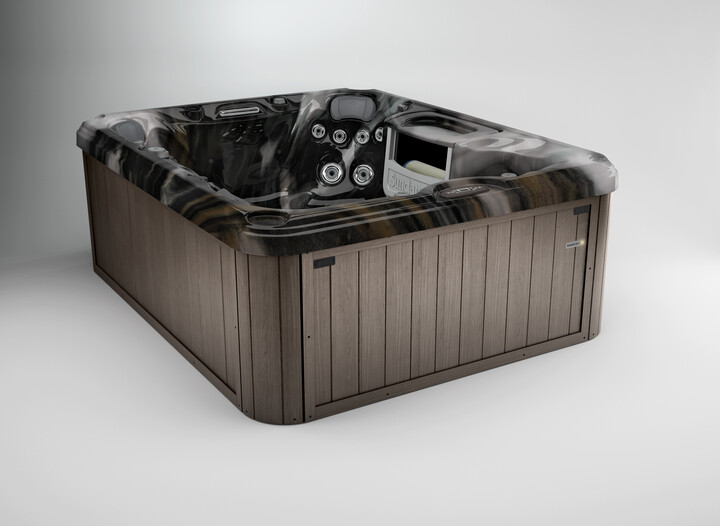 Standard Features Include:
ClearRay UV-C Water Purification System
20″ SlipStream™ Floating Skimmer
2 TheraFlo High Flow Jet Pumps
Dynamic Flow Circulation Pump
Multicolor  LED Lighting
Variable Flow Waterfall
3 Comfortable Headrests
30 Jets with Stainless Steel Trim
5.5kW Stainless Steel Heater
Fully Sealed & Insulated Synthetic Base & Moisture Barrier
System Indicator Light
Back-Lit Menu Driven Digital Control Panel
5 Year Equipment Warranty
5 Year Exterior Cabinet Warranty
10 Year Spa Shell Structure Warranty
5 Shell Colours, 3 Synthetic Cabinet Colours
Optional Features Available:
SmartTub Cellular Control System
BlueWave Spa Stereo System with Subwoofer
To find out more about the Montclair and get information on our current promotions, feel free to visit any of our 6 locations (Burlington, Hamilton, Mississauga, Oakville, St. Catharines & Vaughan).