Skip to Content
Hot Tub of the Month – The Dover
With room for up to three adults and a low profile for easy entry and exit, the Dover is the perfect size for any patio or small space. This cozy, plug-and-play hot tub features patented Fluidix jets that will leave you feeling relaxed and refreshed and will help relieve any aches and pains. This model even gives you the option to have it hardwired for improved energy efficiency. Plug-n-play models are always great for convenience and ease of installation, but a hardwired hot tub will always outperform a plug-n-play.
The Dover rises above the other two-three-person hot tubs to compete for feature-for-feature with much larger models. Check out the seating – there's an Accu-Pressure therapy seat, Vortex Therapy Seat, and a third therapy seat featuring the SMT Fluidix jet with advanced pulsing action. For your feet, there is a bold, swirling massage that melts away fatigue in aching arches.
The Compact Dover is equipped with the ClearRay Water Purification System, Two-Stage MicroClean Water Management System, and energy-efficient Dynamic Flow™ Circulation Pump to vastly reduce chemical use, keep maintenance to a bare minimum and maximize your enjoyment.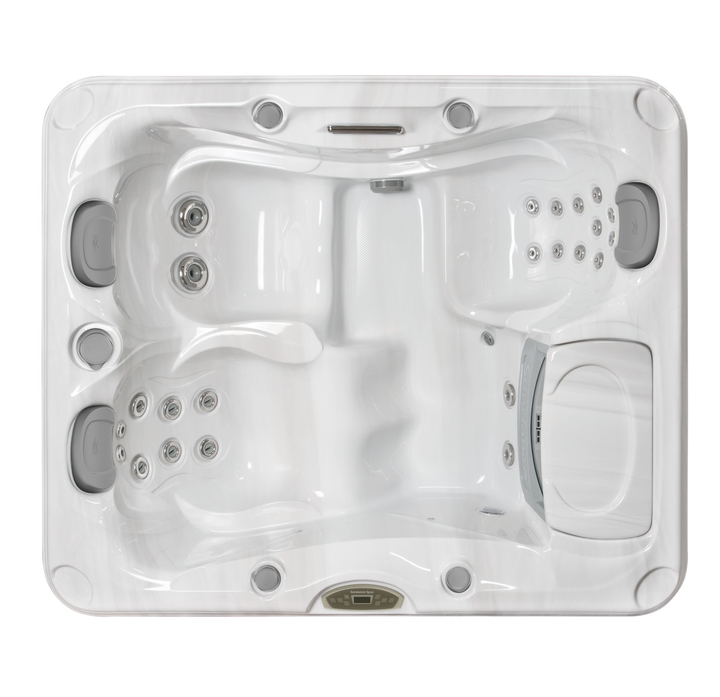 Standard Features on the 780 Series Dover include
ClearRay® Active OxygenUV-C Water Purification System
MicroClean™ Water Management System
20″ SlipStream™ Floating Skimmer
Dynamic Flow™ Circulation Pump
Exclusive Fluidix™ & Vortex™ Jet Technology
Patented Jet Technology – No Moving Parts – Jets Built To Last Longer
Stainless Steel Jet Trim
Multicolor LED Lighting
Backlit Variable Flow Waterfall
i-Touch™ Menu Driven Backlit Digital Control Panel
Stainless Steel High Flow 5.5kW Heater
5/10 year Warranty
Fully Sealed Synthetic Base & Moisture Barrier
SunStrong™ Maintenance Free Cabinetry
Rigid Bond™ Shell Construction
3x Individual Air Controls And 1x Massage Selector
TheraFlo™ High Flow Hot Tub Jet Pump
Status Indicator Light
*BlueWave Spa Stereo System and SmartTub Cellular options available*