Skip to Content
Hot Tub of the Month: The 980 Claremont
This week we are going to take a look at the new 980 Series Claremont Model. With room for up to 6 adults, the Claremont is loaded with modern, thoughtful details that will change the way you use your hot tub.
Inspired by the stylish design of magnificent & sleek yachts, the 980™ Series Claremont is wrapped in modern architectural cabinetry with a crisp, rhythmic texture highlighted by corner exterior LED lighting.
A never-before-seen lounge deck and flat, low-profile top rail offers additional seating to foster socialization in style while making it easy to enter and exit the Hot Tub. The addition of a lounge deck also means that even those who don't want to enter the water can still be a part of the spa experience.
Measuring 7'8″ x 8'4″x 34h", this spacious, low profile Hot Tub will sit 5-6 adults comfortably, and its 65 jets will provide an awesome massage for everyone in the tub!
Lounge Seat
Reminiscent of a reclining chair, the Claremont's lounge seat is molded to support your body in comfort, and is fully controllable to provide the pressure and style of massage that you desire.
With 22 bearing-less Stainless Steel jets, the lounge seat of the Claremont gives an invigorating, therapeutic hydro massage using durable, patented technology with no moving parts that will provide the same amazing massage for years to come.
The Claremont's lounge chair features neck, hip, wrist, calf and foot jets as well as a thorough back massage. This beautifully equipped lounger contains the widest back coverage and most comprehensive leg coverage that Sundance Spas has ever created.
Foot massage in the lounger is provided by 2 Fluidix Intelli-jets, which allows you to choose high or low impact, horizontal or vertical flow for either direct stream or pulsating foot massage – You may not want to ever leave your hot tub again!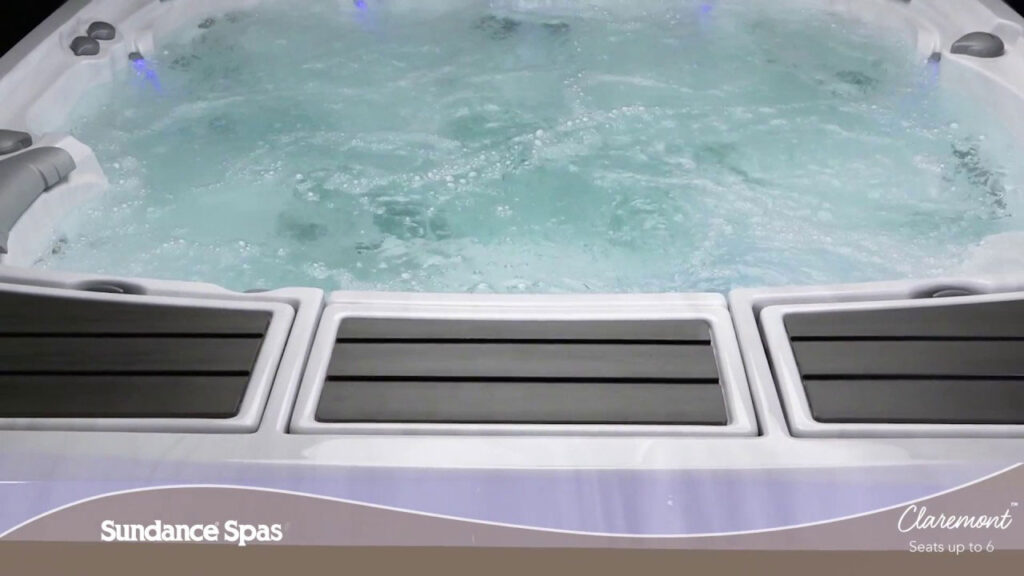 Upgraded Accu-Ssage Therapy Seat
The Claremont comes equipped with an upgraded version of the classic Accu-Ssage Therapy Seat, with the widest coverage ever offered.
Sitting in the Accu-Ssage Therapy Seat feels like you are at the masseuse! With 20 patented hydrotherapy jets , including 12 Fluidix ST jets, the upgraded 980 Series Accu-Ssage seat provides unparalleled hydrotherapy.
These high or low impact jets provide customizable hydrotherapeutic Acupressure for deep tissue massage. invoking the feel of a Shiatsu massage, the Fluidix ST jet can be adjusted from gentle to more robust via massage selector and air controls.
In addition the the Fluidix ST Jets, the Accu-Ssage seat also contains 2 fully adjustable Fluidix NEX neck jets, and 2 Pulsator Wrist Jets that provide a gentle pulsing massage action to help reduce the discomfort caused by Carpal Tunnel Syndrome. The full body massage of the Accu-Ssage Seat is completed by air jets that focus on the hips, and the 2 vigorous Whirlpool jets that provide a powerful foot massage from the partial floor dome.
Seat Accent lighting with color changing LED lights highlight this phenomenal massage seat to provide beauty and extra safety to your Hydrotherapy experience.
Other Standard Features
i- Touch Glass Control Panel
SmartTub Cellular Control Kit
SunCooler Illuminated cold beverage storage
MicroClean Ultra Filtration
ClearRay Active Oxygen Water Purification System
20″ Slipstream Skimmer
Dynamic Flow Circulation Pump
2 x Single Speed Therapy Jet Pumps
Titanium Coil Heater
SilentAir Aromatherapy Injectors