Skip to Content
Hot Tub of the Month – The 6 – 7 Person Chelsee
Both stylish and affordable, the 780 Series Chelsee attracts smart hot tub shoppers who are looking for a spa that combines great features and great value.
The Chelsee features signature sleek lines that  give an elegant look to this contemporary hot tub which is designed to keep maintenance levels low and is equipped with state of the art technology and patented hydrotherapy jets to enhance your backyard hot tub experience.
Here are just a few of the features that make the Chelsee stand out from the crowd.
Open Seat Design
At 7'5" x 7'5" (89" x 89") The Chelsee will comfortably seat 6-7 Adults. The spacious open seat design includes comfy corner seats that each have their own distinct type of therapeutic hydrotherapy jets to provide a relaxing, invigorating massage. 
If you are looking for a hot tub with a lounger, the Sundance 780 Series Hamilton, Bristol, Montclair, & Dover models provide the same quality features as the Chelsee, but with lounge chairs integrated into their designs.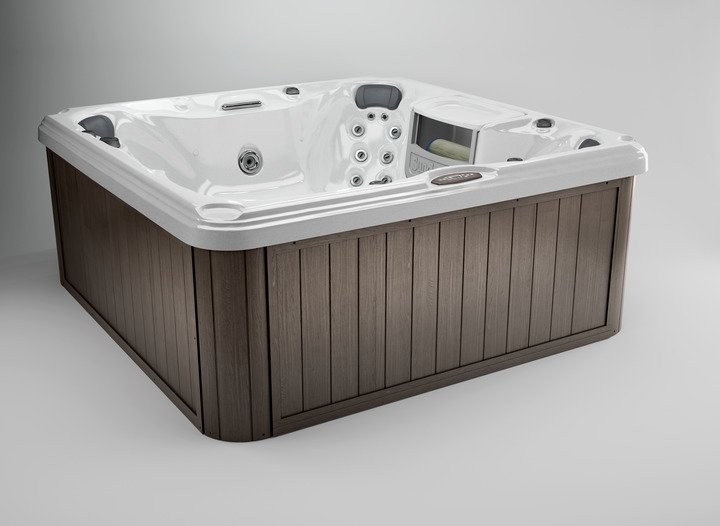 Vortex Jets
The patented Vortex Jet, and the 780 series exclusive Mini Vortex Jet provide a unique rifling action for both a high and low impact therapeutic massage.
The swirling sensation gives a form of Swedish massage, which is beneficial for increasing the level of oxygen in the blood, which helps decrease muscle toxins and improves circulation and flexibility as well as easing soreness and tension.
The Chelsee has 3 seats featuring Vortex Jets. One seat contains 2 of the large Vortex Jets for a really intense lower back massage. The second seat has a Vortex Jet positioned underneath the cascading waterfall, this means you get a strong lower back massage while the waterfall flows over your shoulders.
The third seat contains 2 large Vortex for your lower and mid back and 4 of the Mini Vortex Jets to massage all across your upper back and shoulders, to ease tension, relieve pain and increase range of motion.
All 40 Jets featured in the Chelsee are constructed without bearings or any other moving parts, so there is nothing in them that can wear out over time. This adds years to their life expectancy and ensures performance levels never drop, so you get the same great massage in 10 years as you will get today!
There are 5 other massage styles featured on the Chelsee, click here for a more detailed look at the 780 Series Jets. 
MicroClean Filtration
The 780 Series Chelsee is equipped with the MicroClean1 Filtration System. This 2 Part System includes a Disposable high-spun polypropylene Microfiber filter that removes the smallest debris for greater water clarity. The MicroClean Filter captures tiny particles, measuring as small as only one thousandth of a millimeter, which is 30 times smaller than a standard pleated hot tub filter can handle.
The large, 75 Sq. Ft pleated cartridge filter is washable for a long life and provides extra filtration when you need it most, when people are using the hot tub!
MicroClean Filtration, along with the ClearRay UV-C Water Purification System, SlipStream Skimmer and Dynamic Flow Circulation Pump all combine to give you outstanding water quality with a minimum amount of chemicals and the least amount of effort.
Reflexology Foot Dome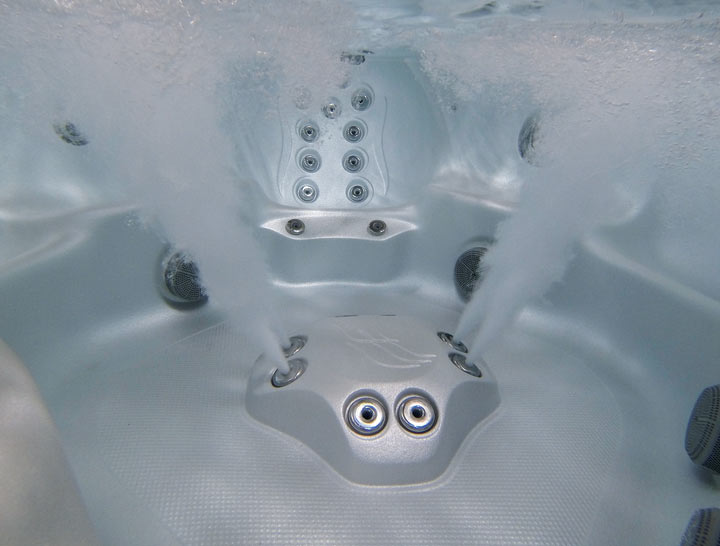 The 780 Series Chelsee comes complete with a Reflexology Dome for outstanding foot therapy. Built in the Centre of the roomy foot well and accessible from every seat, the dome contains 8 adjustable Accu-Pressure jets that will relieve sore, aching feet after a long hard day!
You can also take advantage of the calf jets in the Accu-Ssage Seat (pictured above) for a full leg massage, and stretch your legs out over the dome to massage your hamstrings and the backs of your knees.
Reflexology is an ancient healing practice based on the principle that there are "reflex" points on the feet that correspond to the body's different organs and glands.
A Reflexology Massage applies pressure to certain areas of the feet which is not only a pleasurable experience but also promotes good health. Some of the benefits of a Reflexology Massage include pain relief, improved circulation, better quality sleep, help in dealing with stress and an overall feeling of relaxation and wellness.
3 Pump System
The Chelsee is engineered to be as energy efficient as possible without having a negative impact on jet performance.
By utilizing 2 Thera-Flo High Flow Jet pumps as well as the Dynamic Flow Circulation Pump which is dedicated to filtration, the Chelsee gives a powerful Jet performance without sending your electricity meter spinning!
Features Included as Standard:
ClearRay Active Oxygen Water Purification System
20″ SlipStream™ Floating Skimmer
Multicolor LED Lighting
 Variable Flow Waterfall
4 Comfortable Headrests
40 Jets with Stainless Steel Trim
5.5kW Stainless Steel Heater
Fully Sealed & Insulated Synthetic Base & Moisture Barrier
System Indicator Light
Back-Lit Menu Driven Digital Control Panel
5 Year Equipment Warranty
5 Year Exterior Cabinet Warranty
10 Year Spa Shell Structure Warranty
5 Shell Colours, 3 Synthetic Cabinet Colours
Optional Features:
BlueWave Spa Stereo System with Subwoofer


Please contact any of our 6 stores for more information on the 6-7 person Chelsee Spa!
(Burlington, Hamilton, Mississauga, Oakville, St. Catharines & Vaughan).
The Sundance Spa Store is a provider of high quality Sundance hot tubs and Finnleo Saunas who service the GTA and Niagara Region.
We deliver and service our products in cities such as Cambridge, Waterdown, Carlisle, Grimsby, Stoney Creek, Brantford, Binbrook, Caledonia, Smithville, Vineland, Pelham, Crystal Beach, Wainfleet, Port Colborne, Beamsville, Thorold, Brampton, North York, York, East York, Woodbridge, Etobicoke, Nobleton, Caledon, Georgetown, Toronto, Milton, Orangeville, Halton Hills, Welland, Markham, Richmond Hill, Niagara On The Lake, Fort Erie, Thornhill, Niagara Falls and many more!