Skip to Content
It's Time to Drain & Clean Your Hot Tub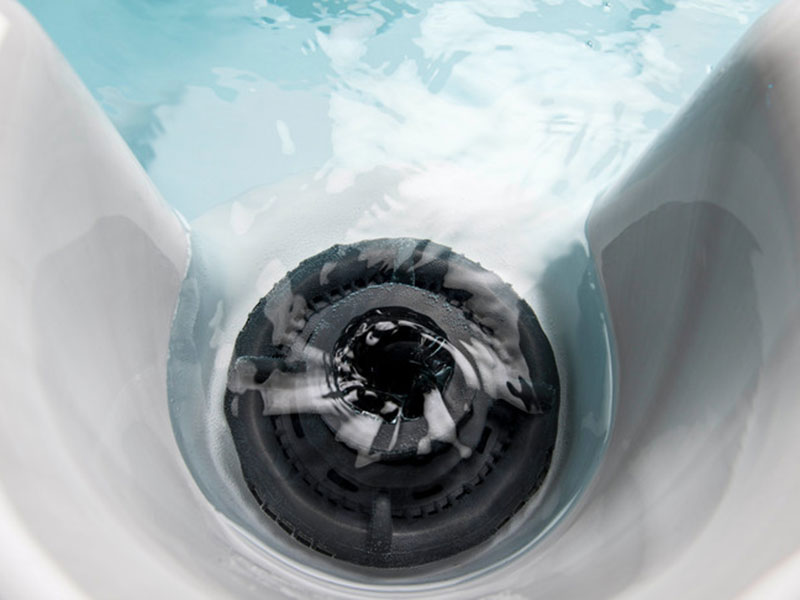 How to Drain & Clean Your Sundance Hot Tub
The cold weather will soon be upon us, so now is a good time to get your Sundance Hot Tub ready for the winter months. If you Drain & Clean your Hot Tub 3 or 4 times a year you will ensure you are always soaking in clean, Clear water and you will minimize the amount of time, effort & money spent on keeping your Hot Tubs Water safe and balanced, So it always ready for you to enjoy.
Before Draining Your Hot Tub
Before you begin draining your Sundance Hot Tubs Water, It is a good idea to use a Whirlpool Rinse to clean and degrease your Hot Tubs interior plumbing and help prevent the build up of calcium, which can have a negative effect on the performance of your Hot Tub.

Cleaning your Hot Tubs plumbing is nice and simple. To begin, remove your filters & headrests then add 250ml (half a bottle) of Whirlpool Rinse. Now you should run your Hot Tubs Jets for up to 2 hours (you will have to turn them back on every 20 Minutes) to let the Whirlpool Rinse circulate through the Hot Tubs plumbing. Turn your Hot Tubs Diverter Valves to the middle, and turn all of your Hot Tubs Air Controls off (Anti-Clockwise) to allow the Whirlpool Rinse to work as effectively as possible. Once the 2 hours is up, You are now ready to drain the Hot Tub.
Draining Your Hot Tub
After you have finished with the Whirlpool Rinse, Switch the power to the Hot Tub off.
To drain 680 & 780 Series Hot Tubs, remove the front panel and attach your garden hose to the white drain line and the water will start to drain out.
For the Select Series Models, remove the drain cap, attach your garden hose and pull gently to open the valve so that draining can commence.
All 880 Series Hot Tubs are equipped with both a gravity drain and a built-in Quick Drain. To use the Quick Drain, remove your Quick Release door, attach the provided hose and turn the Gate Valve on to begin draining.
In addition to these built-in drains, there are a couple of options available to speed up the hot Tub draining process.
The Quick Drain, Available at all 4 locations of The Sundance Spa Store (Burlington, Missisauga, Oakville & St. Catharines) is up to 5 times faster than the gravity drain, removing 10-12 gallons of water a minute! As well as saving time, it also Vacuums as it drains – removing leaves, grit, sand any other debris from the bottom of the Hot Tub.
For the fastest possible water removal, you can use a small submersible pump that can be purchased at most hardware stores. This is particularly handy during the colder Winter months!
There will always be a little water left in the foot well of your Hot Tub. This can either be removed with a Shop-Vac or simply left in place as it will have no impact on the fresh new water you are adding to your hot Tub.
Cleaning Your Hot Tub
Now that your Hot Tub is empty, You may want to give the spa shell a quick clean. Whilst it is tempting to use your favorite cleaning products on your hot Tub, All you actually need is water and a little bit of vinegar. Using harsh cleaning products will result in foamy water when you re-fill your Hot Tub. A product such as The Tub Scrubber can be used to remove any residual waterline build up.
Check Your Filters
Draining your hot Tub also gives you a good opportunity to give your hot Tub Filters a clean. Using a strong setting on your hose nozzle (but not a pressure washer), Spray down your paper pleated Hot Tub Filter to wash out any debris collected inside the filter. Occasionally Soaking your hot tub filters in a Cartridge Cleaner or spaying them with AquaMagic will help break down any organic matter trapped in the filter pleats.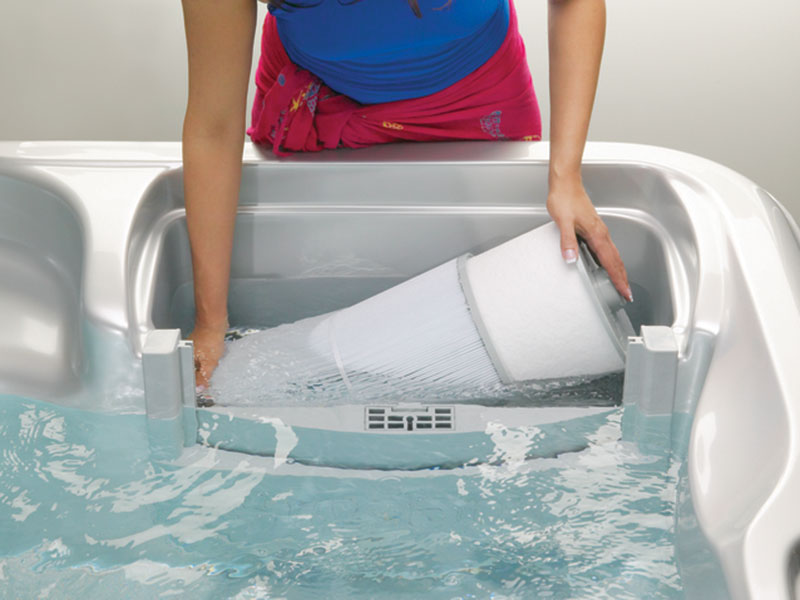 Sundance Spas Micro-Clean Filters used on 780, Select & 880 models should not be sprayed or washed like a paper pleated Hot Tub Filter. The Micro-Clean Filters are maintenance free and fully disposable. The 780 & Select Micro Clean 1 Filter should be replaced every 3-5 Months, and the 880 Inner Core Filter should be replaced every 6-9 Months. If there is a lot of debris on your Micro-Clean Filter, rinse it very gently under a tap with warm water.
Clean Your Hot Tub Cover
Giving your Hot Tub Cover a clean, and treating it with a UV Protectant, such as Ultrashine is also advisable whilst you are draining and cleaning the Hot Tub. This will help prevent the vinyl of the cover from drying out and shrinking. Regular cover maintenance will also keep your cover looking it's best and add to the length of it's life.
Re-Filling Your Hot Tub
Now that everything is nice and clean, it's time to fill your Hot Tub back up. When adding new water, Place your hose into the filter well so that the water runs through the pipes as it fills up, This will help prevent air locks upon re-start.
Once your Hot Tub is filled, You can turn the power to the Hot Tub back on so it can begin heating up. Do not turn the power back on until the water level is above the filter.
With the tub now filled and powered up, add 100ML of Prevent II to the cold water. This product helps prevent the build up of stain and scale in your Hot Tubs plumbing.
When the water is hot (wait at least 5 hours) you should use a test strip to check your water is balanced correctly. After making any adjustments to the Alkalinity or pH that are needed, you should add 30G (2 Tablespoons) of Sun-Boom to sanitize the new water. Always run your your jets and keep your cover up when you add any chemical to your Hot Tubs water. Once you have added the sanitizer, You're Hot Tub is ready to go and you can start enjoying the amazing benefits of your Sundance Spa!
Happy Tubbin'!
The Sundance Spa Store Team.