Skip to Content
Hot Tub of the Month – The 5-6 Person Cameo
Sundance Spas 880 Series Cameo is one of our most popular & best selling models. The Cameo has been a Sundance staple for many, many years and was first released all the way back in 1993.
This elegant & sophisticated hot tub continues to be a industry leader with premium technology, stunning accents and modern design.
The Cameo® spa seats up to six adults, offering the perfect variety of seat heights formed to fit diverse body types.
Our best-selling lounge model, this spa has the best of everything, from illuminated grab bars to air-only aromatherapy-releasing jets.
This blog will outline a few of the features that set the Cameo apart from the average hot tub.
Comfort
Sundance Spas 880 Series Cameo hot tub is so comfortable you may fall asleep before you can make it bed and your head hits the pillow!
Melt into the full body lounge seat and feel all your stress disappear thanks to the patented Fluidix® jet technology.
From your neck to your back to your wrists all the way down to your calves and feet, the Cameo provides an exquisite massage experience in the comfort of your own backyard.
Designed for the comfort and enjoyment of the whole family, the Sundance Cameo has a wide range of seat sizes and heights.
The customer favourite Accu-Ssage seat, Complete with arm rests, delivers relaxation to your neck, back, hips, calves & wrists in our deepest, full-body immersion seat.
The Intelli-Jet seat provides a bold, therapeutic pressure point massage that will soothe away neck and back pain while gentle hip bubbles, delivered via our SilentAir Injectors, are pleasing to the skin and provide a soft tissue massage either with or without the optional SunScents™ aromatherapy fragrance beads.
Cool down seats are also featured in the Cameo, which are great if you are feeling a little overheated and want a break from the heat, they also provide a great place for the kids to sit and enjoy the warm water in comfort.
The cool down seat and Illuminated backlit Stainless steel handrails make it super safe and easy to enter and exit your Sundance Spa.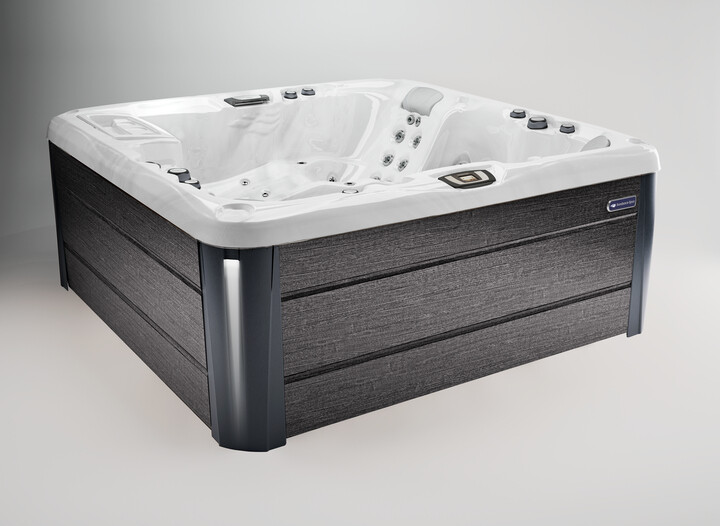 Easy Maintenance
The Cameo comes equipped with the latest technology to reduce maintenance and lower the amount of chemicals required to keep your hot tub water clean, clear and ready to use.
Our Active Oxygen system combines the ClearRay UV-C Water Purification System with an in-line automatic oxidizer to ensure you get crystal clear water with the minimum amount of effort. Active Oxygen is now standard on all Sundance Spas. Click here for more information.
In addition to the Active Oxygen system, the Cameo is equipped with state of the art filtration.
The exclusive MicroClean Ultra dual stage filters are designed to remove lotions, oils and other really fine particles that are deposited in the hot tub after use, which means less chemical use and less hassle for you.
Having the combination of Active Oxygen & MicroClean Ultra means you simply replace the UV-C bulb once a year, swap out the inner core filter every 6-9 months and change the large outer filter every 18 months – it's that simple!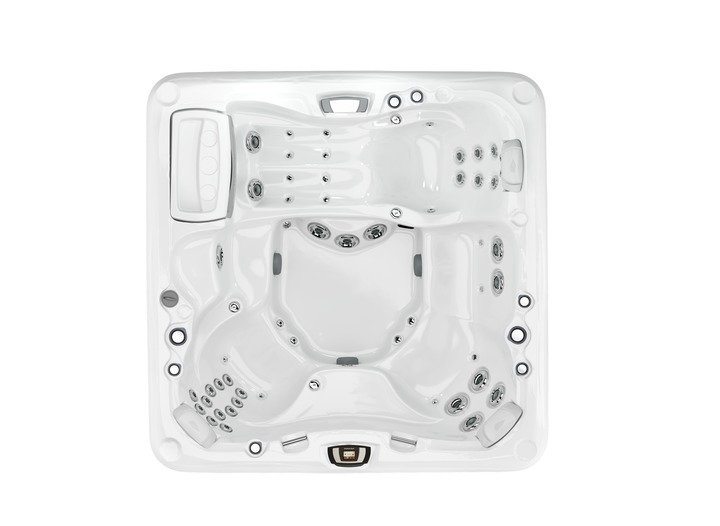 The Best Warranty in the Industry
As you are shopping for a hot tub, have you considered the warranty it comes with and who does the repair work if any is required? A hot tub is a major investment so you should be sure that it is well protected.
Sundance Spas has always backed their hot tubs with a straightforward, solid warranty, and the 880 Series Cameo is backed with the most comprehensive warranty in the industry.
The 880 Series warranty is absolutely phenomenal! At The Sundance Spa Store, we do all of our service in-house which means when you purchase a Sundance hot tub from us, you can rest easy knowing your investment is in safe hands.
The warranties on all Sundance Spas are not Pro-Rated, so you can leave the work to us, relax, and enjoy years of worry free Sundance Spas hot tub ownership.
For more information on the award-winning Cameo, Come in to any of our 6 locations
(Burlington, Hamilton, Mississauga, Oakville, St. Catharines & Vaughan). We look forward to seeing you!