Skip to Content
Hot Tub Health Benefits: Sleep
Are you one of the many people today who have trouble sleeping?
A good night's sleep can lead to better productivity and concentration throughout the day, better moods, clearer, happier thoughts, and provide your immune system with a boost.
Most health Experts say an average adult needs between 7-9 hours of sleep each night, which can be nearly impossible for many people, especially those suffering from ailments such as insomnia, sleep apnea, snoring, restless leg syndrome, stress, anxiety, and fatigue.
The good news is that there is a natural way for you to reap the benefits of a good night's sleep that do not require taking sleeping pills or other substances; A nightly soak in the warm, relaxing water of a Sundance hot tub can lead to the restful, restoring, peaceful sleep that you need and deserve.
There are many ways that the hydrotherapy provided by a Sundance Spa can help you and your family stay healthy, heal faster, and sleep better at night. The core elements of Hydrotherapy are Heat, Buoyancy & Massage. Here is how they will help you get a restful night's sleep:
Heat
Soaking in a Sundance Spas warm water improves blood circulation through the body, allowing it to flow steadily and keep excess blood away from your brain, eliminating one of the most common causes of various sleep disorders.
Warm hot tub water also raises body temperature which can also help you fall asleep more efficiently as your body's internal thermostat drops once you exit the hot tub water, signaling to your whole body that it's time to sleep. Joyce Walsleben, Ph.D., associate professor at New York University School of Medicine, says: "If you raise your temperature a degree or two…the steeper drop at bedtime is more likely to put you in a deep sleep."
The hot, swirling water of a Sundance hot tub will leave you feeling physically, mentally, and emotionally relaxed and rejuvenated.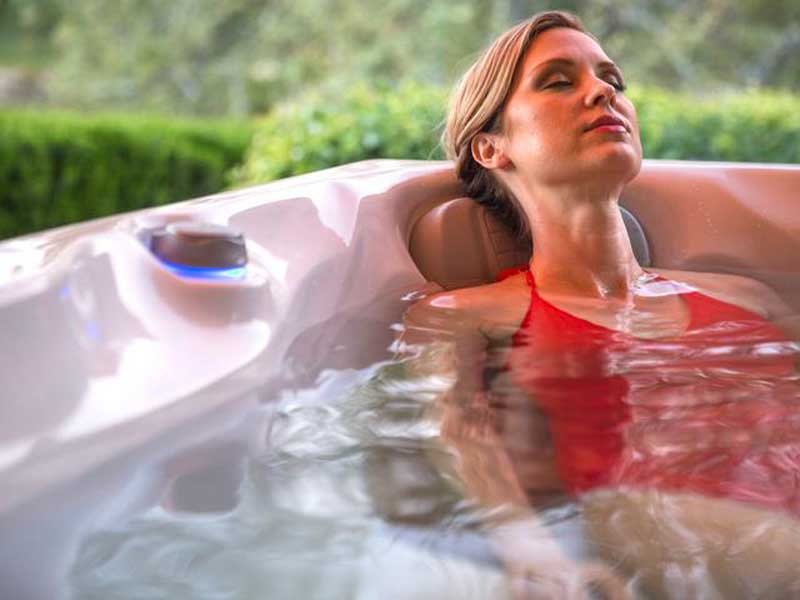 Buoyancy
The buoyancy you experience in your hot tub reduces your body weight by up to 90%!
As well as relieving stress and reducing tension from sore joints, Buoyancy in a Sundance Spa helps your overall posture and balance and brings an improved sense of well-being that will have a positive effect on the quality of your sleep.
Massage
Sundance Spas patented hot tub jets can help you get the sleep you need. Adjustable flow water jets in your Sundance hot tub are designed to hit certain pressure points and muscle groups in a variety of massage styles to relieve stress and tension, and alleviate aches and pains through the production of endorphins, the body's natural pain killer. Endorphins also act as a natural sedative, encouraging a more relaxed state of mind which will help you achieve a more restful, deeper sleep. 
Aromatherapy
Sundance Spas patented aromatherapy SilentAir System with SunScents, allows you to add fragrances to your hot tub to add to the relaxation. Soothing fragrances such as Midnight Jasmine, French Lavender & Tahitian Vanilla will help you unwind and relieve stress enabling you to sleep more soundly. SunScents aromatherapy is standard on all 880 & 980 Series hot tubs.
Spazazz spa fragrances recently added a Sleep Therapy Crystal to their Rx line. This sleep-inducing blend of all-natural aromatherapy will clear the mind and relax the body and can be added directly to the water of any Sundance Hot Tub without affecting the water clarity.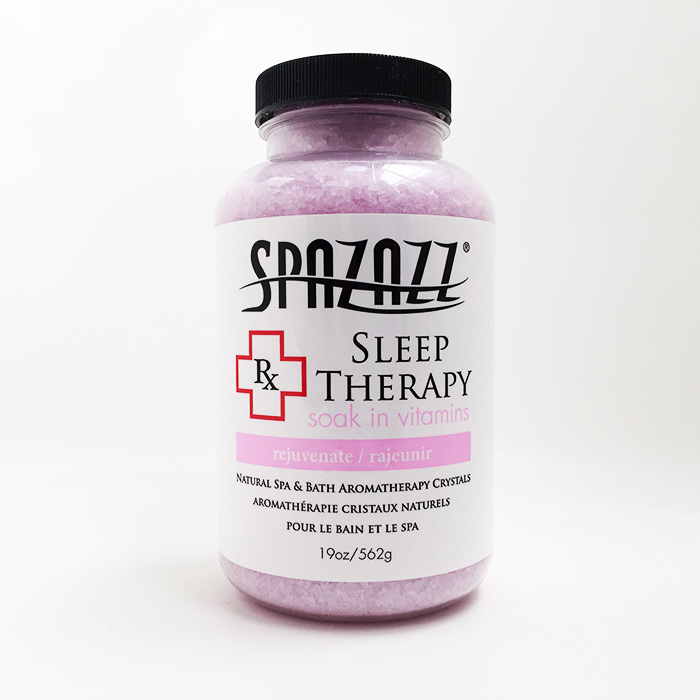 To find out more about how a Sundance Spa Hot tub can help you and your family sleep better, as well as the numerous other health benefits using hot tubs can provide, please visit one of our 6 stores (Burlington, Hamilton, Mississauga, Oakville, St. Catharines & Vaughan).
The Sundance Spa Store is a provider of high quality Sundance Hot Tubs and Finnleo Saunas who service the GTA and Niagara Region. We deliver and service our products in-house in cities such as Burlington, Oakville, Milton, Waterdown, Carlisle, Puslinch, Cambridge, Mississauga, St. Catharines, Grimsby, Stoney Creek, Brantford, Binbrook, Caledonia, Smithville, Vineland, Pelham, Crystal Beach, Wainflleet, Port Colborne, Beamsville, Thorold, Vaughan, Brampton, North York, York, East York, Woodbridge, Etobicoke, Nobleton, Caledon, Georgetown, Toronto, Milton, Orangeville, Halton Hills, Welland, Markham, Richmond Hill, Niagara On The Lake, Fort Erie, Thornhill, Niagara Falls and more!