Skip to Content
Hot Tub Chromatherapy Colour & Light
Colour and light have been utilized by healers for thousands of years. Colour therapy possibly has roots in Indian medicine (Ayurveda), ancient Egyptian culture and traditional Chinese healing.
All Sundance Spas Hot Tubs come equipped with LED lighting to provide Chromatherapy in addition to Hydrotherapy.
The adjustable SunGlow™ LED lighting system in the 980™ & 880™ Series Sundance Spas glows from the footwell up to the multicoloured lighted hot tub waterfall and illuminated grab bars and air controls. The SunRay™ LED hot tub lighting system in the 780™, Select™ & 680™ Series Sundance Hot Tubs features coordinated Coloured hot tub lights and dazzling in-spa lighting.
You can program your Sundance Hot Tub to gently cycle through the entire spectrum of colours, or you can select your favourite colour. On 780, 880 & 980 Series spas, you can also adjust the brightness level of the lighting to set the mood just right!
Here are some of the potential benefits specific coloured lighting can offer while you are enjoying your Sundance hot tub:
Green
Green, a colour associated with harmony, provides a neutral, positive calming effect, helping to reduce stress and bring balance and a sense of relaxation.
Violet
Violet is a colour that is used to calm the nervous system, soothe organs and relax muscles. Violet has meditative qualities and is often used to treat conditions of the lymphatic system and spleen, as well as urinary disorders and psychosis. Violet stimulates intuition, imagination and artistic qualities.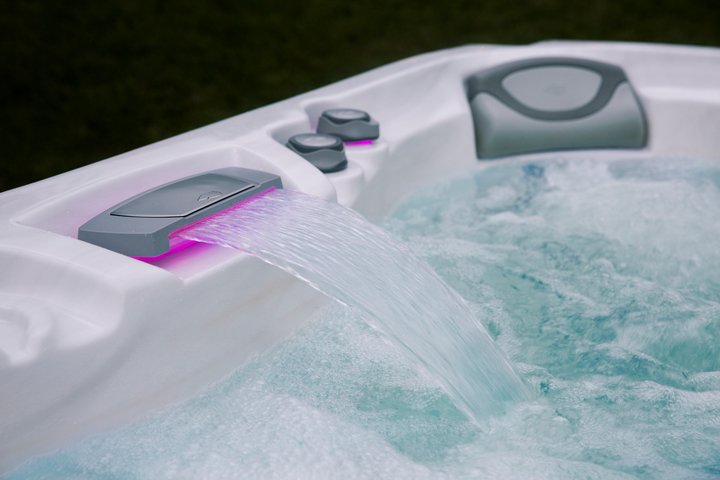 Red
Red is believed to increase the pulse, raise blood pressure and increase the rate of breathing. Red would be applied to support circulatory and nervous functions. The colour red increases physical energy, stamina, spontaneity and even passion.
Orange
Orange is a mixture of red and yellow and can stimulate creativity, productivity, pleasure, and enthusiasm and encourage emotional expression.
Blue
The colour Blue promotes a feeling of relaxation, and can exhibit tranquillizing qualities that are often used to relieve headaches and migraines, colds, stress, nervous tension, rheumatism, stomach pains, muscle cramps and liver disorders. Blue is thought to have a positive effect on all kinds of pain and can increase calmness, honesty and self-expression.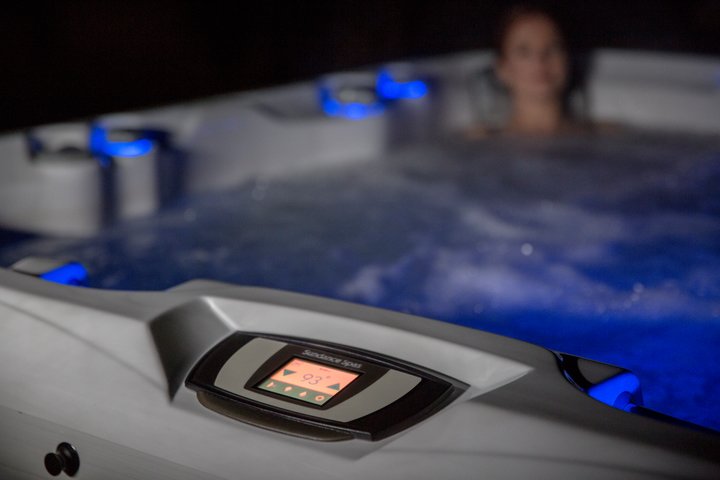 To find out more about how a Sundance Spas Hot tub can help you and your family enjoy the benefits of chromotherapy, as well as the numerous other health benefits using a Sundance hot tub can provide, please visit one of our 6 stores (Burlington, Hamilton, Mississauga, Oakville, St. Catharines & Vaughan).
The Sundance Spa Store is a provider of high-quality Sundance Spas and Finnleo Saunas that service the GTA and Niagara Region. We deliver and service our products in cities such as Burlington, Oakville, Milton, Waterdown, Carlisle, Puslinch, Cambridge, Mississauga, St. Catharines, Grimsby, Stoney Creek, Brantford, Binbrook, Caledonia, Smithville, Vineland, Pelham, Crystal Beach, Wainflleet, Port Colborne, Beamsville, Thorold, Vaughan, Brampton, North York, York, East York, Woodbridge, Etobicoke, Nobleton, Caledon, Georgetown, Toronto, Milton, Orangeville, Halton Hills, Welland, Markham, Richmond Hill, Niagara On The Lake, Fort Erie, Thornhill, Niagara Falls and more!