Skip to Content
Hot Tub Health Benefit: Foot Therapy
We all know the problem, But what's the solution? Expensive massage sessions? Try and find someone to give you a foot rub every night? Wearing hideous shoes just because they are "comfortable"? The answer to your foot pain problem could be right in your own backyard!
Did you know that all Sundance Spas are designed to give you a relaxing, pain relieving foot massage?
Sundance hot tubs come equipped with a variety of foot jets to soothe sore feet. In fact, Sundance were the first hot tub manufacturer to add foot jets and reflexology floor domes. Our selection of foot therapy jets are designed to provide an invigorating deep tissue massage to relieve tension and soreness in your feet, which contain over 7,000 nerve endings.
Reflexology Floor Domes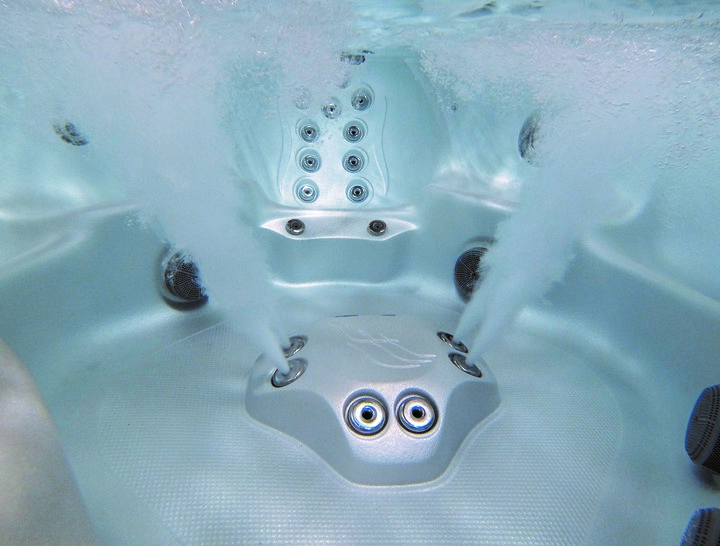 The ancient art of Reflexology, otherwise known as "Zone Therapy", is a practice that began in China over 5000 years ago. Reflexology involves massaging certain "reflex zones" in the hands & feet to stimulate positive energy channels in other parts of the body.
By moving your feet over your Sundance hot tubs reflexology floor dome, you will not only feel comfort and pain relief in your feet, but you will also hit various reflex zones, which will improve circulation and well-being in the corresponding organ. Stretch out your legs over the floor dome, and massage the back of your legs to soothe aching calves, knees and hamstrings.
The elevated, curved reflexology domes in a Sundance Spa are equipped with a variety of Accu-Pressure jets that provide a powerful foot massage that can be enjoyed from any seat.
Reflexology Foot Massage Domes are included as standard on the following models: 680 Series Edison & McKinley, 780 Series Chelsee, 880 Series Optima, Aspen & Maxxus and the 980 Series Kingston. All other models have built-in foot massage jets (see below) Whichever Sundance Spa you decide on, there will be a soothing foot massage available for you 24-7.
Whirlpool Foot Therapy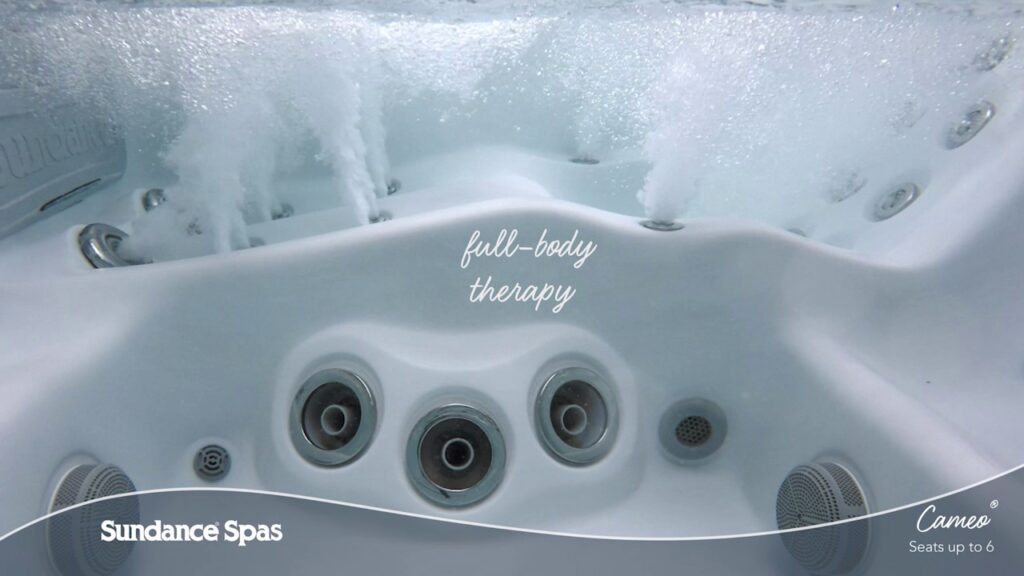 The award winning 880 Series Cameo, 880 Series Altamar & 980 Series Claremont have 2 different types of foot massage available. In the full body lounger of these models you will find 2 of our exclusive Vortex Jets, and there are massive whirlpool jets in the footwell to provide a powerful massage for those enjoying the other therapy seats (there are 2 Whirlpool Jets in the Altamar & Claremont and 3 in the Cameo).
With it's unique rifling action, the Vortex jet provides a swirling, Swedish style massage that is beneficial for increasing the level of oxygen in the blood, decreasing muscle toxins, improving circulation and flexibility and easing tension. It's rifling action delivers a swirling sensation for high and low impact therapeutic massage. Vortex Jets are featured throughout the 780, 880 & 980 Series models for both foot, back and shoulder therapy.
Whirlpool jets are adjustable, vigorous, deep muscle-penetrating jets that are renowned for their bold massage style, and are a favorite of athletes who love its intense performance. Nothing feels as a great as an awesome foot massage after a long day or intense workout, and the Whirlpool jet provides just that.
Rifle Action Foot Therapy
Lay back, relax, and let the Mini Vortex jets in the 780 Series Hamilton lounge seat and footwell work their magic!
Mini Vortex Jets are part of our collection of Fluidix Jets that are constructed with no moving parts, so they will give you the same great performance year after year as there are no bearings, spinners, flywheels or any other moving parts that can slow down and wear out over time.
Offering a similar rifling, swirling action as the larger Vortex Jets, the Mini Vortex is also included for foot, shoulder and back massages in other 780 Series models with loungers such as the compact Dover, and the mid-sized Montclair & Bristol. All lounge seat models in the 680 series also offer foot massage jets in the lounge seat itself and in the footwell for those sat in the other seats to enjoy.
Get the Relief You Deserve.
From the tip of your toes, through the arches and to the bottom of your heals, the pulsing, swirling streams of warm water from a Sundance Hot Tub can refresh tired feet and bring you the comfort and relief you deserve.
Come in to any of our 6 locations (Burlington, Hamilton, Mississauga, Oakville, St. Catharines & Vaughan) for more information on the many health benefits of owning your own hot tub by Sundance Spas.