Skip to Content
6 Simple Ways to Use Aromatherapy for Relaxation
Essential Oil Diffuser Blends
A simple way to create a peaceful space in your home is by diffusing essential oils. Lavender and chamomile are known for their calming properties, while bergamot, cedarwood, and vetiver can relieve anxiety and stress. Try these tension-releasing diffuser blends:
Relax
4 drops lavender oil
3 drops chamomile oil
1 drop vetiver oil
Unwind
3 drops lavender oil
3 drops bergamot oil
Sleep
4 drops lavender oil
4 drops cedarwood oil
Lavender Door Wreath
Invite a calming aroma and beautiful décor into your home with a DIY lavender door wreath. Just follow these steps:
Take a bunch (about 20-40 stems) of dried lavender stems, bundle them together, and straighten up the top
Cut most of the lavender stems to make them even
Place the bunch of lavender onto a wire wreath form at your desired angle, and secure them by wrapping a piece of floral wire around the wreath a few times
Take another bunch of lavender and secure it next to the first bunch, keeping the same angle. Continue until you have covered the entire wreath form
Wrap a ribbon around the wreath and make a loop for hanging.

Dried Eucalyptus Centerpiece
You can also use bunches of dried eucalyptus to make a unique, sweet-smelling centerpiece for your table. Here's how:
Using a craft knife, cut pieces of dry floral foam to fit inside a centerpiece holder (bowl, dish, or basket). Build up the foam so that it comes over the edge of the container by 1½ to 2 inches. Glue or tape the foam to the bottom of the centerpiece holder.
Push the stems of dried eucalyptus into the center of the foam. Work in a circular motion around this point, angling each row slightly more outward than the last. For the final row, push the stems upward into the side of the foam rather than the top, forcing the head of the dried lavender to point toward the table.
Fill in any gaps with dried lavender, working the colorful stems in between the eucalyptus for a colorful and calming accent.
Backyard Aromatherapy
Why not reap the benefits of aromatherapy in your own backyard? Plant fragrant lavender, jasmine, and rosemary, and enjoy sweet scents that promote rest and relaxation. Lavender can lower the heart rate, jasmine can boost sleep quality, and rosemary can reduce stress. With a variety of soothing herbs, your backyard can become a tranquil oasis.
Calming Room Spray
Not only do peaceful scents provide therapeutic benefits, but they can also freshen up your space and keep unwanted odors at bay. Simply fill an 8-ounce spray bottle with distilled water, add essential oils, and shake well. Use these oils to create a calming spray:
10 drops chamomile oil
10 drops clary sage oil
5 drops lavender oil
5 drops cedarwood oil
Gel Air Freshener
DIY gel air fresheners are a unique way to treat your senses to a relaxing aroma. Create your own non-toxic room refresher with this simple recipe, pour it into a glass jar, poke holes the lid before replacing and leave out in a room to fill with fragrance:
Bring ¾ cup water to boil in a small saucepan
Add 1 packet of gelatin and stir until dissolved
Remove from heat
Add 1 tbsp salt and 1 cup cold water
Mix well and pour into a mason jar
Add 5 drops lavender essential oil, 5 drops bergamot essential oil, and 1-2 drops food coloring
Stir and refrigerate until set
​With these DIY aromatherapy techniques, you can fill your senses with calming fragrances and discover all-natural stress relief and relaxation.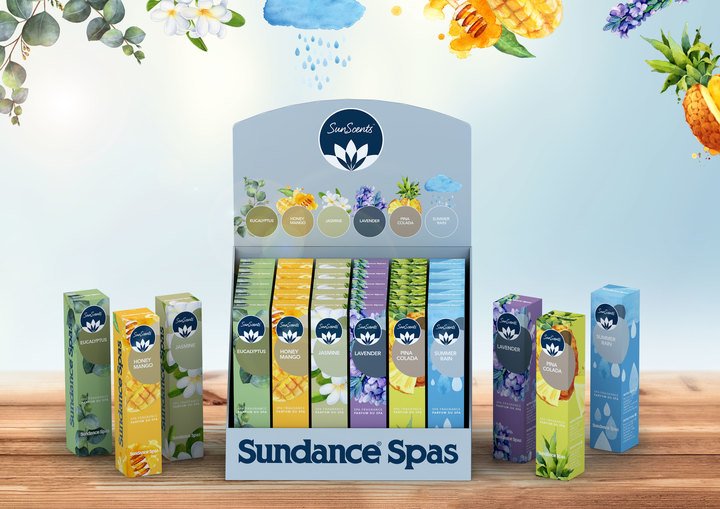 Want to enjoy the benefits of aromatherapy while relaxing in your Sundance hot tub? Add Sundance® SunScents™ to your hot tub for a soothing sensory experience. Click here for more information on SuinScents and the exclusive SilentAir Injector System.
Come in and see us at any of our six locations (Burlington, Hamilton, Mississauga, Oakville, St. Catharines & Vaughan).