Skip to Content
The History & Ownership of Sundance Spas
Starting in a garage in Costa Mesa, California, Jim Clark and his two sons, Ron and Chuck formed a business around the emerging market for plastics.
Originally manufacturing accessories for the automotive industry, the Clarks then turned to the portable hot tub business, looking to create an innovative spa tub that delivered superior quality and performance.
This marked the birth of Sundance Spas. I wonder if Jim, Ron & Chuck Clark ever imagined that their garage built start-up would one day become the largest manufacturer of hot tubs in the world?
Here is a decade by decade overview of how this remarkable growth came about.
1980 – 1989
The 1980's were a decade of phenomenal innovation and growth for Sundance Spas. Many standard features on most hot tub brands today first appeared on Sundance hot tubs back in the 80's.
Sundance Spas became the first company to incorporate recessed jet clusters, electronic spa controls, built-in assist bars, molded pillow headrests and whirlpool therapy jets.
The two biggest breakthroughs for Sundance in the 80's are still used in our hot tubs today.
In 1986 the SlipStream Skimmer with 20″ floating weir gate was introduced for the first time, and is still used today but with upgraded filtration systems.
1988 saw the innovation of the patented Rigid-Bond Shell Construction, the strongest hot tub shell material available that is now available in ten different colours and is warrantied for up to ten years against water loss!
1990 – 1999
The 90's saw explosive growth for Sundance Spas as they launched an international sales program that added record numbers of retail locations around the world. Sundance hot tubs are now available through over 750 specialty retail locations in more than 70 countries.
Two major innovations in the 90's that are still going strong include the now legendary Accu-Ssage Therapy Seat and the SunScents Aromatherapy Dispensing System. Both have become customer favourite features on all 880 & 980 Series hot tubs.
In 1998, Apollo Global Management LLC, an American private equity firm, purchased Sundance Spas from Clark Manufacturing to usher in a new period of innovation and growth.
2000 – 2009
The Noughties saw the Sundance Spas range grow as many new styles and models were added to their already impressive line up.
Technological advances continued with the introduction of the Fluidix Intelli-Jet™.This exclusive, patented jet which adjusts to provide steady or pulsating stream using bearingless technology with no moving parts continues to be the most impressive and versatile hot tub jet in the industry.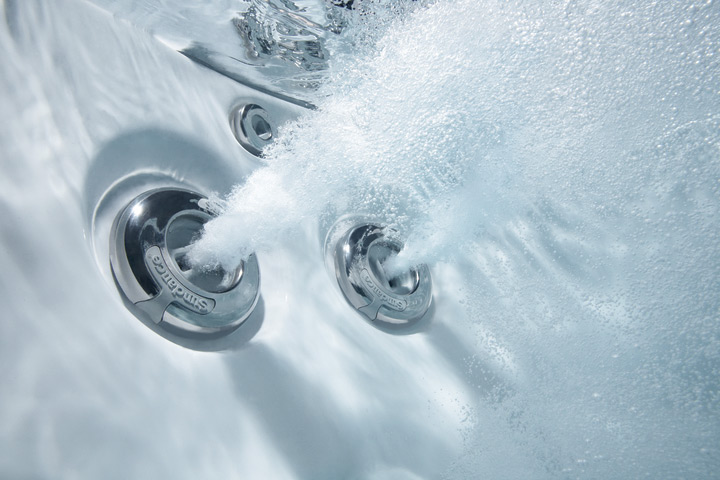 Sundance Spas have always prioritized clean, clear water through effective filtration and in 2002 they introduced the patented MicroClean Filtration System. This unique system was updated in both 2005 (MicroPlus Filter) and 2009 (MicroUltra Filters) and continues to this day to be the most efficient, effective way to filter hot tub water.
October 2006 saw the Apollo Management Group announce a $990 million leveraged buyout of Jacuzzi Brands and subsequently streamline production by moving Jacuzzi world headquarters to The Shoppes at Chino Hills, California, the home of Sundance Spas.
As the Sundance brand continued to grow and lead the industry in every way, International awards and accolades soon followed.
Some of the numerous awards earned during Sundance Spas first three decades include:
The Good Housekeeping Seal, four Consumer's Digest "Best Buys", SpaSearch Certification based on customer satisfaction, Made for iPod® certification, having the first FDA compliant and NSF approved filter in the industry, and the John Holcomb Silver Award for excellence from the Association of Pool and Spa Professionals (APSP).
2010 – 2019
The 2010's began with one of Sundance Spas most brilliant innovations to date, with the introduction of th ClearRay UV-C Water Purification System (learn more about ClearRay here).
From 2012 – 2017, various other hot tub manufacturers were added to the Apollo Group's portfolio of hot tub companies, including ThermoSpas, Dimension One & Hydropool Hot Tubs and Swim Spas.
The latter part of the decade saw Sundance Spas take the lead on "Smart" technology, simplifying hot tub ownership, reducing maintenance and connecting hot tubs to the latest technological trends.
Over the past few years, Status Indicator Lights have been added, Spa Controls have become more advanced, Spa Stereo Systems have been upgraded and Wi-Fi & then Cellular Control Systems have been introduced. The SmartTub system give you the ability to remotely monitor and control your Sundance Spa via SmartPhone or Tablet.
In 2019 Investindustrial, a leading European investment group, purchased Jacuzzi Brands & Sundance Spas from the Apollo Group.
This acquisition adds to Investindustrial's already impressive portfolio of sought after luxury companies that includes Ducati Motorcycles, The Morgan Motor Company & Aston Martin to name but a few.
2020+
The decade is only a few weeks old, and there has already been an exciting announcement from Investindustrial regarding their stable of hot tub companies.
After spending nearly a year looking for a great lower priced product company to buy, Leisure Manufacturing, the manufacturer of Dream Maker and Sunrise Spas have been acquired along with their manufacturing locations in Lake Mary Florida and Grimsby Ontario.
As a result of this acquisition, new hot tub models will soon be added to the Sundance range that will not only look great but will come with a price point you love! Check back with us over the next few weeks for more updates.
Ever since their humble beginning in 1979, Sundance Spas has worked tirelessly to perfect the hot tub hydrotherapy experience.
Their commitment to pursuing excellence, innovation and efficiency ensures that Sundance Spas continues to lead the industry in the design, development and production of hot tubs that can be relied upon for years to come.
We at The Sundance Spa Store have been a proud provider of Sundance Spas since 2003, and have been awarded the Sundance Spas "Outstanding Customer Service" award every year that we have been in business!
If you want to start the new decade by adding a hot tub to your backyard, come in to any of our six locations (Burlington, Hamilton, Mississauga, Oakville, St. Catharines, Vaughan) and speak to one of our team members about the outstanding deals currently available!