Skip to Content
Sauna in Garage Gym Is a Key Resource for Triathlete's Training & Lifestyle.
To assist with heat adaptation with training, Jeff installed a Hallmark 44 sauna in his garage to complement his home gym.
Below, Jeff goes in detail why his sauna has become a key resource to his triathlete lifestyle.
What Motivated You to Get a Sauna for Your Home?
As a triathlete living in the San Francisco, Bay Area, there are only a handful of days throughout the year where you can truly take advantage of heat and humidity to improve sports performance.
This year, I have some upcoming races that will have hot temperatures. If you are from where I am from, essentially every race away from here is a hot race.
Racing in places like St. George, Utah, Chattanooga, Tennessee and Acapulco, Mexico for Ironman events in 2022 would previously mean training at one end of the spectrum and racing in the other end. Not exactly optimal, and something I felt I had no control over.
Enter Finnleo's smaller footprint Hallmark series and coupling it with Coach Matt Dixon's Sauna protocol, I now have another training resource right here in my garage gym to help increase blood volume and fend off the heat (and altitude).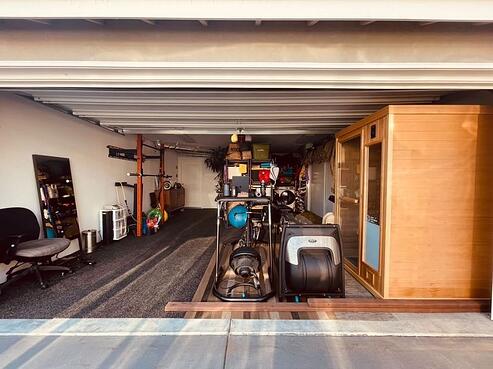 Describe Your Sauna Set-up.
The Hallmark 44 sauna fits PERFECTLY in the area of the garage between a window and the garage door sensors. It even fits seamlessly in the vertical direction. When garage door is left open, and it is at times, natural light is allowed to peak through more so than just the frosted windows when door is closed.
The sauna complements the other pieces of the garage gym which include a Vasa swim trainer, the race bike attached to a Wahoo KIKR, a Rogue Monster Lite folding rack, and numerous other pieces I use personally and professionally as a physical therapist/strength and conditioning coach. Safe to say, the cars remain outside and are less important than what's in the gym and the lifestyle that comes with it.
How Did the Installation Go for the Panel-Built Hallmark 44 Sauna?
Surprisingly easy. I went with the 120V Junior heater to achieve up to 194 degrees Fahrenheit.
How Do You Use Your Sauna? Do You Have Any Sauna Routine?
Sauna usage at intense heat is only reserved for immediately after key workouts starting several weeks leading up to an event (sauna protocol from Purple Patch podcast, Episode 174 starting at minute 30:25).
I aim to spend between 10-30 minutes each time and building to a point of reasonable discomfort without any hydration until after the session. All of the other times, myself, friends and family will use it much more moderately and comfortably.
Would You Recommend Finnleo?
Most definitely!
What would you tell someone who is considering a Finnleo sauna for their home?
Ask yourself if you see yourself and others using it at least 3-4 times a week. If the answer is yes, then go for it!
Sauna Details:
Type: Hallmark 44 Sauna
Heater: Junior sauna heater
​For more information on the Hallmark 44, as well as our other sauna options, please visit your nearest store (Burlington, Hamilton, Mississauga, Oakville, St. Catharines & Vaughan) and our team will be happy to help you find the Finnleo Sauna that is perfect for your needs.