Skip to Content
Although it may seem challenging to find the time to take a break from your daily routine, the reality is you can definitely exhale at some point and rejuvenate in your Sundance Spa.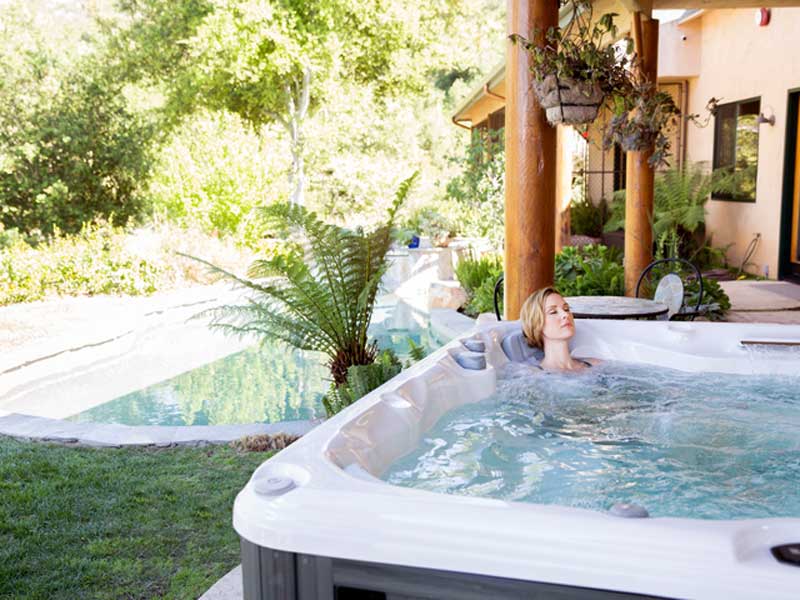 Follow these time-saving tips to enjoy a blissful 20 minutes a day (at least!) in the comfort of your Sundance hot tub.
Schedule a Phone-Free Period
Sometimes, it's good to put your phone down and let the stress of everyday life melt away! Put your phone somewhere safe and enjoy soaking in the clean, clear water of your Sundance hot tub.
Savour some peace and quiet, close your eyes, and relax as the patented hydrotherapy jets ease aching muscles and joints and let your stress subside.
Don't worry, your messages and notifications will be waiting for you when you are done, and you will be in a much better mental state to deal with them!
Wake Up 20 Minutes Earlier
There is a lot of time during your day that you have little to no control over. From traffic delays during your commute to work too long, and drawn-out meetings, sometimes you just have to roll with whatever it is that life throws at you at any given moment.
One way for you to gain back some control over your time is to wake up a little bit earlier, to give yourself some time to take care of yourself, and put yourself in the best position possible to handle the day ahead.
Setting your alarm so you wake up 20 minutes or so earlier than normal will give you the time to begin your day with a visit to your Sundance hot tub and surrounding yourself with warm, therapeutic water.
Chances are if you do end up getting stuck in traffic or dealing with some really stressful situations during the day, you'll be glad you gave yourself permission to start the day with some much-needed self-care.
Multitask
If you regularly listen to a podcast or audiobook, couple it with a hydro-therapeutic massage in your Sundance hot tub.
The optional BlueWave Spa Stereo System uses Bluetooth connectivity so you can synch up your phone or tablet and enjoy your audio while you soak.
Instead of feeling like you need to carve out a few minutes to focus solely on a task that can really be done anywhere, make your downtime even more enjoyable and comfortable by simultaneously enjoying the blissful bubbles of your Sundance Spa and your favorite podcast or audiobook!
Schedule an Appointment With Yourself
Use your calendar or daytimer to your advantage – schedule some time for yourself. Just because something is beneficial doesn't always mean we make time for it – we get busy and put it to the back of our minds.
Set up a reminder in your phone to schedule at least 20 minutes of time on a daily basis for using your Sundance Spa – and stick to it!
Let's put it into perspective: If a dear friend contacted you need to talk about something, you'd probably make time for her that same day, wouldn't you? Schedule your Sundance hot tub time with the same gravitas and urgency – You really are worth it.
Make Your Sundance Hot Tub Part of Your Evening Routine
Not a morning person? No problem. Floss, brush your teeth, and slide into your Sundance hot tub to cap off the day.
Let all the stress of the day melt away as our patented fluids jets work their magic on sore necks, backs, and feet.
Once you have tried a nighttime soak in your Sundance hot tub, we're pretty sure you will want to end every day the same way – relaxed and ready for a great night's sleep! 
Once you begin intentionally spending at least 20 minutes per day in your Sundance hot tub, you'll wonder why you didn't do it sooner. It's time to make yourself—and your precious relaxation time—a priority.
S Come in and see us at The Sundance Spa Store (Burlington, Hamilton, Mississauga, Oakville, St. Catharines & Vaughan) – we would love to help you find the Sundance Spa that is the perfect fit for you and your family!