Skip to Content
Enjoying Your Hot Tub in the Rain
Have you ever been out swimming in the rain? There is something amazing about being out in a rainstorm and not getting wet from the rain, because you are already underwater. When that water is the clean, clear, warm water of your Sundance Spa, it is even more pleasurable.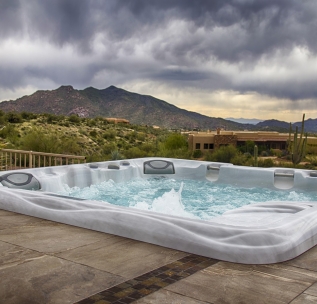 So what should you do to make sure that your first hot tub soak in the rain is a memorable experience?
Go For it!
Fully commit to the experience – psych yourself up for a good time! Yes, you are going to get wet from the rain, but most of your body is going to be submerged in water anyway.
Don't look at the rain as a negative, something that takes away from your time in the hot tub. but rather see it as a positive, something that is going to enhance your experience.
Let the relaxing sound of the rainfall add to the Hydrotherapy massage you are receiving from the patented Sundance Jets…You'll have a great story to tell your friends at work tomorrow!
Plan Ahead
Throw your towels and a robe in to the dryer for a few minutes so they are toasty warm for you after your soak, they will feel amazing as you dry off. Wear slippers or shoes to and from the spa to make sure you don't slip over in the rain.
An hour or so before you plan to use your hot tub, head out with a test strip and balance your water and add sanitizer as is required to ensure everyone who uses the water will be safe and comfortable.
Alas, the Blue Jays season is now over, and you might be tempted to put all your fan wear away until next season. Don't be too hasty though, you can still rock that ball cap to keep the rain off your face while you enjoy your Hot Tub. Have a few extra towels and ball caps available for those adventurous friends and family members who are brave enough to hop in the spa with you.
If you are not the proud owner of a Blue Jays Cap, may we suggest this natty little number instead: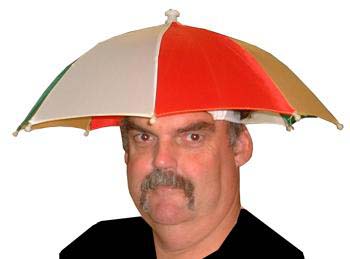 Enjoy a Warm Drink
A steaming warm drink will keep you feeling warm on the inside, just as your hot tub water keeps you warm on the outside.
Take a thermos of tea or coffee out to the spa with you, or perhaps some delicious Hot Chocolate. For the full rainy night in October experience, we recommend you make a Starbucks run and pick up some Pumpkin Spice Lattes.
Once settled in to your ho tub and enjoying your glorious beverage, be sure to post some selfies so your friends who can't be there know exactly what they are missing!
Get Comfy & Enjoy!
So now your spa is balanced and ready to go, you have a lovely hot drink to add to the experience and you know you have lovely warm towels and robes waiting for you when you get out.
Let the relaxation of the warm waters, the comfort of the ergonomic seating, and the soothing sounds of the rain drops falling around you wash away the stress of your day and get you ready for an awesome night's sleep!
If you are reading this and don't yet have your own Sundance Spa, Feel free to drop in to any one of our six locations serving the GTA & Niagara regions – We would love to show you the many great features and benefits that set Sundance Spas apart from the average hot tub.