Skip to Content
Infrasaunas – Get the Best of Both Worlds!
The innovative and unique to Finnleo 2-in-1 InfraSauna® provides pleasure beyond what a traditional or infrared sauna can do for you individually.
Are you feeling a "Traditional" wet sauna to clear out your sinuses? Or an "Infrared" sauna to repair torn muscles after a workout? How are you going to feel tomorrow? With an InfraSauna from Finnleo you can enjoy the best of both worlds!
Finnleo's InfraSauna is the only hybrid sauna in the market and it comes in 2 prebuilt kit sizes or can be customizable to fit most rooms.
InfraSauna IS440
The Finnleo IS440 is the perfect 2-person sauna to get exactly what you desire out of your sauna on a daily basis!
If limited floor space is your concern the IS440 is a two-person (48″ x 48″ x 80″h) sauna kit straight from the factory comprised of Finnleo's patented Low EMR/EF Infrared heating panels in addition to a stainless steel traditional sauna heater.
This unit is simple to assemble and will plug directly into a standard 120V / 15 amp or 20 amp household outlet.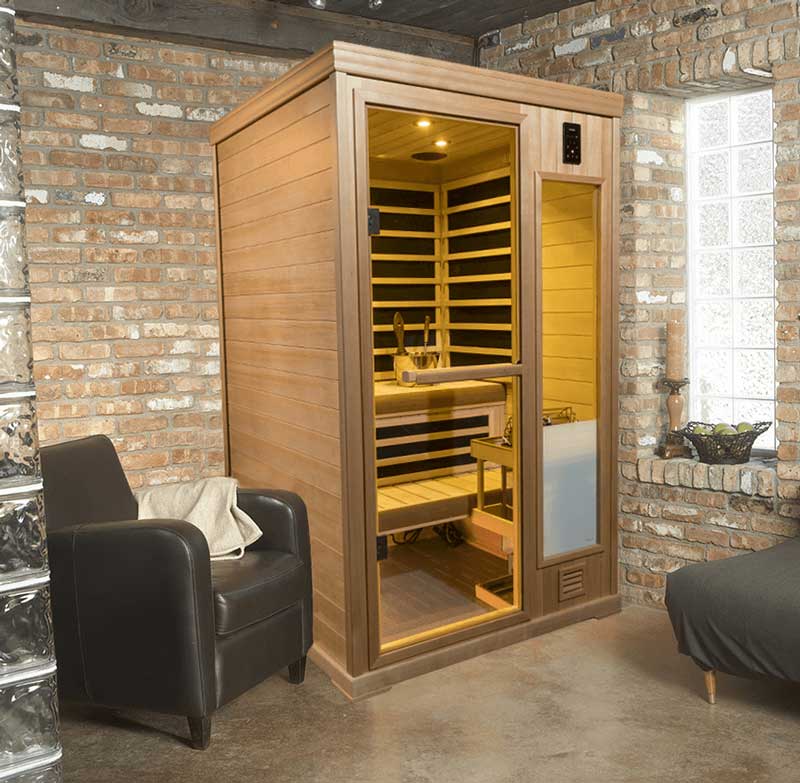 InfraSauna IS565
Finnleo has recently introduced the 5 person IS565 sauna kit. This family size sauna (62″ x 74″ x80″h) will seat up to 5 adults or accommodate 2 adults laying down.
This hybrid sauna features infrared or traditional heat (the user decides) in a family size sauna. The unit is self-contained requiring no special flooring and there is no plumbing needed. The IS565 is hardwired (240V / 30 Amp) for optimal performance.
The SaunaLogic2 control panel, which is standard on both sizes of infrasauna allows you to easily select "Infrared" or "Traditional" Finnish sauna, depending upon what you're in the mood for. The SaunaLogic2 also features an optional mobile app which enables you to control your sauna from a mobile device from anywhere you have cell phone access.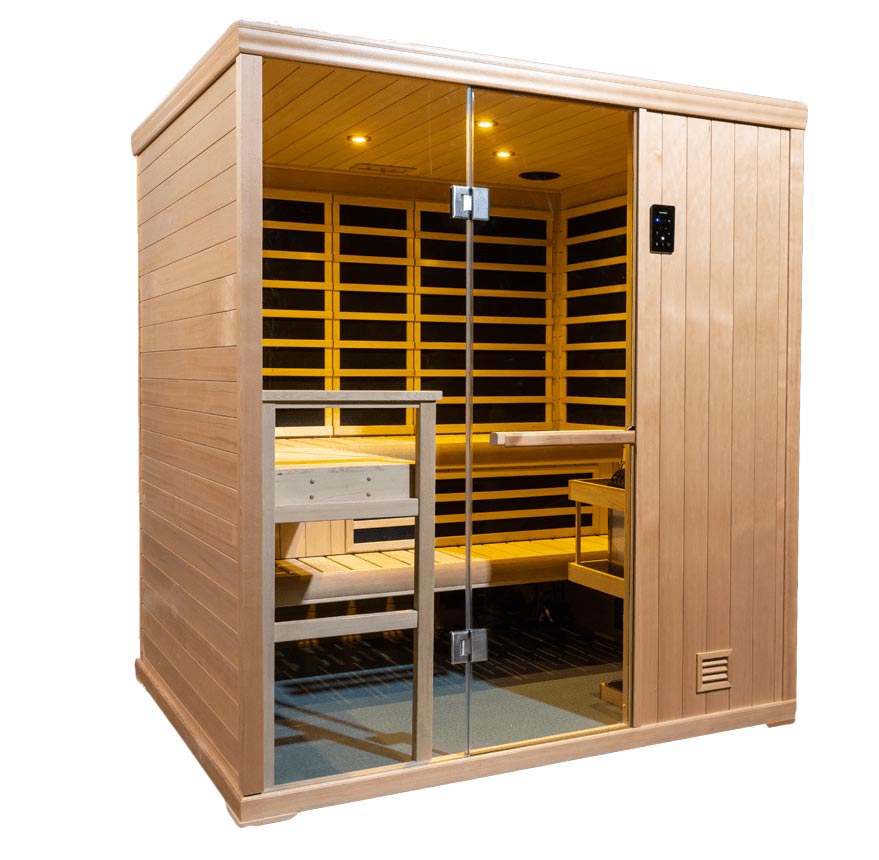 IS440 – IS565 Standard Features Include:
Chromatherapy LED Lighting
Bluetooth Sound System
All Glass Door
Full Sized Calf Emitter
Canadian Hemlock Inside & Out
SaunaLogic2 Control System with WiFi control 
Wall-to-Wall IR Coverage featuring CarbonFlex heating panels (Low EMR/EF)
Stainless Steel Heater – Finnish made, industry leading heater
Combination Door Handle – Door Handle, Tablet/Phone holder & Towel Bar all in one!
Integral Vinyl Flooring
Prebuilt bench skirts, backrests & heater guard for easy installation
Water bucket & ladle for wet sauna
Custom Infrasauna
A Custom Infrasauna, an option previously unavailable and unique to Finnleo, will meet your specific needs. Where IR was once limited to a few fixed sizes and models—now Custom Infrared and Custom InfraSaunas are now available in almost limitless shapes and sizes; you are limited only by your design imagination.
If you are looking for a specific size sauna, talk to a team member at one of our 6 locations (Burlington, Hamilton, Mississauga, Oakville, St. Catharines & Vaughan) to discuss our custom options. We will develop a CAD and quote to help turn your dream sauna into a reality!