Skip to Content
Hot Tub of the Month – The 880 Series Maxxus
Measuring 7'6″ x 9'2″ x 41.5″, this luxurious and spacious spa is equipped with illuminated grab bars and a cool down seat and features a variety of deep, ergonomic therapy seats with 65 hydrotherapy jets in 9 massage styles that immerse you in soothing, swirling streams of warm water.
The Maxxus gives you the very best of everything so that you can enjoy the ultimate in backyard entertainment and personal hydrotherapy. Here is a look at just a few of the features that stand out on the Mighty Maxxus!
Full Body Lounge
The comfortable, ergonomically designed full body lounge seat is a customer favorite! With 17 hydrotherapy jets in 5 different massage styles the lounger of a Maxxus is the ultimate in relaxation. Lay back and relax as Fluidix Intelli-Jets massage your back, Fluidix NEX jets gently pulse against your sore neck and Pulsator jets bring relief from Texter's Thumb and Carpal Tunnel Syndrome in your hands and wrists.
The lounge seat of the Maxxus features 8 patented Focus Relief Jets situated to massage the back of your legs and calves. These jets are exclusive to Sundance and are unique in the industry as they can be a water jet, an air jet or a combination of both. They can be adjusted to give you the perfect massage for your body shape.
No massage is complete without some good foot therapy, and the Maxxus lounger provides that with 2 patented Vortex Jets that provide a stimulating, vigorous rifle-action foot massage that ensures that the Maxxus Lounger pampers your body from your neck to your toes.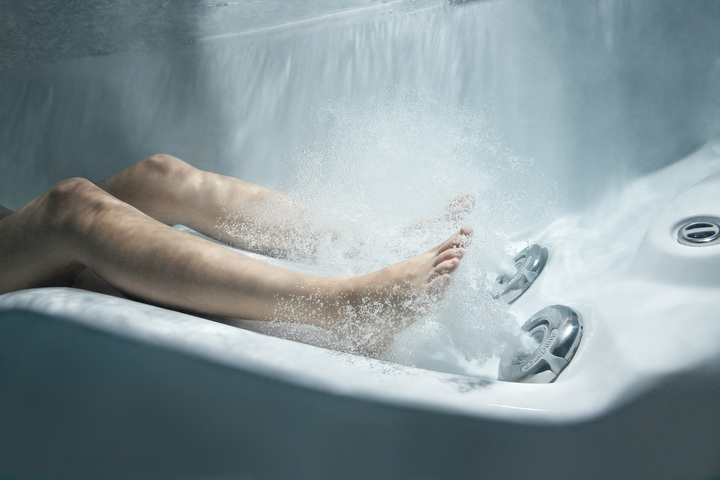 Reflexology Floor Dome
To make sure everyone gets a great foot massage, the Maxxus features a deep, large footwell with an 8 jet reflexology floor dome which is usually only featured on open seat models.
Many people today are looking for the relief and relaxation that quality foot therapy can provide, and with a Sundance Maxxus hot tub in your backyard, foot relief is available to you 24-7, so there is no need to make an appointment for a costly massage therapy session!
Fluidix Jet Technology
Sundance Spas patented Fluidix® Jet Technology employs natural principles of fluid dynamics, which cause the jet stream to oscillate without the use of bearings or internal moving parts that can wear out. Fluidix® jets will continue to provide robust, customized massage action, even after years of use, because no moving parts equals less wear and tear. All jets on the 880 Series Maxxus are covered under warranty for a whirlpool, spa, jacuzzi and hot tub industry leading 5 years – they are jets that you can rely on and we stand behind with confidence.
Dual Waterfall Feature
A unique feature on the 880 Series Maxxus & Aspen models is the Dual Waterfall feature. These variable flow waterfalls provide the sight and sound of running water and are back-lit with Multi-Coloured LED Lights to add elegance and romance to your Sundance hot tub experience.
Multi-Colour SunGlow LED lighting, featured on all Sundance Spas, lets you set your own mood with a variety of colour schemes to create the perfect relaxing environment. Fixed or changing colours, Slow or fast colour wash, Multiple brightness levels – You can personalize your lighting to adjust the atmosphere as you soak away the stress.
Other Standard Features Include:
ClearRay® Active Oxygen Water Purification System
MicroClean® Ultra Filtration System
Dynamic Flow™ Circulation Pump
SunScents™ Aromatherapy SilentAir® Injector Jets
SunTouch™ Fully Programmable Control Panel
Multicolor SunGlow™ LED Lighting
3 Therapy Jet Pumps – 5 Pumps In Total
Titanium Coil Heater To Increase Efficiency – 5 Year Unconditional Warranty
Accu-Ssage™ Therapy Seat
Intelli-Jet™ Therapy Seat
Patented Rigid Bond Shell Construction – 5 Colours
SunStrong Synthetic Cabinet – 3 Colours
Optional Features
Bluewave® Spa Stereo System
SmartTub Cellular Control System
Come in to any of our 6 locations (Burlington, Hamilton, Mississauga, Oakville, St. Catharines & Vaughan) for more information and pricing on the Maxxus. We also have the Aspen model available, which is the same size as the Maxxus but with an open seat layout.