Skip to Content
Hot Tub Foundations – What Does Your New Spa Need to Sit On?
There are several different ways you can give your Sundance Spas hot tub a solid, level foundation for years of enjoyment. You may even already have the perfect foundation for your new Sundance hot tub on your property.
Before you commit to your future hot tub location, explore your foundation options now.
Place Your Hot Tub on a Deck
Your deck is most likely the main gathering space and focal point of your backyard. Your outdoor furniture and barbecue make the deck an ideal place to hang out, and adding a hot tub to it will make it even more popular.
Adding a Sundance Spa to your deck will make entertaining and relaxing even more convenient—not to mention the fact that it looks incredible! Whether you are constructing a new deck or placing your Spa on an existing structure, be sure the deck can support the weight of a full hot tub (about 4,000 pounds) plus any existing furniture, barbecue grills, and, of course, friends and family.
Interlocking Pavers or Sidewalk Blocks
Interlocking Patio pavers are a popular choice for building a new backyard entertaining space. They are versatile, affordable, and look fabulous, with nearly limitless choices in shape, style, and color. It should come as no surprise they also make an excellent hot tub foundation as long as they are installed on level ground.
Another really great and very affordable option for a hot tub base is to use Sidewalk blocks. To install, you will need to dig up the grass where you want your new Sundance Spa to go and install 3″- 4″ of gravel screening. Once the screening is in place and has been tamped down so it is nice and solid, simply place your sidewalk blocks on top to give you a solid base on which to put your new Sundance hot tub.
Check out  Installation Gallery here.
Concrete Pad
You can ensure your hot tub has a durable, level surface by pouring a new solid concrete slab in any location in your backyard. Concrete slabs are one of the oldest and most reliable choices for a hot tub base. They provide longevity, and durability and can be aesthetically pleasing, especially if you choose colored concrete in a color that complements your Sundance hot tub or the décor in your backyard.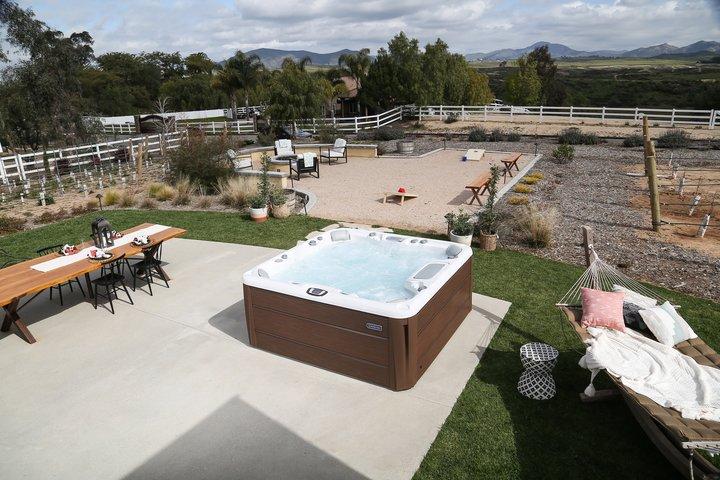 Ecoraster Spa Pads
Perhaps you don't have a deck or a patio suitable for your new Sundance hot tub, or you want to reserve that space for other types of entertaining, such as grilling and dining al fresco.
An Ecoraster Spa Pad can create a solid base for your hot tub. Ecoraster spa pads are affordable, durable, and aesthetically pleasing. They are a plastic base that is then filled with gravel to provide a firm foundation for your hot tub that will last for many years to come.
Placing your Sundance Spa on an Ecoraster plastic spa pad also means that should you move home, you can quickly and easily move the hot tub and pad to your new location.
To opt for this type of hot tub foundation, you will need a solid foundation that isn't prone to shifting. You can use a layer of sand or gravel beneath the pad to ensure it remains level. Ecoraster Spa Pads need very little maintenance and provide a long-lasting surface for your Sundance hot tub.
Please contact any of our 6 locations (Burlington, Hamilton, Mississauga, Oakville, St. Catharines & Vaughan) and we can arrange for our pad provider to come out and give you an estimate on either a screening base, Ecoraster Spa Pad or a poured concrete hot tub pad.