Skip to Content
The Himalaya Sauna Heater
The Sundance Spa Store is a proud provider of Finnleo Saunas, and offer a wide range of sauna rooms and a vast selection of sauna heaters and controls that can be added to your in-home sauna.
The Himalaya is Finnleo's most popular heater choice, by far. It truly changed the sauna industry and the sauna user experience.
This floor standing, rock tower heater is built in Finland and utilizes a stunning Nordic design. It can be used in corner installations, mid-sauna installations, or through-bench installations with an added glass ring to ensure your sauna will look as beautiful as it is functional.
Bio-Water Technique (BWT): Two Sauna Types From One Heater
The name of the legendary mountain range means "home of the snow". Like its namesake, the secret of Finnleo's Himalaya heater also lies in the natural water cycle.
The Himalaya has several new features unique to North America: a rock tower design with 210 pounds of rocks and standard BWT technology (an integral water tank that emits soft steam during the sauna session).
The Himalaya heater conceals a water container featuring ingenious BWT technology, which humidifies the sauna room while it is warming up.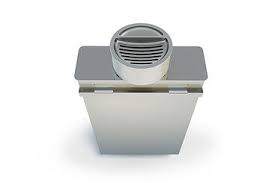 The combination of soft heat from the large rock mass and the humidity from the BWT is a "game changer" in the sauna industry, giving you a truly customizable sauna experience.
Soft Sauna
Fill the BWT water container and set the temperature to:
140-175 º F
More humidity
Lower temperature
A gentle sauna experience
Bio-aroma available
Traditional Sauna
Use BWT without water and set the temperature to:
175-190 º F
High temperature
Low humidity
A great, traditional sauna experience
With or without water in the BWT tank, you can always pour water onto the Vulcanite rocks to get an invigorating blast of steam!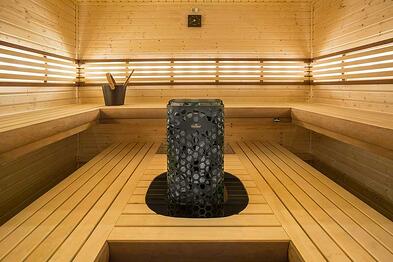 Size Options
The Himalaya heater is available in two sizes, The Himalaya 7 & Himalaya 9.
Himalaya 7 Features:
Sauna size: 175-350 cu. ft.
Heating power: 6.8 kW
Vulcanite rocks: 210 lbs
Amps / Voltage / Phase: 28.3 / 240 / 1
Amps / Voltage / Phase: 18.9 / 208 / 3
Dimensions (WxHxD): 12×40-1/2×15 inches
Himalaya 9 Features:
Sauna size: 310-500 cu. ft.
Heating power: 9.0 kW
Vulcanite rocks: 210 lbs
Amps / Voltage / Phase: 37.5 / 240 / 1
Amps / Voltage / Phase: 25.0 / 208 / 3
Dimensions (WxHxD): 12×40-1/2×15 inches
SaunaLogic2 Control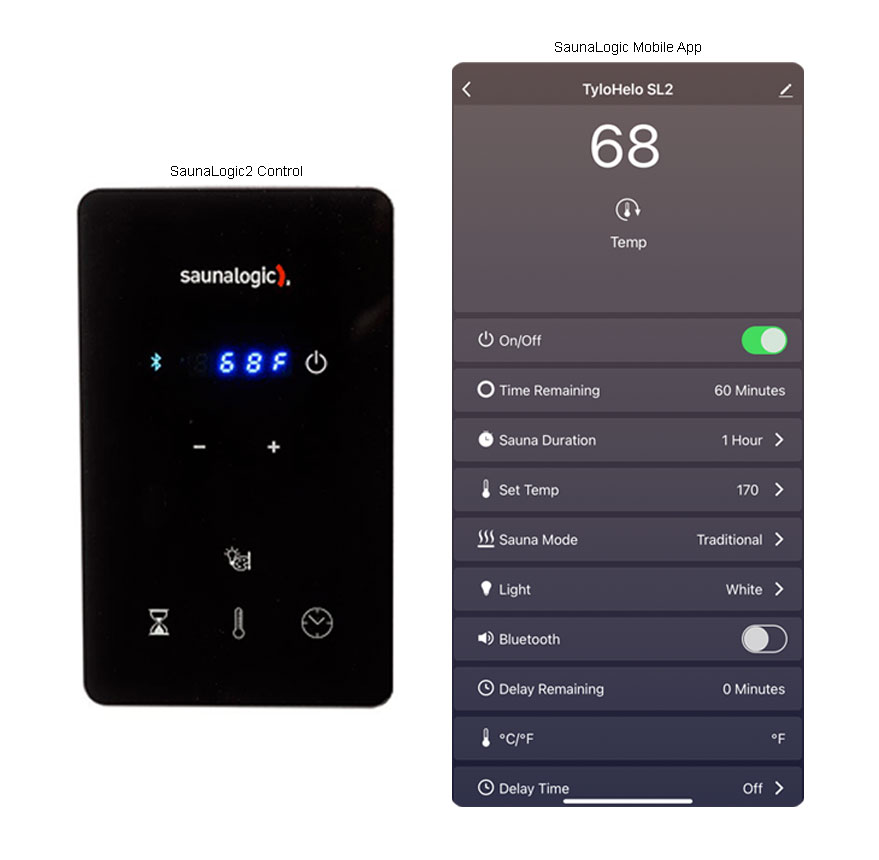 The SL2 Control is North America's first sauna control with true worldwide mobile functionality. Operate your sauna from anywhere!
Optional mobile app with worldwide functionality from anywhere there is cell or data service
Dimensions: 3 3/8" w x 5 1/2" H x 1/4" D
Intuitive display (time/temp/lighting/system status)
24-hour time delay
60-minute timer
Built-in RGBW light control with dimmer (with Finnleo low-voltage lighting kit)
Built-in Bluetooth button for use with optional SL2 Audio Kit
For more on our collection of sauna heaters, controls or complete sauna rooms, please visit one of our six locations (Burlington, Hamilton, Mississauga, Oakville, St. Catharines & Vaughan).