Skip to Content
Design Tips for a Smaller Backyard
Here are five ways to maximize the space you have by designing a backyard that is both functional and aesthetically pleasing.
Make Water a Focal Point
There's no question that water relaxes us, and many homeowners turn to a water feature, like a fountain, to enhance smaller spaces. Why not consider a Sundance hot tub instead, which will allow you to immerse yourself in clean, clear warm water, rather than just looking at it or listening to it?
Sundance Hot Tubs provide the perfect focal point for encouraging family gatherings and parties with friends. With a wide variety of shapes and sizes, there is certain to be a model that will fit nicely in your backyard without overwhelming the space available.
Lower profile models such as the Alicia, Prado, Dover, Montclair, Marin, Kingston & Claremont are great for smaller spaces!
Create a Garden Oasis
Positioning your Sundance Spa among lush greenery can accentuate the privacy aspect and play up the goal of a relaxing retreat.
Many people find that a smaller space is enhanced by a vertical design, such as a trellis or arch that's visible from your Spa. Enhance your garden features with climbing vines, such as sweet peas and lavender, and breathe in the beautiful aroma – It will really add to the already relaxing experience of soaking in your Sundance hot tub.
Another option is surrounding your Sundance Spa with potted plants filled with bright blossoms or fragrant blooms, which can create a haven without overwhelming the space with rangy vines or trees. As a bonus, pots can minimize yard work, allowing you more time for a relaxing soak in the warm water of your Sundance hot tub.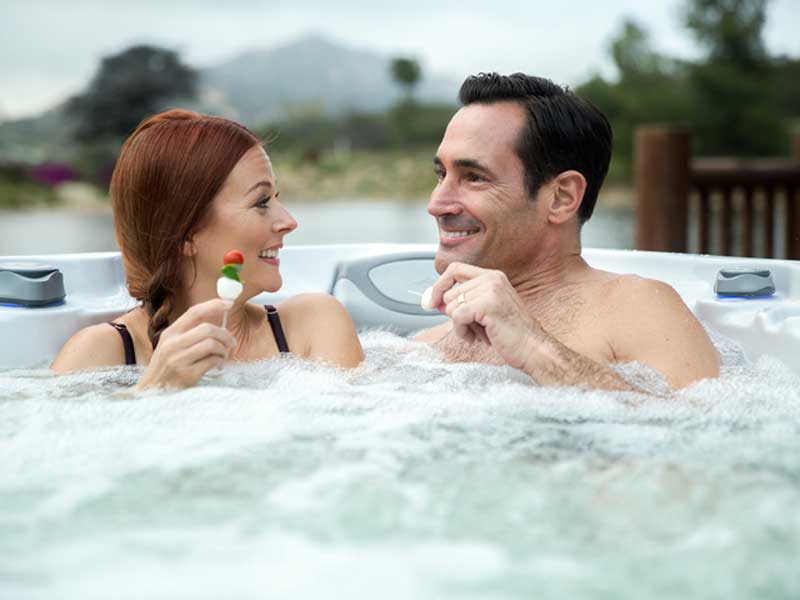 Fuse the Inside and Outside
Installing glass patio doors will generate a seamless view so that your al fresco space blends smoothly with the interior. Extend the feeling of bringing the "outside-in" and "inside-out" by using a complementary color palette between the furnishings visible inside and out. An outdoor rug designed for all weather can also tie the two "rooms" together to create an area that feels more spacious.
Play With Proportions
If your outdoor space is not huge, take care not to overwhelm it with overstuffed outdoor furniture that will make it seem—well, overstuffed. For example, daintier furnishings, like a bistro chair and table set, will suit your scale better than a hefty picnic table.
Choose accessories with the same idea in mind, selecting pillows or garden art that blend proportionally with your space, and taking care not to add too many pieces, which can make the space look cluttered. Sometimes less really is more!
Also consider furniture equipped with built-in storage, which can serve double-duty as a place for stashing toys or sports equipment out of sight.
Smaller Sundance Hot Tubs such as the 680 Series Prado, 780 Series Dover, or 880 Series Marin offer you all the features of much larger spas without taking up anywhere near as much real estate.
Let There Be Light
Appropriate exterior lighting can enhance entertaining in any backyard.
Illuminating the area with hanging lanterns can be a better choice than infringing on the available space with large fixtures. Another way to add ambiance when decorating in a smaller backyard is by wrapping your trees and threading plants with twinkly lights.
All Sundance Spas hot tubs come equipped with LED lighting as standard, and some exterior lighting options are also available. Our 680, 880 & 980 Series models have elegant exterior lights built in as standard.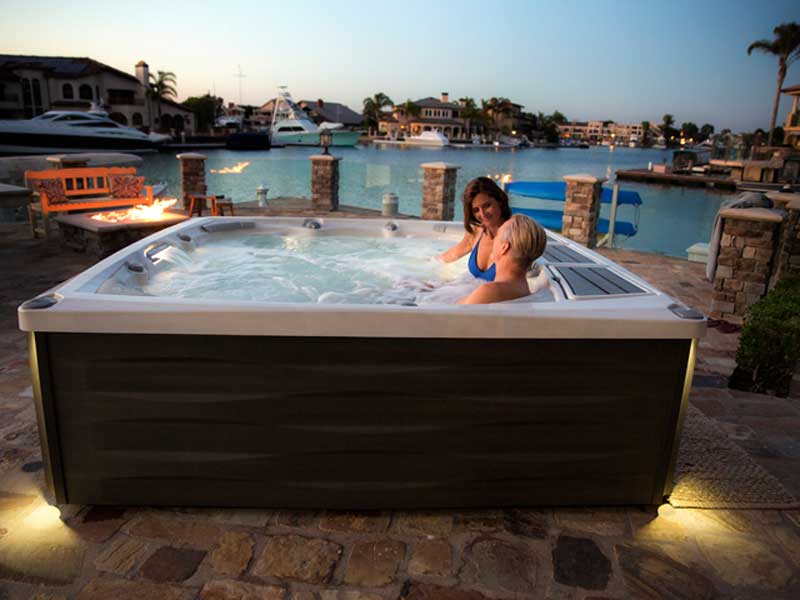 Want more inspiration for designing a memorable backyard? Visit our installation gallery to see how a Sundance Spa can help you create the perfect backyard oasis.