Skip to Content
Make It Easy With a Hot Tub Cover Lift
The Sundance® Spa Store offers a selection of hot tub cover lifters that makes it almost effortless to remove your hot tub cover. Built well to work smoothly and efficiently, these cover lifters are available for most Sundance hot tubs, large or small, square or round. Besides the cover lifters, we also carry Cover Caps and Secure Locking Systems to provide additional protection from the elements.
Covermate III
Gas shock mechanisms on the CoverMate III make opening your Sundance hot tub very easy. The mounting brackets, tubing, and full bar construction provide superior strength. This lifter includes a locking system that prevents your cover from falling. The space-saving design of the CoverMate III makes it ideal for spas housed in gazebos or when space behind the hot tub is limited, with only 9" of space required behind the hot tub, and 5" on each side.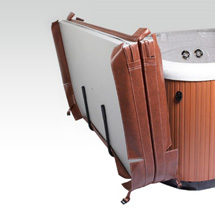 Covercaddy™
The CoverCaddy is a convenient hot tub cover lift for any spa. Its arms cradle your cover to keep it safely behind your spa and can fold away when not in use. The CoverCaddy system needs a clearance of 42" behind the hot tub. The kit includes an under-style mounting system, and is gas spring assisted for effortless cover removal.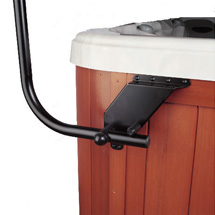 Covermate I
The CoverMate I helps you remove your hot tub cover with ease. This lifter comes standard with a TowelMate accessory for hanging up to three towels right where you need them most. The practical and efficient Cover Mate I can be attached to most Sundance hot tubs and needs as little as 15" clearance behind.
Contact the Sundance Spa Store