Skip to Content
Tired of Having Sore Feet?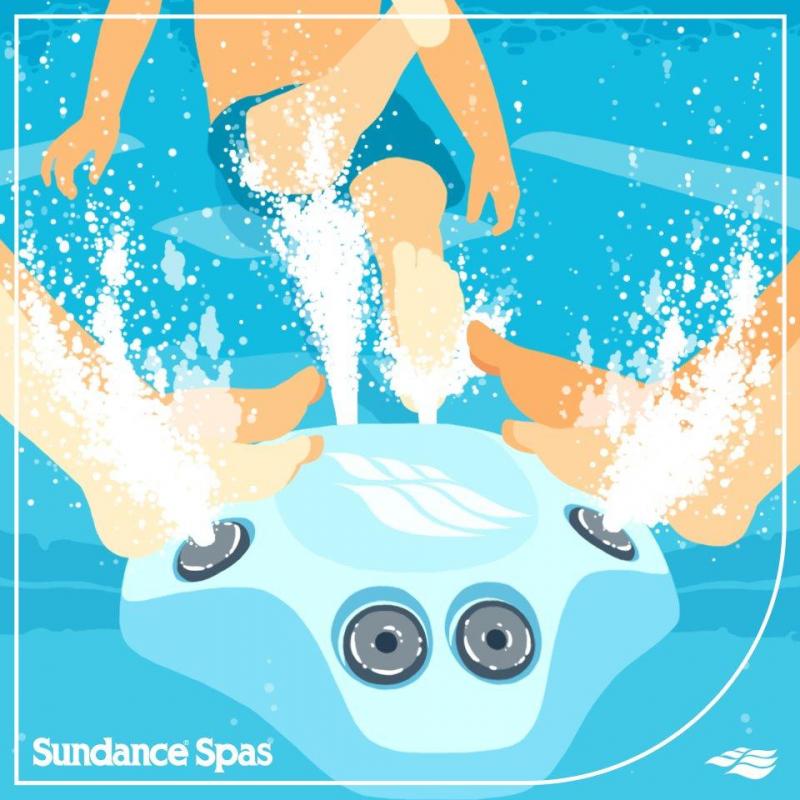 Sore, achy feet are a common problem for many people, especially those who have to stand for long periods of time or walk long distances.
We all know the problem, But what's the solution? Expensive Massage Sessions? Try and find someone to give you a foot rub every night? Wearing hideous shoes just because they are "comfortable"? The answer to your foot pain problem could be right in your own backyard!
Did you know that all Sundance Hot Tubs are designed to give you a relaxing, pain relieving foot massage?
Sundance Hot Tubs come equipped with a variety of foot jets to soothe sore feet. In fact, Sundance were the first hot tub manufacturer to add foot jets and reflexology floor domes.
Our selection of foot therapy jets are designed to provide an invigorating deep tissue massage to relieve tension and soreness in your feet, which contain over 7,000 nerve endings.
Open Seat Hot Tubs With Foot Therapy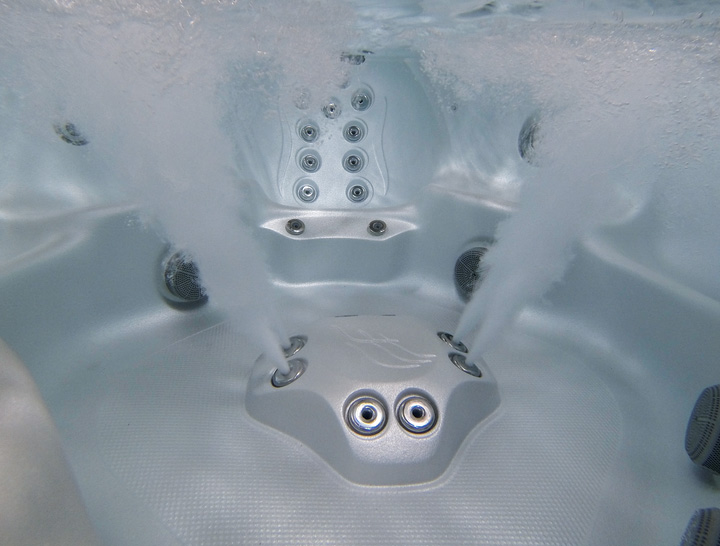 There is a wide variety of Sundance hot tubs with open seat designs featuring Reflexology Floor Domes.
The ancient art of Reflexology, otherwise known as "Zone Therapy", is a practice that began in China over 5000 years ago. Reflexology involves massaging certain "reflex zones" in the hands & feet to stimulate positive energy channels in other parts of the body.
By moving your feet over your Sundance hot tubs Reflexology Floor Dome, you will not only feel comfort and pain relief in your feet, but you will also hit various reflex zones. Massaging these zones will improve circulation and well-being in the corresponding organ.
The elevated, curved Reflexology domes in a Sundance Hot Tub are equipped with a variety of Accu-Pressure jets that provide a powerful foot massage that can be enjoyed from any seat.
Stretch out your legs over the floor dome, and you can massage the back of your legs to soothe aching calves, knees and hamstrings.
Reflexology Foot Massage Domes are included as standard on the following models: 680 Series Edison & McKinley, 780 Series Hanover & Chelsee, 880 Series Optima & Aspen and the 980 Series Kingston.
All other open seat models (680 Series Tacoma, Denali & Prado, 880 Series Cambria & 980 Series Odessa offer foot therapy jets but due to their different design, style and size do not include a foot dome.
Lounger Hot Tubs With Foot Therapy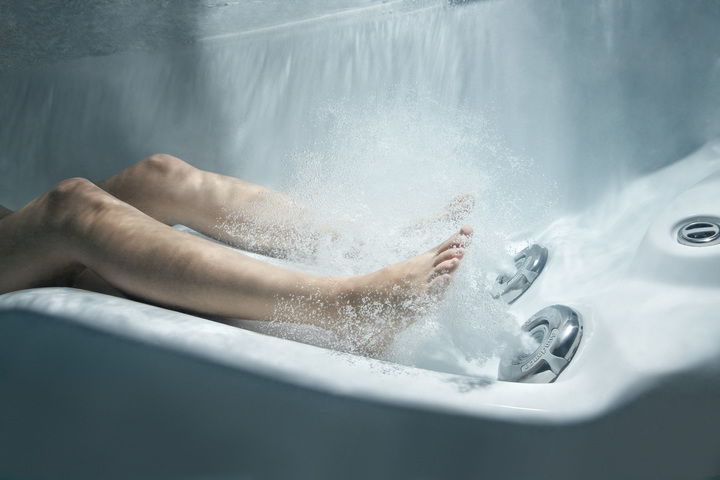 Foot Therapy is also an important element of Sundance Hot Tubs lounger models. With lounge models, foot therapy is delivered in two spots. The lounger itself is equipped with foot jets and there is a semi-dome built into the footwell so that those not seated in the lounger still get some foot massage action!
880 & 980 Series hot tubs use a variety of jets to provide foot therapy as you enjoy your hydrotherapy session. Most models in these series (Claremont, Lisbon, Maxxus, Cameo, Marin) use the patented Vortex jet in the lounge seat to supply a great foot massage.
With it's unique rifling action, the Vortex Jet provides a swirling, Swedish style massage. This style of massage is beneficial for increasing the level of oxygen in the blood, decreasing muscle toxins, improving circulation and flexibility and easing tension. It's rifling action delivers a swirling sensation for high and low impact therapeutic massage.
Located in the footwell of most 980 & 880 Series Sundance Spas, Whirlpool jets provide an adjustable, vigorous, deep muscle-penetrating massage. These jets are a favorite of athletes, who love its intense performance.
Nothing feels as a great as an awesome foot massage after a long day at work or an intense workout, and the Whirlpool jet provides just that.
In the 780 Series Lounger models (Hamilton, Bristol, Montclair & Dover), Mini Vortex Jets are used for foot therapy.
The Mini Vortex jets are part of our collection of patented Fluidix Jets that are constructed with no moving parts. These jets will give you the same great performance year after year as there are no bearings, spinners, flywheels or any other moving parts that can slow down and wear out over time.
Offering a similar rifling, swirling action as the large Vortex Jets, the Mini Vortex is included in both lounge chair and footwell for a foot massage that will leave you feeling refreshed and rejuvenated!
All lounge seat models in the 680 series (Ramona, Peyton, Alicia) also offer foot massage jets in the lounge seat itself and / or in the footwell for those sat in the other seats to enjoy. All Sundance Spas foot jets are fully adjustable, so you can get just the right amount of pressure.
Get the Relief You Deserve
From the tip of your toes, through the arches and to the bottom of your heals, the pulsing, swirling streams of warm water from a Sundance Hot Tub can refresh tired feet and bring you the comfort and relief you deserve.
Come in to any of our 6 locations (Burlington, Hamilton,Mississauga, Oakville, St. Catharines, Vaughan) for more information on the many health benefits of owning your own Sundance hot tub. We have some great promos on right now, so you are sure to get a fantastic deal.
We have a number of hot tubs running in each store, so you can see the many different massage styles in action – or bring your swimsuits in and do a wet test to find out which Sundance Spa is best for you!
The Sundance Spa Store Is a Provider of High Quality Sundance Spas and Finnleo Saunas Who Service the GTA & Niagara Regions.
We deliver and service our products in cities such as Cambridge, Waterdown, Carlisle, Grimsby, Stoney Creek, Brantford, Binbrook, Caledonia, Smithville, Vineland, Pelham, Crystal Beach, Wainfleet, Port Colborne, Beamsville, Thorold, Brampton, North York, York, East York, Woodbridge, Etobicoke, Nobleton, Caledon, Georgetown, Toronto, Milton, Orangeville, Halton Hills, Welland, Markham, Richmond Hill, Niagara On The Lake, Fort Erie, Thornhill, Niagara Falls and many more!