Skip to Content
Our New Vaughan Store Is Now Open!
We are very excited to announce the opening today of our 5th and newest location, The Sundance Spa Store Vaughan. Our address is: 3300 Rutherford Road, Vaughan, ON, L4K 5Z2.
We are honoured to be able to represent the legendary high quality products of Sundance Spas Hot Tubs and Finnleo / Helo Saunas right in the heart of Vaughan Mills. At The Sundance Spa Store Vaughan you will find the perfect Sundance Hot Tub and Finnleo / Helo Sauna to improve your health and enhance your lifestyle at the very best prices, and you will get the same award winning customer service that our clients in Burlington, Mississauga, Oakville & St. Catharines have become used to receiving over the years.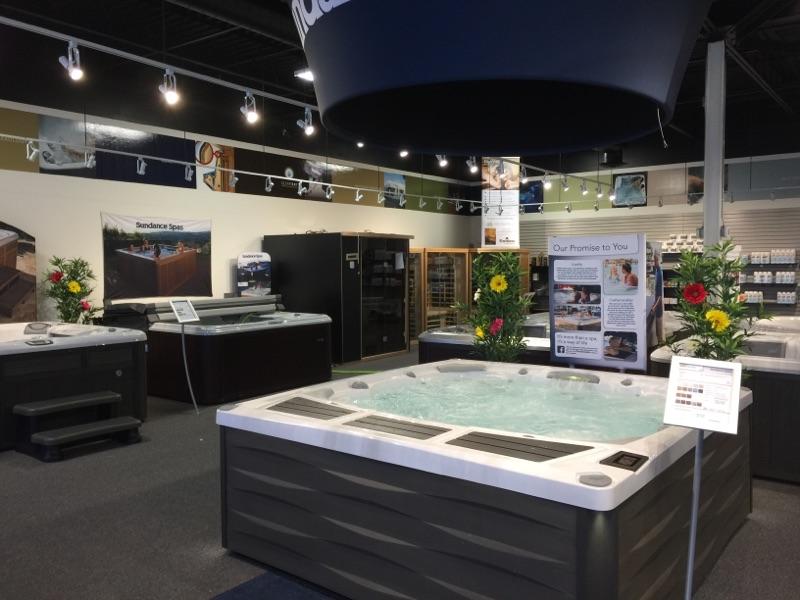 Sundance Spas have been building hot tubs since 1979, and have grown to be the largest manufacturer of hot tubs in the world. This 38+ years of experience has lead to numerous industry standard setting innovations and industry firsts which makes Sundance hot tubs technologically advanced, energy efficient, elegantly designed and extremely durable.
Choosing a Sundance hot tub means getting our exclusive, patented Fluidix jet designs that let you adjust the water flow from oscillating massage to a straight stream. Built without any moving parts, Fluidix jets will not clog, sieze up, jam, plug, breakdown or wear out, providing you with an unmatched hydrotherapy experience. For more information on our hydrotherapy jets, click here.
All Sundance Hot Tubs come equipped with the patented ClearRay UV-C Water Purification System, which significantly reduces the amount of chemicals needed to maintain your Sundance hot tub and saves you valuable time, effort and money. Select, 780, 880 & 980 Series models also feature the MicroClean Filtration water management system, the most advanced hot tub filters in the industry – they make keeping sparkling clear clean water really easy and keep maintenance to a minimum.
The Sundance Spa Store has been a Sundance Spas dealer since we opened our first store in Burlington back in 2003, so we bring a wealth of experience and knowledge to our new Vaughan store. As with our other locations, at our Vaughan store you will find a great selection of Sundance Hot Tubs and Finnleo / Helo Saunas presented with dedication and passion by our helpful and professional team. Our goal is to assist you in finding the very best Sundance hot tub and traditional or InfraRed sauna to fit the needs of you and your family in a relaxed, pressure free environment.
We are a full service hot tub store that is open year 'round. We stock a full range of chemicals and water care products as well as hot tub filters, fragrances, spa steps, covers, cover lifters and other accessories.
Our store hours are:
Monday-Friday: 11.00 AM – 6.30 PM
Saturday: 10.00 AM – 6.00 PM
Sunday: 11.00 AM – 5.00 PM
Our Phone number is: 647-846-8541
Our Email address is: sundancevaughan@bellnet.ca
If you live in Vaughan and are looking for a new hot tub or sauna, we invite you to visit us at 3300 Rutherford Road. To celebrate the opening of this new location we are offering some fantastic deals on all Sundance Hot Tubs and Finleo / Helo Saunas. Come in and see us for more details, We look forward to seeing you!